Fox Racing Comp Boots - 2019
Item # : 625292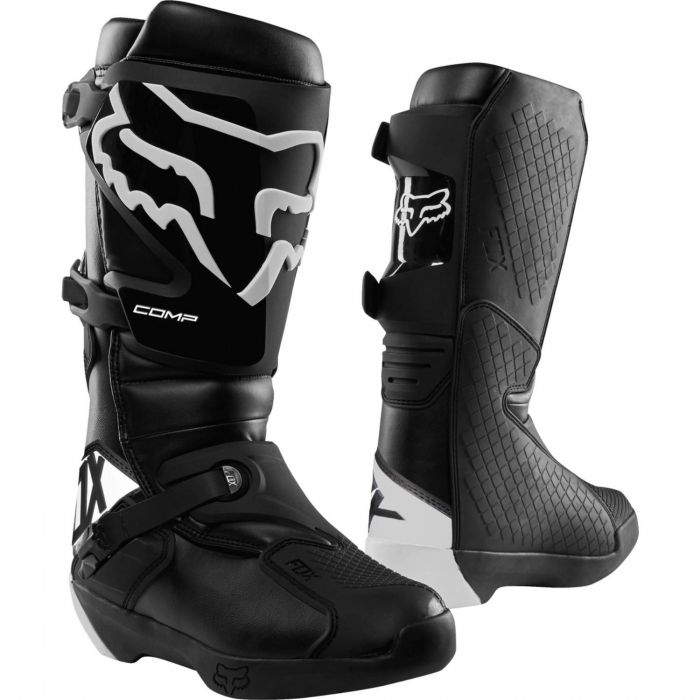 Fox Racing Comp Boots - 2019
Item # 625292
Description
Fox Racing Comp Boots
This new all entry level boot was inspired and developed using all of what Fox Racing learned from Instinct boots but simplified into an affordable package.
Features:
Built off of the Instinct last to ensure a precise performance fit and instant step in comfort
Internal lace system for a custom fit around ankle
TPU shin plate, toe cap and calf guard gives the rider full coverage
Instinct style lower buckle for a secure fit over the top of the foot
Adjustable Active Lock closure system on shin plate for easy on and off
Durable rubber burn and medial guard provide excellent grip and feel for the bike
Durable rubber outsole with internal steel shank supplies great grip and support ont the foot peg
Reviews
Rated

5

out of

5
by
Erider808
from
Decent quality, over all great boots
These boots are very comfortable right out of the box. Although you do need to break them in since they are stiff. They have a very nice heat shield that is protective and is good for gripping the bike. These boots have very good protective features and look really nice. I really like the lacing system as it does keep your foot in place, even in a pair too big. The only sign of wear is the lace up handle broke off after being pulled on.
Date published: 2019-08-29
Rated

5

out of

5
by
Jeans
from
verry good for the price
I used them twice,they are comfortable but stiff on the top(materiel).
Date published: 2019-08-28
Rated

5

out of

5
by
Felix05
from
Great boots
I bought this a few months ago and i'm happy with my purchase would recommand it to my friends
Date published: 2019-08-28
Rated

4

out of

5
by
Miata
from
Good Starting Boot
I bought this boot two years ago. It's still holding up fairly well after near 250 hours. Check the crews on your buckles, they'll get loose and fall off eventually. The outer skin of the toe box peels off at around 100 hours and other parts later on. The ankle flex area rips free of its stitching at 150. This results in a much floppier boot. The alpinestars offers solutions to both these faults for a similar price in structural plastic articulation instead of accordion flex areas and has an all plastic toe box.
Date published: 2019-08-18
Rated

5

out of

5
by
Kenton29
from
Love the buckles super easy to put on really nice looking and comfortable
Date published: 2019-06-18
Rated

5

out of

5
by
Daviddennisfox
from
Nice boot for the price
Bought this a bit ago and love it, it has nice flex in the ankle which is nice for enduro and trail riding, but great on a track as well. The clip on the side is sometimes hard to do up, but other than that it's great, it also has great waterproof properties.
Date published: 2019-06-12
Rated

4

out of

5
by
Gray
from
Great boots, love the snowboard boot cuff inside
Picked up these boots a month ago now and have gotten the chance to get them broken in and make my assessments. Love the BOA style snowboard boot inner cuff, honestly not sure I'd buy boots without it now that I've used it. The rubber straps are stiff out of the box but after 1 ride they break in and become a breeze to do up, another great feature in my opinion. With the straps rather than buckles these are much easier in the legs to wear all day and the padding inside is super comfy for all day use aswell. Great boot have had zero issues. I will say if you're a rider with bigger calves move up 1 size and you'll be golden as I am a 12 shoe but ordered the 13's for the added calve room and they fit perfectly.
Date published: 2019-06-12
Rated

4

out of

5
by
Seabass54
from
New style is better
The new comp model is definetly a better design compared to the previous model the comp 5. The heat shield is all the way up. The two longer lasting rubber straps versus the old buckles won't break as often. The newly added internal lacing system can snug your ankle in if you want. The boot is on the heavy side but I definetly feel like these heavy duty boots with the hard plastic protection will save my ankle in a crash. It is a fantastic and functional boot compared to the previous model and the price is very good.
Date published: 2019-04-19