Giant Loop Zigzag Handlebar Bag
Item # : 275265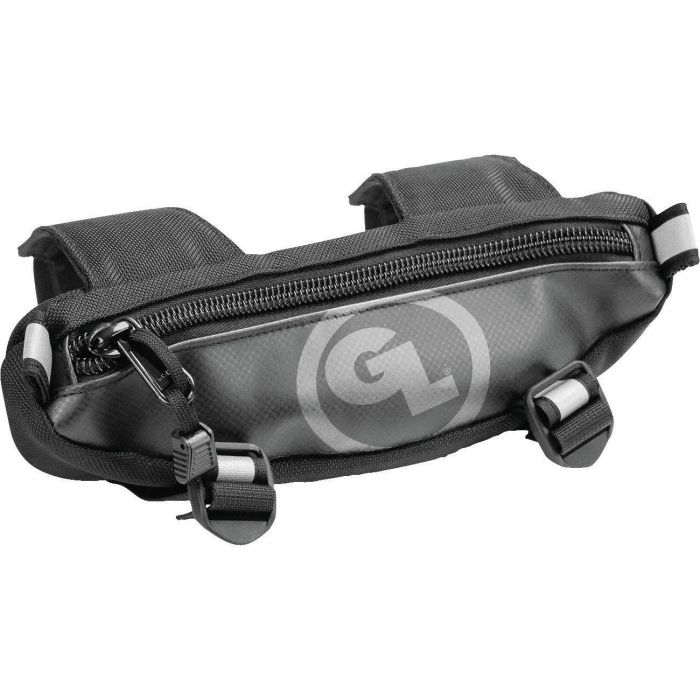 Giant Loop Zigzag Handlebar Bag
Item # 275265
Description
Giant Loop Zigzag Handlebar Bag
Giant Loop's smallest bag yet - it's the dirt bike glove box! Sometimes you only need the bare bones basics - wallet, phone, registration/insurance cards and other small items.
Features:
Volume: 1.5 liters
Straps to almost any motorcycle's handlebars - completely out of the way
Interior mesh zippered pocket
Threads onto belt or pack when removed from machine
Military-spec materials and construction
Made in USA
Specifications:
Total Volume (liters): 1.5
Weight (lbs): 0.25
Dimensions (in.): 4 x 2.5 x 10.5
Reviews
Rated

4

out of

5
by
Slow Joe
from
does the trick
Bought for a KTM SXF350 to woods ride so I can take phone, keys etc instead of fanny pack. Does the job and even fits over the large square KTM handlebar pad. Have only been out once but worked well.
Date published: 2017-05-17
Rated

4

out of

5
by
Kmasty
from
Great bag
I used this on my recent trip to BC with my 500 EXC. It holds a surprising amount! Insurance/Registration, wallet, inhaler, Cell (5.5" display) and two granola bars! Never had any issue with it on the bars. I see a small rip starting inside which could be from the edge of my inhaler constantly rubbing against it so be mindful of the edges of the items in there..
Date published: 2016-06-24
Rated

4

out of

5
by
Mike
from
Right size
Not too big not too small, keys, wallet etc well constructed
Date published: 2017-09-16
Rated

5

out of

5
by
Yeah
from
Love this bag
Strong little bag with a big zipper. Fits good on my vfr800 to my put wallets and cellphone in
Date published: 2017-06-24
Rated

4

out of

5
by
Life over the bars
from
Just name alone is worth it :)
Great place for the important stuff on a short commute and a must have on long trips, hides the steering damper nicely
Date published: 2017-08-10
Rated

3

out of

5
by
Broccoli
from
Robust, weatherproof, and ease of installation.
Highly recommend. It holds all the trail necessities at you finger tips.
Date published: 2019-11-21
Rated

4

out of

5
by
LenZ
from
Functional and looks good.
Bought this for my EXC-F for those days that I don't want to have a pack and/or want my phone and other stuff right at my fingertips. Seems very durable and it packs a surprising amount of stuff. Phone, insurance papers, snacks, wallet,... all fit in with ease. I think it would fit better on a bar with a crossbar. I mounted it on my factory KTM bars that has hand guards and it flops around a bit if you don't cinch it right up but it could just be the way I have it installed? I will probably add a microfibre rag in there for future rides to clean goggles and then it will fill it out a bit more. My buddy strapped a fanny pack to his handle bars and got pretty much the same thing as I did for a lot less but I look way cooler. :)
Date published: 2019-11-18
Rated

5

out of

5
by
Sebastian
from
Durable
Very durable construction Inc zippers. Can handle different types of Handelbars.
Date published: 2019-10-13