Givi V47 Monokey Top Case
Item # : 454623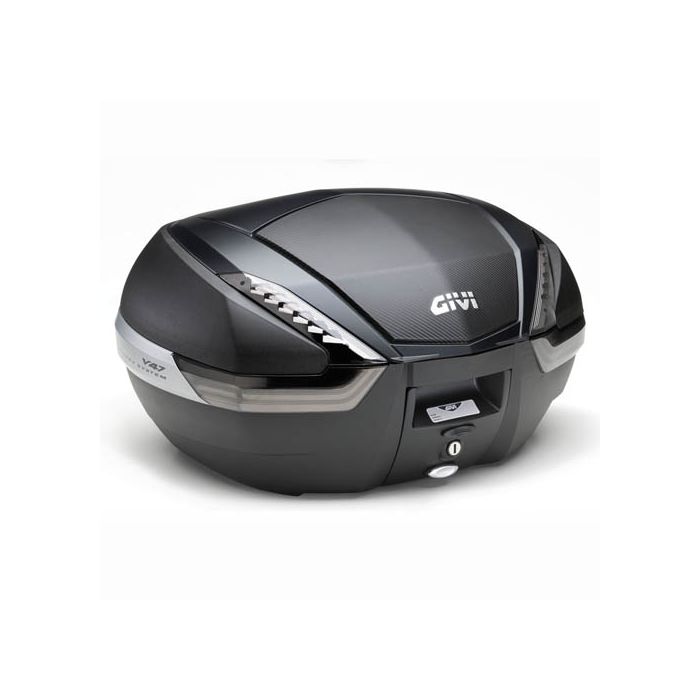 Givi V47 Monokey Top Case
Item # 454623
Description
Givi V47 Monokey Top Case
The Givi V47 Monokey Top Case features 47 liters of storage capacity, in a stylish, modern package. Durable plastic construction with an aluminum top insert completes the look while the Monokey opening/closing system is easily operable with only one hand.
Features:
Holds 2 helmets
Smoke or Red lenses
Plastic construction
Capacity: 47 liters
Dimensions: 23.2" L x 17.7" W x 12.6" H
Max load: 22 lbs
Empty weight: 9.72 lbs
Note: Adapter plate and/or bike specific mounting hardware sold separately.
Manufacturer Part Numbers:
V47N1P / 076-605 - Black/Silver/Red
V47NN / 076-6041 - Black/Carbon/Red
V47NNT / 076-609 - Black/Carbon/Smoke
V47NNTFL / 076-6042 - Hi-Viz/Smoke
V47NT1P / 076-608 - Black/Silver/Smoke
V47NTLUX / 076-6081 - Black/Aluminum/Smoke
Reviews
Rated

5

out of

5
by
Doug
from
Beautiful top box
I bought this to replace another top box (also a Givi, 47 litre "Simply" model), which I moved over to my wife's bike (hey, she got the new bike, so I got the new box, it's only fair!). The previous box used the monolock system, this one uses the more robust monokey system, and the difference is quite noticeable. This one is rock solid. I find the appearance of this box suits my bike better, and is probably a bit more aerodynamic. I am expecting it to be more waterproof than the other one too. I know some people think they look terrible, but a top box is a wonderful thing, so convenient, and this one is an excellent version.
Date published: 2018-11-25
Rated

5

out of

5
by
Brando
from
Awesome - installed on a 2018 Honda CB650F
The V47 topcase holds my Olympia jacket, pants and full boots if I pack somewhat carefully. Impressed with the build quality; feels solid. Installation was dead simple. If anything could be improved, it would be a bit more clarity into Givi's product line (Monolock vs Monokey, which plate adapter required, the ability to preview accessories on your exact make/model motorcycle). The case does reduce the visibility of my rear brakelight, so I will probably pick up the Givi LED taillight accessory.
Date published: 2018-11-05
Rated

5

out of

5
by
Fredmail
from
Perfect for commuting
I have been using this for about a month now. At first, it looked big and high on my Versys. But for commuting, it is the best. You can fit a full size laptop with its suitcase no problem. You can install the adaptor plate with a quick release but I did not. I saw too many reviews where people saw their topcase going flying on the road. I installed it with permanent hardware. You can get grocery in it and it does not make the bike wider.
Date published: 2017-09-23
Rated

5

out of

5
by
Zeko
from
Solid unit
Big enough to fit the XL modular helmet for my fat head. Can also fit pants and jacket liner and a few other smaller items as well with my helmet in it. Can fit 3 or 4 cases of beer in ;). Never comes off my bike,
Date published: 2016-08-13
Rated

4

out of

5
by
doug
from
stylish case
The Givi Monokey case is very stylish in design and very spacious without being bulky looking.I would like to see some kind of liner in the case and a universal mounting plate that is included in the price I paid.But its the best Givi case I have purchased and I own 3 others.
Date published: 2016-03-31
Rated

5

out of

5
by
Gumball
from
Perfect size for two up trips
Excellent quality. Not too big but big enough. Manageable to carry loaded. Looks great in black on a blue FJR1300.
Date published: 2019-08-28
Rated

5

out of

5
by
mjanes
from
These cases are worth the money
Went on an extended journey on Thanksgiving and really appreciated the additional storage space. Left home thinking cold weather and it turned out to be hot. Needed that extra space for the additional coats and liners. Very well made and didn't even notice it was there.
Date published: 2018-11-05
Rated

5

out of

5
by
AbeinNS
from
Great Buy
This topcase replaces a smaller 33litre case.It's very well built.
Date published: 2018-08-29