Hardline Hour/Tach Meter with Log Book - HR-8061-2
Item # : 228183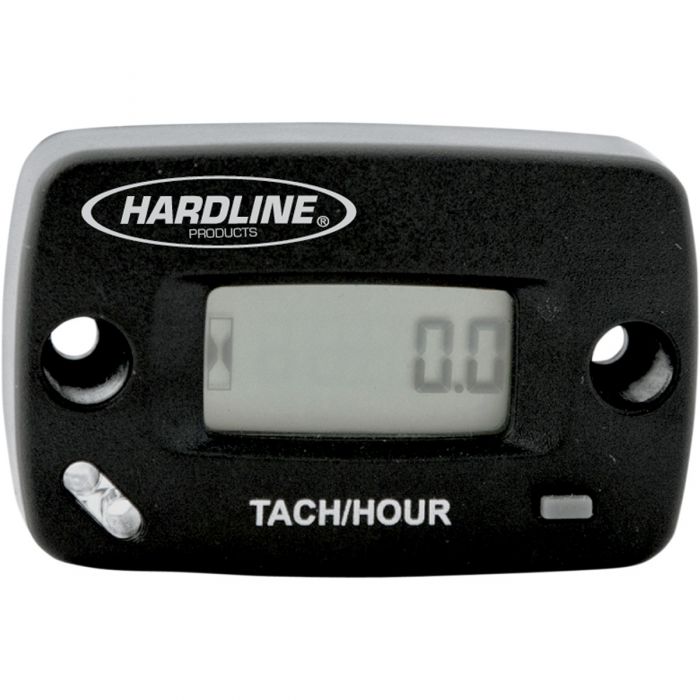 Hardline Hour/Tach Meter with Log Book - HR-8061-2
Item # 228183
Description
Hardline Hour/Tach Meter with Log Book
Features
Tracks service time and rpm of your bike; perfect for timely oil changes, valve adjustments, spark plug replacements, etc.
Resettable maximum rpm
Usable with any gasoline engine (up to two cylinders and 8000 rpm)
Adjustable input for dual or single spark ignition systems
Includes log book for writing down oil changes, valve service, chassis lubrication, clutch service, and suspension setting notes
Works with any gas engine
Real time reading of tach uo to 20k rpm
Record total hours accumulated up to 9,999.99 hours; not resettable/erasable
Peel and stick or attach with enclosed hardware
Connects to spark plug wire; no batteries are required
Safely and completely encased in 100% epoxy
Manufacturer Part Number: HR-8061-2
Reviews
Rated

5

out of

5
by
Suzukidad
from
Does its job
Easy to use! set idle on our bikes in 2 minutes good price quality piece
Date published: 2015-05-30
Rated

5

out of

5
by
Bill m
from
Great tach
Easy install, no power pr ground needed and works great on my Triumph Bonneville. I recomend for knowing your gear at a glance once you get used to speed, gear and rev relationship.
Date published: 2017-05-05
Rated

4

out of

5
by
yyj200
from
Seems to work very well. I also purchased the mount for the steering stem. A little hard to see while driving, but very good for tuning and accounting for service hours.
Date published: 2016-01-10
Rated

4

out of

5
by
3raun
from
Good little meter
Overall good for the price. RPM is a bit jumpy, doesnt have the best scan rate. Hour meter works bery well and easy to install.
Date published: 2015-10-17
Rated

5

out of

5
by
Senor Peligroso
from
The Hardline Hour / Tach Meter works exactly as advertised. I made a mounting bracket to fit it to one of the handle bar clamps. The rest of the install was easy.
Date published: 2019-08-28
Rated

4

out of

5
by
Kx65
from
Nice hour meter
I bought this to install on my sons kx 65 and it works as advertised. Easy to install and seems accurate.
Date published: 2019-06-16
Rated

4

out of

5
by
Ditzy
from
A Handy Reference Tool
My main reason for buying this was to monitor and set my idle after doing a re-jetting, and it does the trick. The read-out is a little jumpy in that it doesn't give a steady/constant reading at a steady engine speed, but it gives you a good idea. Seems to be more steady at higher RPM's, which makes sense because it gets more pulses to read and average out. It is very handy for checking RPM's when you're cruising along and you can't really hear or feel where you're at RMP wise.
Date published: 2019-06-14
Rated

5

out of

5
by
Stavy
from
100% necessary
Can't own a dirt bike with out one of these. I put them on every dirt cycle I buy. They let you keep track of oil changes and all maintenance on you bike. I've always bought Hardline and they have never let me down. Like the tach it's a nice touch for tuning and such. Easy to install. Fortnine price cannot be beat
Date published: 2019-06-14
Questions
The display in the picture shows "0.0" which implies one decimal place i.e. resolution is 1/10ths but the notes in the description say it'll record up to 9,999.99 which implies two decimal place resolution.... which is it pleast?
This records up to 9,999.9 hours, however, the resolution is 1/10th (0.1 hour).
Date published: 2017-08-03
I was wondering what the refresh rate is when using the tach. Does it give close to a real time reading or does it lag a bit?
The refresh rate is 0.5/1.0s.
Date published: 2017-10-15