Hardline Resettable Hour Meter/Tachometer with Log Book - HR-8067-2
Item # : 228185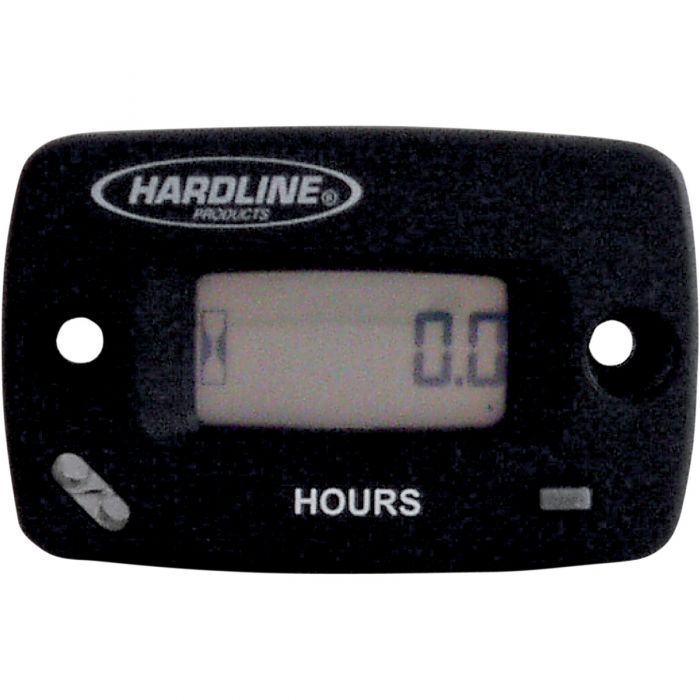 Hardline Resettable Hour Meter/Tachometer with Log Book - HR-8067-2
Item # 228185
Description
Hardline Resettable Hour Meter/Tachometer with Log Book
Features
Resettable timer and service modes that flash service messages at 5, 10 and 20 hours of operation
Real time reading of Tach up to 20k rpm; records max rpm
Also keeps track of total time accumulated
Keeps track of important maintenance times for your bike including oil changes, valve adjustments, spark plugs, etc.
Includes log book to write down oil changes, valve service, chassis lubrication, clutch service and suspension setting notes
Usable with any gas engine
Records and displays up to 9,999.9 hours
Just peel and stick or attach with enclosed hardware
Connects to spark plug wire; no batteries are needed
Hours automatically roll over
Safely and completely encased in 100% epoxy
Mount for hour meter available separately
Manufacturer Part Number: HR-8067-2
Reviews
Rated

5

out of

5
by
Bowman
from
Great Reset Features
This is the third one I've bought for different bikes. I love that it has a resettable oil/hour/air filter/valve adjustment settings that flash remaining time before change time along with total hours and a tach.
Date published: 2018-07-10
Rated

4

out of

5
by
Bsman
from
Works well
Have used this to set my idle on a 85 xl350 and a 86 vt1100 and it seems to work well.
Date published: 2018-05-09
Questions
Other Tachometers describe the RPM calculation as 1 counted RPM per spark. Do you have to times this Tachometer by four on four strokes?
You can find the item instructions here: http://imglin.com/20191016132315%5F2712382.png
Date published: 2019-10-16
How does the tachometer know if valves, oil, air filter, etc is still good?
This is more Hour meter then tachometer or maintenance reminder. And really, all those other functions get in the way of the actual hour reading. If you know the hours then you know everything you need, but with this meter you have to wait for it to flash through other readings to get to the hours. Annoying thing. However the hours seem accurate and it works, but it is always flashing to check filter or something but i can't bother to keep resetting it sooo...it is always flashing something other than the hours. It is showing 126 hours now and still working fine, but I'd be happier with just a soild hour meter in a smaller, lighter package. Like who actually needs a tach on their hour meter?
Date published: 2019-08-07
How long is this battery supposed to last? 
4 years and counting...
Date published: 2019-08-26