Hotbodies MGP Slip-On Exhaust
Item # : 144502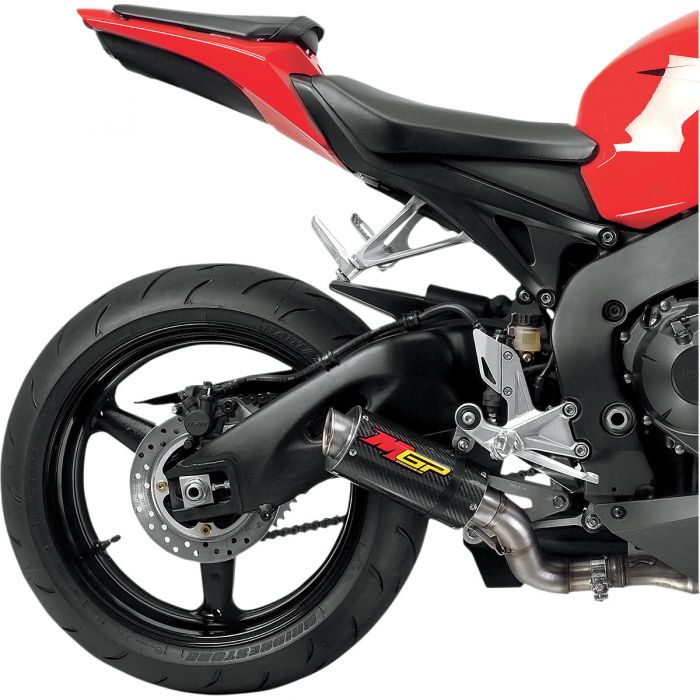 Hotbodies MGP Slip-On Exhaust
Item # 144502
Description
Hotbodies MGP Slip-On Exhaust
This slip-on from Hotbodies Racing is a quick and easy way to give your bike that MotoGP look. This low profile pipe is lighter than stock and bolts right up to your OEM exhaust's location with zero modifications. In addition to making your bike look the part, this slip-on will give your bike a loud and aggressive exhaust note that would make any race team proud.
Features:
The look, feel and sound of a MotoGP exhaust at an everyman's price
Sleek, aerodynamic styling with the growl of pure power
Compact slip-on package requires no modifications
Deliver impressive performance gains without rejetting
MGP slip-ons for a sleek shell
Direct OEM Replacement
No Re-mapping Necessary
Made In Italy!
Reviews
Rated

4

out of

5
by
Danobanano
from
Wowzers in my trousers
Extremely loud... I put a sound check and review on YouTube. My user name is Danorama2007. Exhaust has a really dirty sound. Definitely draws attention
Date published: 2014-05-12
Rated

4

out of

5
by
Sonnyk21
from
Way, Way too loud
This is louder than the two brothers m2 Exhaust. I think it might be slightly too loud for city driving, but it sounds absolutely amazing.
Date published: 2015-06-27
Rated

4

out of

5
by
Stevie
from
Awesome sound
One problem with installation on my CBR500 is the rear clamp could not be bolted onto the frame without adding a small extension fitting . Otherwise it slipped on fine and clapped tight . So much lighter than the stock exhaust and much better sound.
Date published: 2018-11-05
Rated

5

out of

5
by
Gkkso
from
Awesome product!
Super easy to install and sounds awesome! Definitley makes other more aware of your presence.
Date published: 2018-08-27
Rated

5

out of

5
by
jr2wheelin
from
Love it.
Ordered this exhaust for my '17 Honda CBR500 knowing that it would be quite loud.. and loud it is! But for that reason, I love it. It sounds amazing when it crackles and pops when you let off the throttle. The carbon fibre look makes it stand out and looks 100x better than stock. Install went fairly smooth, took about 20 minutes. I have a video/sound clip posted on my Instagram (@jr2wheelin) but I find the video does not do it justice. Thanks for the product and quick shipping, FortNine!
Date published: 2017-08-21
Rated

5

out of

5
by
oldfucker
from
NICE CAN FOR ZX10
GREAT ITEM FOR THE PRICE A LOT LIGHTER THEN STOCK , LOOKS AND SOUNDS GREAT
Date published: 2016-05-05
Rated

5

out of

5
by
Tony Massacre
from
Sexy carbon fiber exhaust
I ended using, this without the baffle and instead used the connector provided. With a little muffler cement if was perfect. Ended shaving off 20lbs of my 2010 ZX6r, and it looks stunning!
Date published: 2014-05-31
Rated

4

out of

5
by
Mack21
from
Great exhaust for the value
Got this exhaust this week and thought I'd slap it on the ole bike while she's put away for winter the installation went as simple as taking the stock pipe off, love the product if your looking for a loud exhaust this it!
Date published: 2019-11-20
Questions
Is this slip on street legal in Ontario?
Yes, this slip on is street legal. However, noise regulations are hard to pin down. They are frequently governed by municipal by-law, so the lawfulness of your motorcycle will depend on which township it happens to be in. According to the Ontario Highway Traffic Act 75(4), it is unlawful for "the driver [to] at any time cause the motor vehicle to make unnecessary noise." We would always recommend checking with your local municipality what rules/ laws they have in place
Date published: 2019-01-03
Does the DB killer come with the pipe? Or do you have it in stock and what is the part number to get it?
I bought this slip on and it did not come with a DB killer.
Date published: 2016-09-23