Icon Field Armor Stryker Vest
Item # : 62516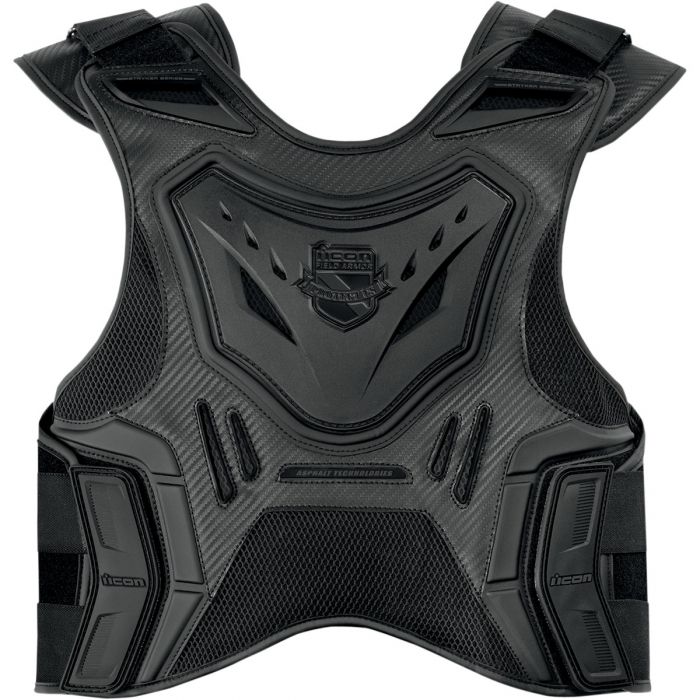 Icon Field Armor Stryker Vest
Item # 62516
Description
Icon Field Armor Stryker Vest
With a silhouette that broke with the conventional race derivative dogma and struck out on its own street specific course, The Field Armor Stryker vest is at the very heart of the Icon creed. Features a low profile back armor with high profile design for tactical riding. The original Field Armor vest set a benchmark in the back protector world - the Stryker ups the ante. The back protector is loaded with d3o intelligent foam and full CE approval. The Field Armor Stryker Vest back armor is designed to take hits you hope will never come. Rock it under your jacket or over a hoody - just wear it. If today is the day that you go down, you want Stryker on your back.
Features:
EN 1621-2/03AC2006 CE Approved Stryker Back Armor
D3O Breathable back insert, with custom molded Icon geometry
Articulating injection molded back armor with air flow channels
Injection molded chest plate with integrated air intakes
Vented bio foam and air mesh chassis
Hydra dry moisture wicking liner
Highly adjustable waist and shoulder straps
Low-profile design fits under most jackets
Reviews
Rated

5

out of

5
by
cbrman
from
Highly Recommended
ordered this the other day fast shipping, looks to be of good quality offering a very good amount of back protection. Dont know about the amount of protection offered for the front of the vest but none the less better than nothing. Fits very good dont really know its on it just fits right. I recommend it for sure.
Date published: 2015-08-05
Rated

5

out of

5
by
Willy
from
Solid protection for your torso
I bought this about a month ago, so I'm reviewing this having tried it for a period of time. First thing I should mention is that I bought a large and it fits perfectly (I am 5'11", 185 lbs.). The great thing about this product is that it is highly adjustable. If I get fat, I could easily adjust the straps to fit my larger belly! The armour itself seems very sturdy. I haven't fallen off my bike with it on yet (knock on wood), so I can't comment on it's effectiveness to handle an accident. That being said, having handled it, I feel confident that it will keep my back safe. There is limited protection in the front. Obviously, if you are leaning forward, you don't want much to encumber you. So that seems like a good call in my opinion. In hot summer days, this is my go to armour. Now, I just need arm guards...
Date published: 2016-06-24
Rated

5

out of

5
by
SaskSledder
from
Small price to pay for protection
I bought this a month ago - I use it when snowmobiling. It is lightweight and comfortable (I don't even know I'm wearing it) and the added protection is great piece of mind.
Date published: 2016-01-11
Rated

4

out of

5
by
Anonymous
from
Fits better than you'd expect
I commute on Toronto highways and head down south to the good roads on long weekends, so I wanted a back protector that also had some chest protection and this fit the bill. I wear a JR Atomic 3.0 jacket and Alter Ego pants. Even though the jacket is pretty snug on me, it goes on perfectly fine over the Stryker vest, even without taking its own foam back pad out. I can still attach the back zipper between the jacket and pants, and it's reasonably flexible. It does make things a bit warmer, as the jacket's back vents don't work as well, but that's a small price to pay for protecting your spine. So in summary, it's quite comfortable and easy to wear, well priced (especially since it seems to have some fancy new type of armor), and it's certainly something I'll be thankful for if I crash.
Date published: 2011-07-08
Rated

5

out of

5
by
Jim the survivor
from
Im alive because of one of these
I went through a green light as a truck "that never saw him" turned left in front of me. I was bruised shoulder to finger tip & groin to toe. Burt not a mark on my torso. Spent a week in ICU. 3 Dr.s told it was the reason I'm alive. The thing saved my life. I won't ride on the street without it.
Date published: 2013-03-09
Rated

2

out of

5
by
César Augusto
from
not as good as I was expected.
First of all, the item quality it is very good! But the front protection is extremely small. The stomach, liver and spleen are completely unprotected! I really don't know what the designers were thinking, but this armor is supposed to protect the essentials organs... which are not cover at all except for the heart who has a great protection. I actually, not recommended as essential protection, but just as a spinal and heart protection. I think it is a totally waste of money this item due to the smallest front protection! I am pretty sad with the purchase because the material quality is excellent...
Date published: 2015-06-02
Rated

5

out of

5
by
Feynman
from
My bare minimum gear.
This is my second icon vest. The first I sold with my last bike and I won't ride without one. It's light, breathable and gives you that insurance that you need. Thankfully haven't had to use it yet, but I'm certain it will do its job. It also looks great. Makes any jacket look good. Also great for when I take a quick rip out to lunch and don't want my jacket. Suits any dress shirt I wear. Just feels like a regular vest. Except when it accidentally tucks itself into the back of my pants, that's a little annoying (can't blame it though, my mom says I'm quite handsome.). Overall I highly recommend this to anyone looking for light weight protection for hot weather.
Date published: 2019-05-06
Rated

5

out of

5
by
Naked Streetfighter
from
Sick Looking Vest
I wear them only on real hot summer days with another regular jacket on top of them. Heard good/bad things about them, but for the price I think is still better than bare-back. So far so good, pretty comfortable yet provides decent protection.
Date published: 2019-03-20
Questions
Is there leather on this vest, or is it all synthetic? I love it but am trying to avoid purchasing leather wherever possible.
This vest is all synthetic.
Date published: 2017-05-05
I was given the stryker armor from a friend of mine and i am curious to know if i should wear it with the ALPINESTAR TZ1 which already has a CE level 2 certified Bionic Race Back Protector in it. Would it be smart to use both at the same time or no?
I just use the Stryker vest when it's too hot or if I am riding around town at low speed and don't want to wear a jacket. Seems it would be uncomfortable to me wearing both.
Date published: 2017-06-02