K&L Aluminum Tire Valve Stem - 8mm. - 90deg. Angle - Silver - 32-2978
Item # : 249104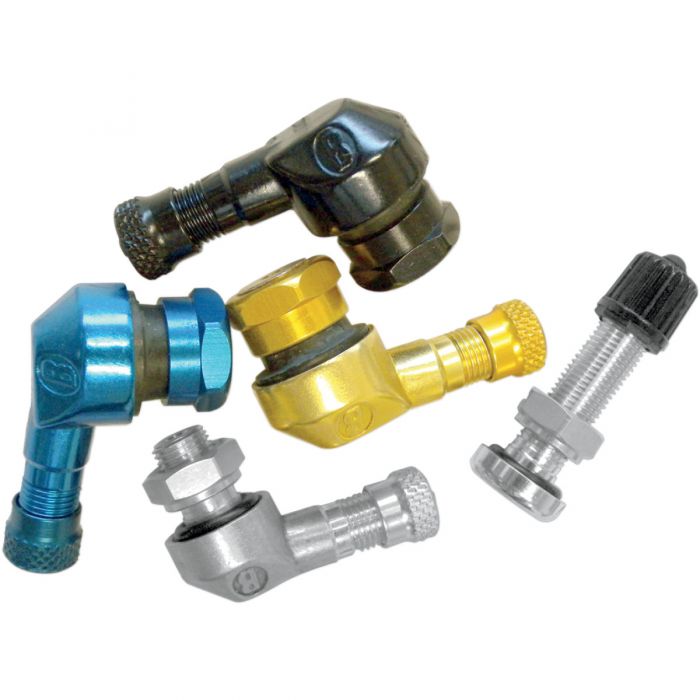 K&L Aluminum Tire Valve Stem - 8mm. - 90deg. Angle - Silver - 32-2978
Item # 249104
Description
K&L Aluminum Tire Valve Stem - 8mm. - 90deg. Angle - Silver
Features:
No more wrestling the air chuck between the brake discs
Less weight on the wheel rim because of lightweight aluminum construction
Designed for rims that use 8mm diameter stems
Angled valve stem has a 90 degree bend from the surface of the wheel rim
Tire inflation on dual-disc brakes is so much easier with the right-angle valve stem
Short valve stem is for rear tires
Sold each
Manufacturer Part Number: 32-2978
Questions
I have an 8.5 mm valve stem hole in my Excel rims. Will this fit well enough to seal properly? Or is the .5 mm gap going to cause issues?
Yes, this might cause water and dirt to get into the rim. I would recommend staying with an 8.5 (or close) stem diameter, such as the one below (available in 8.3mm in silver) : https://www.canadasmotorcycle.ca/bikemaster-angled-aluminum-valve-stems.html
Date published: 2016-06-19