Kenda K270 Dual Purpose Rear Tire
Item # : 113668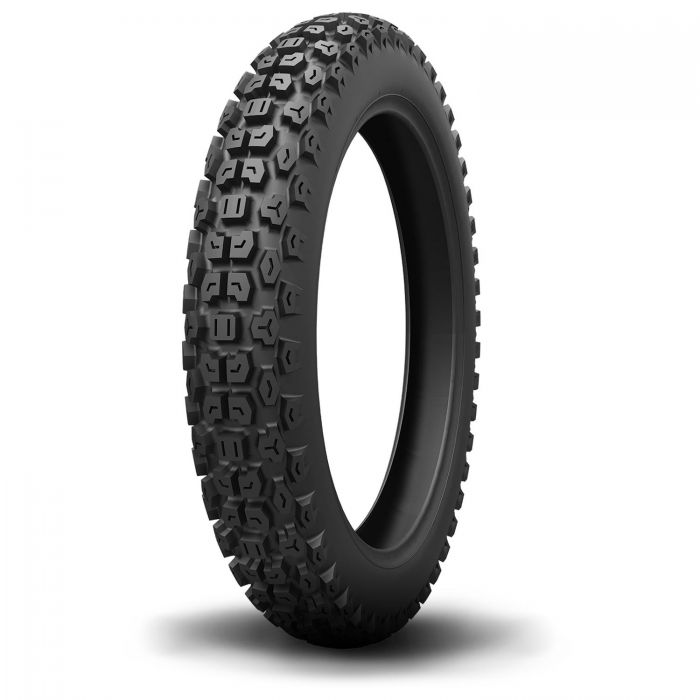 Kenda K270 Dual Purpose Rear Tire
Item # 113668
Description
Kenda K270 Dual Purpose Rear Tire
The K270 Dual Sport is great for replacing your OE trail tire. It provides the perfect balance between a smooth ride on the road and great traction on the trails.
DOT approved (50% dirt / 50% road)
Perfect upgrade for OEM dual sport tires
Intermediate and soft terrain applications
Designed for today's high performance, dual purpose motorcycles
Deep, aggressive knob pattern has rounded profile for more biting edges
Special rubber compound offers great off-road grip without compromising wear on the street
Reinforced sidewalls and extra bead strength for extended durability and performance
D.O.T. approved for highway use
Front/rear combination provides balanced performance both on and off road
This tire is part of a matching set, see the K270 Dual Sport Front Tire
Reviews
Rated

5

out of

5
by
Darxxx
from
Huge Improvement over stock tires!
Super impressed with the Kenda K270 tires I recently installed on my 2010 DR650. Drastically improved grip on the trails, and still a really good street tire. I only have about 1000 kms on them so far, but I'm very confident they'l be my tire of choice, for my style of riding, for a long time. And as always, fantastic service from Canadas Motorcyle!!
Date published: 2016-08-21
Rated

5

out of

5
by
garbage sheep
from
Lasts WAY longer than I expected
I put this tire on a cb550 that I have turned into a on/off road bike. My daughter and I went on a trip that was about 4000km and about 20% of it included off road or logging road travel. I read reviews and people said this was a great tire for those ratios -- 80% onroad and 20% offroad and for the price this seems adequate. I expected to get around 4-5000km on the tire. I just came back from another trip and have just over 10,000km on these tires. They have outlasted my expectations. Most travel is with a heavily loaded bike on the highway but I've taken it everywhere. Handles well in rain, on the highway, and on loose gravel and dirt. Just bought a replacement, but looks like I won't need to put it on for a while. Great tire!
Date published: 2015-08-12
Rated

5

out of

5
by
JNB89
from
Pour le prix,imbattable! For the money,unbeatable!
FR/EN J'ai acheté une paire de ces pneus pour ma CRF 250 Rally et c'est tellement une grosse amélioration comparé aux pneus d'origine de la moto, le jour et la nuit! Assez agressif pour faire un peu de boue et ils sont parfait pour faire tout le reste! Pour des pneus 50/50, vous pouvez juste pas vous trompez en achetant ceux-ci! Je rachète la même chose l'an prochain c'est certain! Bought a set of these to put on my CRF 250 Rally and it is such a huge improvement compare to the OEM tires, litterally day and night! Agressive enough for light mud use and perfect for everything else! I mean, for a 50/50 tire, you just cannot go wrong with those! I would definetly buy the same thing when I'll need it.
Date published: 2017-09-17
Rated

5

out of

5
by
Oldie Suzuki
from
Great Traction
I just installed these on a 40 yr old dual sport I rebuilt. These are excellent tires for the price with great traction on and off road.
Date published: 2017-06-25
Rated

4

out of

5
by
bikeboy1
from
Good all rounder
This tire is good for a little of everything, it has good wear for hard pack and gravel but its not great in the deeper mud but for what I do it works very well which is gravel for the most part.
Date published: 2017-02-10
Rated

5

out of

5
by
chatro
from
Exactement ce que j'avais besoin
Je ne voulait pas autre chose et j'ai ce que je voulais
Date published: 2017-02-10
Rated

5

out of

5
by
sebas
from
very satisfied
wasn't sure about the tire since treads look underwhelming in picture but in person they look great lots
Date published: 2017-05-10
Rated

4

out of

5
by
Craven Morehead
from
Sweet treads
I bought a set of these for my old Suzuki sp370 and they really give this bike a new feel. Comfortable on the road and the dirt. Mud is interesting but these tires are great.
Date published: 2017-05-07
Questions
Would this be a bit too heavy for a front tire for my 1980Yamaha dt100? I found a 2.75-18 and stock is 2.50-18. I can't stay upright in the sand with the old tire.
This is a rear tire, so we would not recommend this for the front of your bike.
Date published: 2019-10-04
Would these fit my 2017 drz400sm? And can you get these tires tubeless? 
You would need to check your owner's manual for the size of tire that is recommended for your vehicle, and then select the tire in the same size. These tires are not available as tubeless
Date published: 2019-09-04
Are these tires directional?
No, they are not
Date published: 2019-10-11
Will the fit a drz400sm? And is it tubeless? Thanks
If the tire size that you require is available, then the tire will fit your bike. You can find recommended tire sizes for your stock bike in the owner's manual, or by checking the tire sizes you currently have. These are tube type tires
Date published: 2019-10-09