Klim Drifter Jacket
Item # : 543432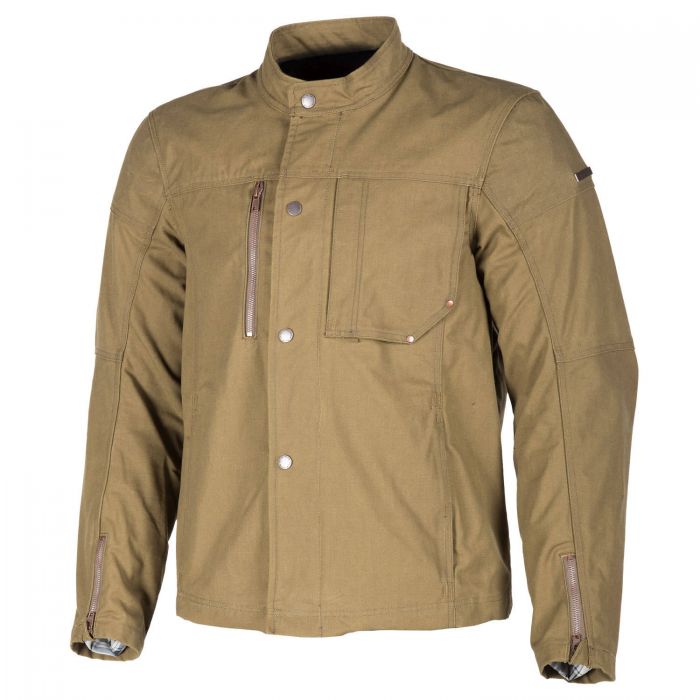 Klim Drifter Jacket
Item # 543432
Description
Klim Drifter Jacket
The Drifter is designed to master the 72-hour adventure. A recon mission in the Tetons, running down the underwater caves of the Yucatan, or traversing the wildlife of Amsterdam nights, the Drifter will get you in – and out – of your next odyssey. Built with the quality you expect from KLIM®.
Built for the adventures of everyday life, the Klim Drifter Jacket combines Klim's unrivaled rugged functionality and a classic canvas workwear look. A full complement of D3O CE Level 1 Armor add protection to the enduring style. The Klim Drifter Jacket only looks casual - it's all Klim all the time where it counts.
Features:
Waxed Canvas, Natural Water Resistance
Magnetic Closures
Minimal Branding
YKK® Zippers Safety
D3O® Ce Level 1 Elbow Armor(2)
D3O® Ce Level 1 Shoulder Armor(2)
D3O® Ce Level 1 Backpad(1) Cargo
2 Chest Pockets
2 Hand Pockets
2 Internal Pockets
1 Internal Chest Pocket Ventilation
Pit Holes For Breathability Fit/Style/Comfort
Action Back For Full Range Of Motion
Zippered Cuff Closure
Waist Length
Plaid Accents
Reviews
Rated

5

out of

5
by
FatGed
from
Typical Excellent Quality from Klim!
Love the jacket - the usual excellent quality from Klim is apparent throughout. The jacket is as advertised - rugged, good looking, a little different from a lot of the textile jackets out there - much more of a "everyday urban" look. Very comfortable for moving around in - I have used it on ADV trips - no concerns with mobility. There is almost no ventilation - if it starts getting warm outside, or you're stuck in traffic, you're going to get warm. Opening the sleeve zippers at the wrist helps a bit - but only if you have some airflow.... (The jacket is too warm for the rush-hour stop-and-go commute in the summer.) I have started to look at protective gear like I look at buying a tool. If it's something I'm going to use everyday, and I depend on it, then spending the money for the highest quality makes sense. Klim is certainly some of the highest quality I have found. Sizing is a huge issue for me, as a 6'2" - 290lbs guy - I never know if what I order will fit.I carry most of my weight in the legs and chest, and to my surprise the 3XL was too big! Returned it for the 2XL which fits perfectly... I should have followed the sizing guide as it seems to be perfectly accurate - UNLIKE so many other manufacturers. (Yes - I am pointing a finger at you, every single thing ever made in China!)
Date published: 2019-08-30
Rated

4

out of

5
by
Commuter Guy
from
I've been wearing this jacket for about a month, and so far it's great. Jacket looks awesome, fits very well, and feels very durably made. Negatives of the jacket are the very limited venting, and the pockets are all small. My phone (160x78mm) doesn't fit in any of the pockets except the kangaroo pockets in the front. The Jacket is best at around 15-25*C. Any more or less is uncomfortable. Overall, this is a great jacket that I really enjoy for daily commuting, but I would rather something else with more features for a longer trip.
Date published: 2019-07-28
Rated

4

out of

5
by
TonyM
from
Durable Construction and Subtle Styling
I was in an accident this summer and discovered the importance of D3O armour first-hand. It became a requisite for a replacement and this jacket feels tougher than my last. It may have less versatility and features than some adv jackets in its price range, but I can't say that I've found myself wanting. The water-resistance will keep you dry in a drizzle, from a water crossing, or from your friend's muddy roost. It will not stop a heavy rain. It's relaxed fit suits me better than some others and it's comfortable enough for all day riding. I'd buy it again.
Date published: 2018-11-07
Rated

5

out of

5
by
Gmac
from
Love it
Great quality. Use it for commuting to and from work when weather is not horrible. Looks like a regular jacket when off the bike. Fits true to size. I am 5.10 and 160 lbs I wear a medium
Date published: 2018-11-04