Klim Induction Jacket
Item # : 610439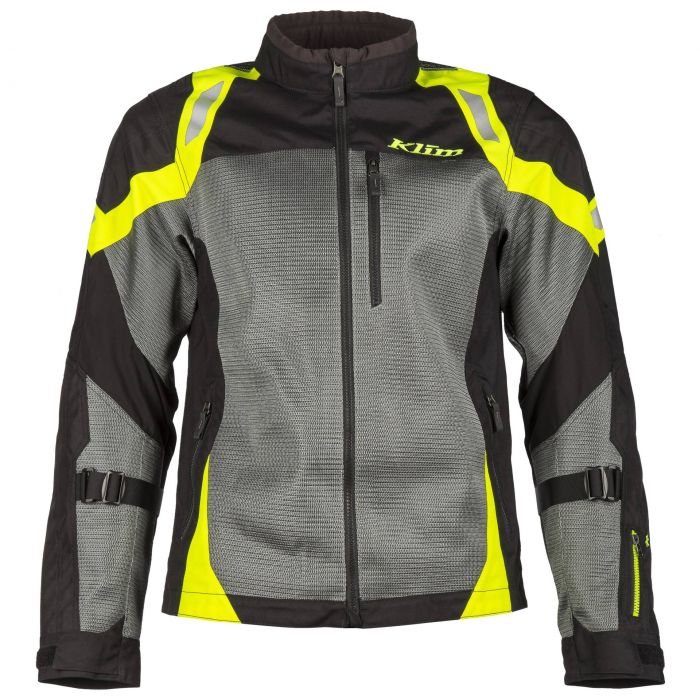 Klim Induction Jacket
Item # 610439
Description
Klim Induction Jacket
Using our proprietary Klim® Karbonite Mesh™, the induction jacket combines the highest ventilation with the highest level of abrasion resistance in a streamlined motorcycle jacket design.This version integrates massive armor/ventilation upgrades, D3O® LP1 vented protection technology increases breathability by 45%.
Top Benefits
Stay comfortable in the warmest riding environments
Ride confident in the most abrasion resistant mesh jacket available (750% stronger than polyester mesh)
Compatible with Klim waterproof and windproof layering options
Exterior Features
Increased overall mesh coverage
Heavy abrasion and tear-resistant mil-spec Klim Karbonite™ nylon mesh
Built with Klim® Rhino-Stitch™ construction technology
Abrasion zones at elbows and shoulders: 840d hi-tenacity 6.6 nylon for outstanding abrasion resistance and durability
Improved comfort in crux of elbow
UV-resistant treatment on main mesh material
Fleece-lined soft collar
Integrated Armor System
New D3O® LP1 – increases breathablity by 45%
Adjustable D3O® LP1 level 1 vented elbows pads
D3O® LP1 level 1 vented shoulder pads
D3O® level 1 back pad
Klimatek™ cooling stretch mesh in elbow and shoulder pad pockets
Visibility
3M® scotchlite® reflective on upper/lower arms and upper back
Reflective positioning designed for maximum bio-motion recognition
Fit/comfort
Improved overall fit
Articulated fit
Stretch woven material inside elbows
Two quick adjust forearm straps
Breathable moisture-wicking internal mesh comfort liner
Improved mobility through back and arms
Storage
One external upper chest pocket with key clip
Two lower zippered hand pockets
1 Inner chest pockets
One forearm emergency id pocket with hidden stash pocket
Hypalon® zipper pullers
YKK® zippers throughout
Comparison Chart
Model
Dakar
Induction
Carlsbad
Latitude
Badlands Pro
Starting At
$325
$455
$700
$845
$1,300
Benefits
Lightweight, multi-season jacket with zip-off sleeves
Highest level of airflow with added protection
Highly mobile, waterproof and durable touring jacket
For tackling longer distances, ideal touring option
Adventure jacket for harsh terrain, includes bladder compartment
Shell
600d chassis, 500d stretch zones
Nylon mesh
Gore-Tex, 500d ripstop fabric
Gore-Tex 2-layer, 840d Cordura, goat leather trim
Gore-Tex 3-layer, 500d Karbonite riptstop
Liner
Mesh
Mesh
Mesh
Mesh
Mesh
Pockets

7

5
9
10
10
Waterproofing
Pant Connection
Protection
D3O compatible
D3O Level 1 full protection
D3O Level 1 full protection

D3O T5 elbow and shoulder

D3O Viper stealth back

D3O Aero Pro & Viper Pro

Exceeds CE-level 2

Visibility
Good
Better
Better
Better
Best
Airflow
Good
Best
Good
Good
Better
Certification
CE AA Certified
CE AA Certified
CE AA Certified
CE AA Certified
Reviews
Rated

5

out of

5
by
G Daddy
from
Best Mesh Jacket for Abrasion & Tear Resistance
I own the older version 2015/16, that comes with a full sleeve -zip out, water & wind resistant liner. The newer 2018 version has a "Breathable moisture-wicking internal mesh comfort liner". It's a toss up which one's the better. If it rains, you'll be glad you had the rain liner. For day to day dry use, the comfort liner is better as the rain liner does not breath very well. The older version does well in plus 25 Celsius Vancouver weather. I'm not sure the abrasion resistance Karbonite mesh is 750% stronger than polyester mesh. I'ts definitely better than any other mesh jacket i.e. I compared with my buddies Scorpion Mesh or a Joe Rocket textile & mesh jacket. The main difference with the 2017 & newer Induction models is there's more mesh panel surface area. I'm pretty sure the same tear-resistant mil-spec Klim Karbonite™ nylon mesh with "Rhino-Stitch™ construction" is used. It 's heavy duty thread that joins the panels together. The old D30 armour works very well & stays flexible in cooler weather. The new D3O® LP1 looks more breathable mainly because all pads are now vented. The new honey comb pattern also lightens the weight of the pads. A small improvement, but I'm sure it improves air flow. The old jacket did not have articulated arms or stretch mesh in the elbows & shoulders. Overall, a lot of small improvements that make this a much better Jacket. I would definitely buy the new Induction jacket if I didn't already own the previous version. My old one is so durable, I doubt it'll need replacing anytime soon.
Date published: 2018-07-11
Rated

4

out of

5
by
Mike
from
Preliminary Review: Feedback on size
Freezing cold and piles of snow so I can't provide a full review yet :) But wanted to provide feedback on sizing to help with your purchase. The Induction jacket appears to be sized smaller than other Klim gear. I have a Latitude jacket in Large: it fits with room to spare to allow layering. I also have a Klim Forecast gortex shell in XL which I purposely bought in a larger size so I could wear it over other gear. The Induction jacket in Large was way too small and had to be returned for an XL. FYI: my Forecast shell in XL will fit OVER the XL Induction jacket giving me a water proof layer. Otherwise, the Induction jacket is typically Klim: solid, well constructed, weighty. It is a much more robust "air flow" jacket than those typically provided by other manufacturers. It replaces a light & thin "air flow" jacket from another manufacturer which left me feeling underprotected (but cool in hot weather).
Date published: 2019-01-31
Rated

5

out of

5
by
Cotillion
from
A great jacket for hot weather
I purchased this jacket knowing full well what summers are like in Ontario, and I have to say I don't regret my decision at all. I purchased a small sized jacket, as I'm not overly big (5'4", 140Lbs) and it's form fitting. Not too tight, but not baggy. The armor pads are well placed on the back and shoulders, and the pads on the forearms cover from wrist to elbow. The adjustable straps on the arms aren't overly helpful, but as I have short arms it's not likely an issue for your average person. The jacket has plenty of pocket space: two front pockets, an outside breast pocket on the left, an inside breast pocket on the right, and a pocket on the left forearm. Now the most important part: even riding in this years 40 degree weather I've been very comfortable when riding at city speeds. The light mesh of the jacket really feels like you're hardly wearing anything, although the back does get a bit hot with the armor pad. The only down-side would be the lack of a liner. If you purchase this jacket you'll need to either layer up when it gets colder out, or have a second jacket as this one will not offer you much in the way of warmth. Also keep in mind that, because both the inside and the outside are essentially pure mesh, you're not going to get any rain protection from the jacket alone.
Date published: 2018-07-17
Rated

5

out of

5
by
LeafFanJP
from
Great Air Flow
This jacket is awesome. I feel very safe wearing it. It does a great job of flowing air once you get moving. My only small complaint would be that it is a little heavier and bulkier than I was expecting, but that is what you get for ultimate safety. If it were flimsier, then it would not offer the same protection. The sleeve cuffs are especially heavy and thick, and stiff, but maybe after it gets broken in a bit more it will relax a bit. Overall, very happy with it, would buy it again in a heartbeat.
Date published: 2018-07-13
Rated

4

out of

5
by
DonM
from
Great jacket but fits small.
This is my fifth Klim jacket and the only large that didn't fit me. The arms and chest were too tight. Therefore when you order go up one size. The return to Fortnine was easy and fast as usual.
Date published: 2018-07-08
Rated

5

out of

5
by
MVJC
from
Great quality!
Amazing jacket for warmer weather riding. North American sizing so Large means large not medium. Good padding and good amount of pockets.
Date published: 2018-05-10
Rated

5

out of

5
by
Mpag1
from
Super content Manteau léger comme un air climatisé ambulant
Date published: 2018-06-12
Rated

5

out of

5
by
Benny
from
Absolute Quality
I bought this jacket along with the voyage pants....air flows through the material and I now get full protection and confort...Well designed and Quality High above anything else you can purchase!
Date published: 2018-05-26
Questions
Does this jacket still come with a water proof/ wind proof liner
There is no windproof/waterproof liner included with the jacket.
Date published: 2019-03-19