Klim Latitude Jacket
Item # : 610369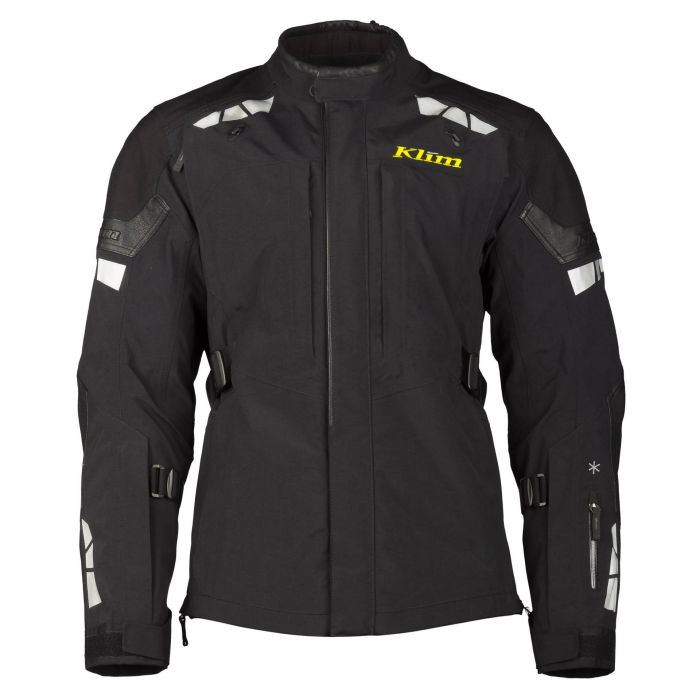 Klim Latitude Jacket
Item # 610369
Description
Klim Latitude Jacket
With each essential element refined, the ideal touring companion is here. Mastering protection, ventilation, and adjustability, the latitude is your trusted companion on your next odyssey.
Top 3 Benefits
Perfect balance of touring function and features
Stay dry and comfortable all day, every day
Refined for touring performance
Exterior Features
Guaranteed to keep you dry®
Gore-Tex® 2-layer performance shell exterior in main body
Gore-Tex® 2-layer next generation 840d cordura® laminate in high abrasion zones
Long distance ergonomics
3M Scotchlite™ Reflective materials for increased low-light visibility
Goat leather trim on elbows and forearms
Goat leather trim and detail shoulders, upper back, center front
Integrated Armor System
D3O® t5 evo xt elbow and shoulder
D3O® viper stealth back pad
D3O® meets and/or exceeds level 1 limb protector ce certification [pren1621-1:2011])
Adjustable pad pockets
Klimatek™ cooling stretch mesh in elbow and shoulder pad pockets
Max Flow Ventilation: 6 Ports
Direct airflow into pad pockets backed by cooling fabric
2 Arm and 2 chest intakes
New 2 back vertical exhaust offset to enhance ventilation
Collar tab back feature allows improved ventilation and usability
Improved waterproofing in venting locations
Hi-Vis En-471 Yellow Colorway Option
Polyester dying is has improved fading resistance
Provides better visibility in low-light situations
Colorfast polyester material is durable and improved resistance to uv fading
Hi-viz colorway integrates maximum reflective and strategic placement of hi vis color panels
Cargo, Hydration, Comfort And Support Systems
5 External pockets [2 long chest "map" pockets, 2 front hand pockets, 1 sleeve i.d. pocket with hidden chest pocket]
4 Zippered internal pockets
1 Secret internal pocket hidden document pocket behind back pad
Collar can hook back to allow for more ventilation improved usability of entire collar tab back feature
Mesh comfort liner with new anti-odor
Jacket-to-pant zipper integration system
Zippered waist/hip expansion panel
Adjustable waist cinch straps
2 Sleeve adjustment straps keeps armor in place and opens vent
Lined comfort collar
Velcro® brand fastener adjustable wrist closures
Standardized jacket-to-pant zipper integration system
Bottom hem adjustment
Hypalon headphone access port
Custom hypalon zipper pullers
Adjustable collar cinch
Comparison Chart
Model
Dakar
Induction
Carlsbad
Latitude
Badlands Pro
Starting At
$325
$455
$700
$845
$1,300
Benefits
Lightweight, multi-season jacket with zip-off sleeves
Highest level of airflow with added protection
Highly mobile, waterproof and durable touring jacket
For tackling longer distances, ideal touring option
Adventure jacket for harsh terrain, includes bladder compartment
Shell
600d chassis, 500d stretch zones
Nylon mesh
Gore-Tex, 500d ripstop fabric
Gore-Tex 2-layer, 840d Cordura, goat leather trim
Gore-Tex 3-layer, 500d Karbonite riptstop
Liner
Mesh
Mesh
Mesh
Mesh
Mesh
Pockets

7

5
9
10
10
Waterproofing
Pant Connection
Protection
D3O compatible
D3O Level 1 full protection
D3O Level 1 full protection

D3O T5 elbow and shoulder

D3O Viper stealth back

D3O Aero Pro & Viper Pro

Exceeds CE-level 2

Visibility
Good
Better
Better
Better
Best
Airflow
Good
Best
Good
Good
Better
Certification
CE AA Certified
CE AA Certified
CE AA Certified
CE AA Certified
Reviews
Rated

4

out of

5
by
dm409
from
Klim Latitude Size Large
Summary. Purchased a large Jan 2016. Pretty much decided to keep it the moment I through it over the shoulders and pulled up the zipper with the tags still attached. The armor fell nicely into place and it fit standing in the living room. One star off for the price and one off for the collar. But added one because my wife said it made me look slimmer. Pockets. All the external pockets are small – about a man's folded pocket wallet plus a bit. The hand warmer pockets are shallow and failure to close the water-proof zippers will likely result in the loss of anything there in. Inside pockets are all mesh material. None are deep enough for maps or mail. Weather Protection. ST13 with oversized windshield. This is not a cold weather jacket without help. On a sunny 10C/50F day a slight chill could be felt even with a long sleeve shirt and sweater and on a rainy two hour ride at 4C/39F heated gear was required. Not a drop of water has found its way inside. No occasion to test the venting to date. Collar. The collar has very soft material running from the inside looping over the top edge to the outside of the collar. But on the fastening portion that goes across the throat the stiff outer shell protrude slight above the soft material causing irritation. The collar also seems a tad short but it has not been a problem to date. The Velcro and snap fasteners fight each other. Fit. 5'10"/178cm, 195 lbs/89kg, 42-43"/108cm tube shaped torso, sleeve with arm on hip and measured from spine at back of neck 33.5"/85cm. Klim's website size adviser gave an 80% chance that a large would fit. With summer wear there is one fist of clearance at the chest and two fingers at the armpits. Standing the sleeves fall half way down the hand which is perfect. The skirt at the back just covers the back side. On the bike it feels as if my size is pushing the limits of a large. I was most comfortable releasing the gussets at the skirt on each side and with the waist straps pretty much fully released. With cold weather wear the fit is quit snug. Even with light summer wear the jack feels just a tad tight across the back (no stretch material) and at the sides under the armpits. Nevertheless, still quit comfortable. I had the opportunity to try on an XL and it is much, much bigger.
Date published: 2016-05-09
Rated

5

out of

5
by
Greg
from
Best All Seasons Jacket Ever
My previous jacket was an Olympia AST 2 which is not a bad jacket but the Latitude is at a whole different level. It is lighter, and more flexible and perhaps because of its breathability it is warmer in the cold and cooler in the heat.
Date published: 2018-02-03
Rated

4

out of

5
by
capnvini
from
More stylish
I had the older version of this jacket. It never let in any wind what so ever. I did fail on rain eventually. Klim warrantied that jacket and replaced it with newer version. Customer service was excellent. This new jacket is more stylish and close fitting. The collar is not as good as the old version which was more roomy and tucked right up to your helmet. The collar chafes against my throat and needs more soft covering. The rear adjustment strap is to high and pulls across the chest. It should be lower towards the waist. The arm vents work well when you want ventilation but when closed act as wind catchers on your arm. I do like armpit vents. You have to wear more layers under this coat then the older version. Haven't really been tested in the rain but am confident it will do fine. Armour feels good and fits in the right places and stays there! Hip pockets are shallow and not to be trusted when open as things could fall out. Other pockets seem fine and there is a watertight phone pocket which is good. Its a good jacket but I wish it had retained some of the great attributes of the older version. Good Klim quality throughout.
Date published: 2017-06-15
Rated

5

out of

5
by
Mordu
from
Incredible Engineering
I have worn this coat and pants while riding the downpours common in the lower mainland of British Columbia and I was comfortably dry and warm. Today, I rode across southern BC for 800 km in temperatures up to 39oC and was quite comfortable. The limiting factor was my Shoei helmet... I have no regrets spending the money for such amazing gear!
Date published: 2019-08-08
Rated

5

out of

5
by
Rallymen
from
Manteau Klim
Rien n'égale l'imperméabilité et la qualité de Klim
Date published: 2018-11-04
Rated

5

out of

5
by
Gary
from
Great Jacket
I love this Jacket. Well designed and constructed. I've worn it in temps from 30 to -1 and it works everywhere.
Date published: 2019-11-18
Rated

5

out of

5
by
Bikenut
from
Love this set (got the pants too)
The set is a bit pricey but definitely worth the investment! Waterproof, well vented! Only one small issue: the collar could be taller/ more comfortable.
Date published: 2019-11-18
Rated

4

out of

5
by
Jaclie 28
from
Imperméabilité à toute epreuve
Très content de mon achat. J'ai échangé mon 3xl par un 2xl et fortnine à fait un travail remarquable et une facilité d'échange deconcertante. Testé 2 fois le jacket sous la pluie abondante et aucune infiltration. Il faut bien fermer les fermetures éclair pour s'assurer de l'imméavilité du jacket.
Date published: 2019-08-29
Questions
Combien le poids de la veste si je compare à un Badlands 
Badlands is definitely heavier
Date published: 2018-12-20