Kriega Haul Loop Fender Strap
Item # : 617564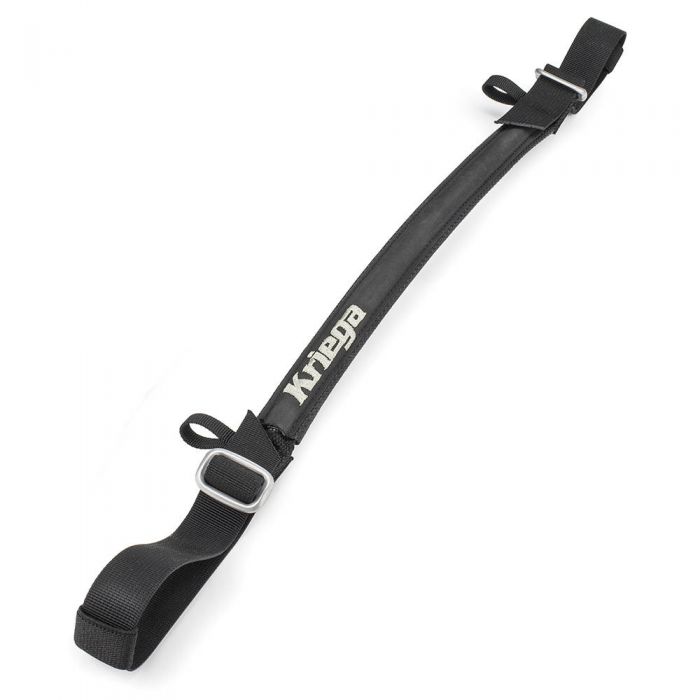 Kriega Haul Loop Fender Strap
Item # 617564
Description
Kriega Haul Loop Fender Strap
Kriega Haul loops are essential equipment for extreme enduro events. Kriega's unique design is a self supporting/semi-rigid solution, which is always easy to find and use.
Fitting methods for front haul loop:
There are 2 methods of fitting the front Haul Loop. Both use 2 x H-Duty cable ties:
Undo web on the stainless buckles. Wrap the web around the fork leg, directly under the lower triple-clamp. Re-thread the stainless buckles(making sure to feed the web back through the buckle to 'lock' it off). The loose end can be placed under the elastic-loop provided. To prevent the Haul Loop moving down the fork leg/s you need to use a cable tie in either 2 ways.
The first method is to feed the cable tie through the small web-loop next to the stainless buckle. Connect the cable tie and tighten around the fork leg directly above the lower triple-clamp. Another method is to use 2 x cable ties linked together in a figure of eight behind the front light/number plastic. The figure of eight method is a superior one, as you can fine tune the angle of the Haul Loop by decreasing the length/s of the cable ties. The shorter the tie the more elevated the Haul Loop will sit.
Fitting methods for rear haul loop:
The fitting methods for the rear Haul Loop are more varied than for the front Haul Loop. The basic requirement is to get the strap around the rear sub-frame as easily as possible. Some applications may require the rear or side panels to be cut to allow the web to exit in the correct manner (holes in the fender plastic are best formed by a soldering iron)
Specifications:
Semi-rigid design
Universal fit (rear only)
Ultra-tough construction
HYPALON: abrasion resistant re-enforcement
TOUGHTEK - grips wet or dry
Alloy buckles
Sold individually
Weight:
Front: 70g /2.4oz
Rear: 50g / 1.7oz
Note: KTM EXC fitment is actually to the black plastic grab areas under the fender (slightly back from the end of the actual subframe).
Manufacturer Part Numbers:
KWEHL - Front
KWEHLR - Rear
Reviews
Rated

5

out of

5
by
Dom 17
from
solide et durable
Facile à installer donne une prise solide semble très résistant
Date published: 2019-04-01