Kryptonite R2 Accessory Retracting Lock
Item # : 469504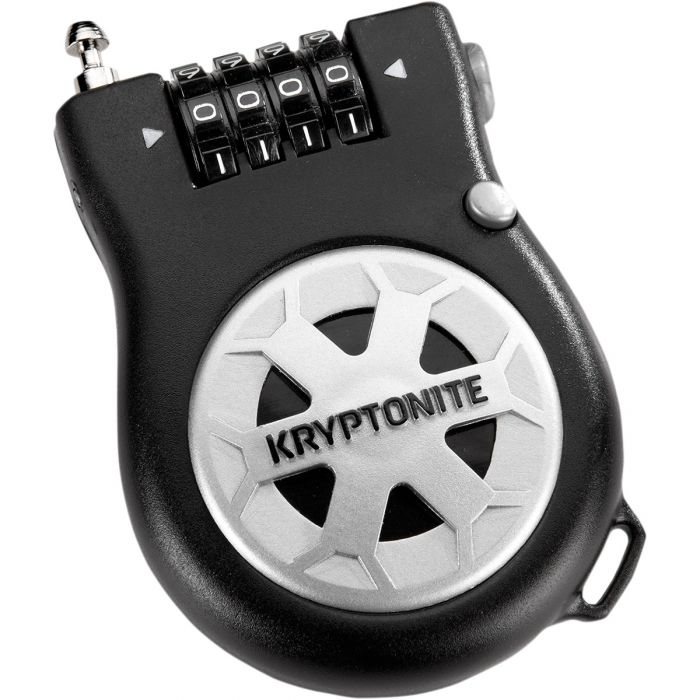 Kryptonite R2 Accessory Retracting Lock
Item # 469504
Description
Kryptonite R2 Accessory Retracting Lock
Choosing the Right Kryptonite Lock for Your Ride:
Kryptonite Lock Guide
Features:
2.4mm x 3-foot (90cm) vinyl coated steel retracting cable
Patented 4-digit resettable combination with easy-grip dials
Small, light (.25lbs) and can be stored easily
Reviews
Rated

1

out of

5
by
Justin
from
Not worth the $20+ dollars
Bough this after seeing the video linked to this item, and while I did not expect great build quality for the price, the lock is made of super cheap plastic. Oh well, I thought, I only need something to lock down the cover. After changing it to my own combination, which was way more effort than on other combination locks I have used, I used the lock for my bike's cover maybe 2 times until I started having problems. One morning, while in a rush to get somewhere, the lock would not open. I tried to align the numbers as evenly as possible until trying the default combination of 0000. It worked, meaning the combination had somehow reset. I then used it with the default combo for another day or two until it got completely jammed. Neither of the combinations would work. After about 20 minutes of trying to unlock it I decided I would need to snip the cable, but I didn't have anything to do it with, so I lightly stomped the lock and it exploded (there is a sort of spring mechanism that reels in the cable) to release my cover. I own two Kryptonite u-locks and they are great, but I really don't recommend buying this one, even for the 20 bucks it costs.
Date published: 2018-07-22
Rated

1

out of

5
by
marty
from
Not quite what I expected
Old saying, "Locks only keep out honest people." That said, the lock works as promised. Worst I can say is this is weak protection at best. Someone with wire cutters can cut it in a second, but for spur-of-the-moment thief, it will cause hesitation and slow down. I can also use it to secure my jacket to the bike.
Date published: 2018-08-26
Rated

5

out of

5
by
Kevan
from
Get what you pay for
For what it is, this little lock is great. No, it's not the most solid feeling piece, as another reviewer commented, but it's 25$...you shouldn't expect a solid piece of metal for that price. The plus, is that it's small, light and easy to carry around and works exactly as it says it does. With something like this, you're simply looking to make whatever it is you're securing inconvenient for would-be thieves, so that they will hopefully move on to something easier...not theft proof. Keeping a proper perspective, this lock does exactly what it is intended for. I would note, however...at least with the unit I received...the cable is more like 2.5', not 3'.
Date published: 2018-07-05
Rated

2

out of

5
by
Lonewolf
from
Cheap build
Not impressed with this product. The 3ft retractable cord doesn't allow me to loop my cover to my bike. Case construction and digit mechanism feel cheap.
Date published: 2018-06-18