Leatt C-Frame Pro Carbon Knee Brace
Item # : 537094
$394.99 - $729.99
$394.99 - $649.99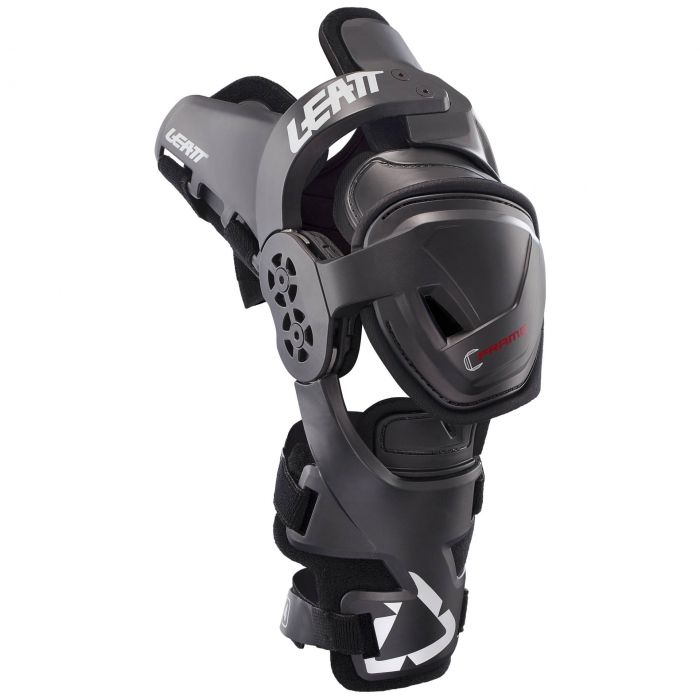 Leatt C-Frame Pro Carbon Knee Brace
Item # 537094
Description
Leatt C-Frame Pro Knee Brace
The Leatt C-Frame Pro Carbon Knee Brace is an entirely different approach to further help prevent knee injuries for motorcycle, ATV and snowmobilers. No knee brace can prevent all foreseeable knee injuries but Leatt laboratory engineers and other medical professionals have come up with a radical departure in design to help further reduce injuries over what traditional cage type knee brace designs can do. The Leatt C-Frame Braces are certified as medical devices, and may be prescribed by a doctor.
The C-Frame Pro is based on three point force distribution, and has a super stiff C-arm mono hinge design for maximum force control. Having a single hinge, mounted towards the outside of the rider's knee, means the rider can better grip the bike with the inside of their knee that is closer to the bike than other designs allow. A comfortable, low profile shin bone plate replaces traditional arms for better comfort and better rotation control. This plate also allows riders with larger calf muscles to wear a knee brace for the first time. InteliLink hinge with double pivot points, BioLink hinge ligaments and sealed bearings inside better replicate natural knee motion and have a very long lifespan. Vented upper leg plates eliminate the narrowly focused sideways forces on the soft tissues of the thigh. This increases sideways bending of the knee as well as helps reduce rotational forces. It also allows for better fitment on more shapes/sizes of legs without the need for expensive custom molds.
Leatt engineers also placed a comfortable CE impact certified protector onto a moisture wicking knee brace sock that is worn with the brace. This absorbs far more impact energy than traditional cups and better insures the knee protection is where it belongs.
Features:
3-point force distribution
Super stiff mono hinge construction
Adjustable soft lock outs help prevent hyperextension
Super low profile of inner knee for better bike control
X-straps on thigh and calf for better fitment
Brace sock with integrated CE 1621-1 certified knee protector included
Leatt signature 3D design for the best possible fit
Certified as a medical device and may be prescribed by a doctor with the FDA Owner Operator Number 10048761 in the US and certification number CA014741 in the EU
Reviews
Rated

3

out of

5
by
MatthewO
from
They're ok.
I bought these a month ago based on a friends advice. I purchased a size large and I did measure within the upper range of that size. After taking a considerable amount of time fitting them and putting them on, my first impression was that there was no way I could ride with them on. They are uncomfortable to me. My friend says he barely notices them after 10-15 minutes riding. Perhaps I needed a size up I don't know. Now, on the protection side I would agree that in certain situations I would imaging they could save your knees from a debilitating injury. However, I am skeptical that my soft fatty legs wouldn't just squish at the support straps and negate any "protection" the brace offers. Non the less I force myself to put them on each ride, and I live with the constant discomfort on the chance I am wrong. Either way, one bonus is that with a doctors prescription my insurance covered over 80% of the cost and depending on your plan, they may cover 100% so, why not. I'm sure its much more cost effective to pay out for a set of these braces to try and avoid a long term injury which could cost more in the long run. My advice would be if you measure on the high end within a size, just get the next size up.
Date published: 2017-05-05
Rated

4

out of

5
by
Mark
from
1st Knee Brace
I bought these knee braces after twisting my knee one day. I felt that my Leatt knee pads (although comfortable and a great knee pad for impacts) wouldn't stop my from twisting or bending sideways. I am 50 now and riding single track most of the time and like most older riders I have to work and would like to limit the chance of a knee injury. At first it was a little frustrating trying to get them to fit properly but I followed the fitting instructions the first couple times then developed my own procedure. Now while leaving the top x strap in an adjusted position I just clip and unclip it when putting on or taking off. They say to start with the calf strap. It and the lower calf need to be as tight as you can without it hurting for them to stop them from migrating down your leg. I found that once I have my pants on they stay up a little better but I try not to move around to much until I get my boots on. Once I have my boots on they don't go anywhere. While riding with them at first they felt a little weird on the inside of my knee (comes with adjustable pads for snug fit) but after one or two rides I can't even feel them. I researched these braces a lot before I bought them and am glad I did. I love them. The right hinge has a little click in its motion but I'm hoping it will work itself out. I don't feel it riding only walking. I look betweennthe gear cogs but couldn't see any obstruction but will take apart one day. Tip: when undoing the Velcro straps on the calf I just pull it back through the strap hole until it gets to the bristle part of the strap and do it up again in its most loosest position avoiding pulling it all the way out Through the strap hole then slide my foot out and then reverse the procedure putting them back on. This stoops the straps from sticking to everything which is annoying.
Date published: 2019-03-15
Rated

3

out of

5
by
Seven29
from
Broken patela cup
Got theses braces super fast in the mail and they seems like they're pretty solid around my legs. First ride out however when I took off my riding pants the patela cup was loose and was broken. The other one was fine so I hope it was just a manufacture problem because I didn't crash at all and even if I did crash I would expect for the price I paid for proper knee braces they would hold up. I am getting a new patela cup free of charge but I' am told it will take a few weeks. I hope with the new cup theses will be awesome braces but for now I'm a little disappointed. If they hold up with the new cup I'd rate them higher. They also let you feel the bike better.
Date published: 2018-02-06
Rated

5

out of

5
by
YZrider
from
Totalement satisfait
Une fois bien ajustées (pour un fit parfait, il faut utiliser plusieurs ajustements qui sont fournis), elles sont très confortables et stabilisent grandement le genou. Plus qu'on s'en attendait. Très confortables.
Date published: 2017-08-17
Rated

5

out of

5
by
Hawaii06
from
Leatt C-Frame Pro Carbon Knee Brace
Very good product, very satisfied. My boyfriend is recovering from a very bad knee injury and this knee brace really does its job! Very fast shipping as well.
Date published: 2017-08-09
Rated

5

out of

5
by
Rideski
from
I love these braces!
These braces are fantastic! Once on you don't even realize they are there. I bought these as I sprained my right mcl and didn't want to further damage my knee. After doing research on which knee brace to get I found these to be the best for my needs. As these are considered medical devices my insurance co covered the cost. These have since saved my knees a few times over and I'm thankful for having them, even if I was out of pocket ($) for the pair - well worth the investment. Follow the instructions for securing them and they will stay in place all day.
Date published: 2019-11-24