LS2 OF569 Track Helmet
Item # : 529160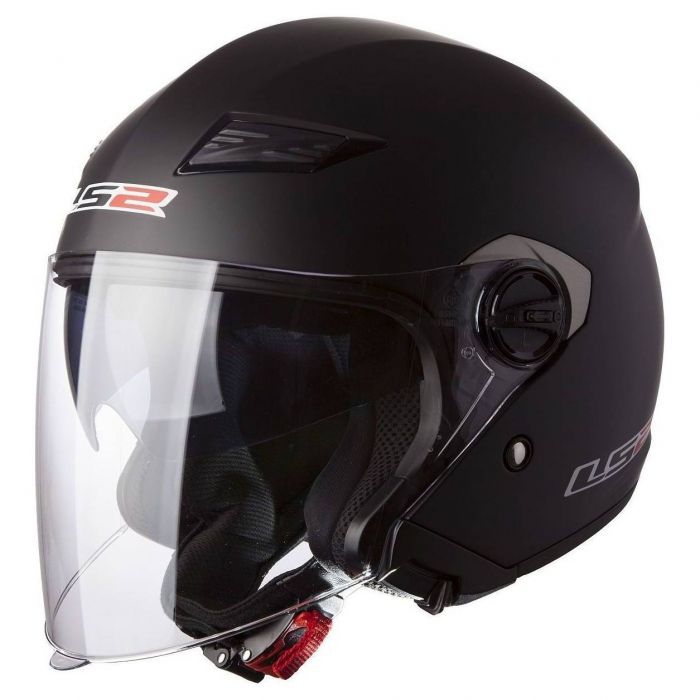 LS2 OF569 Track Helmet
Item # 529160
Description
LS2 OF569 Track Helmet
The OF569 Helmet with sun shield is one of the most popular in LS2's line up. When it's hot outside, it is awesome to be able to lift the shield and get some air when you are stopped at a light or filling the tank. The face shield is optically correct and flips up and out of the way when needed, and uses the ShortShift Tool-less Quick Release for easy replacement. The peripheral vision is exceptional and allows you to see the world without the typical obstruction of other helmets. Some say it's like looking out through a giant picture window. The OF569 includes LS2's Twin Shield System Drop Down Sun Shield that engages and retracts at the touch of a button. The quick release chin strap makes it easy to get on and off. The plush comfort liner is made of a breathable fabric and is fully removable and washable.
Features:
HPTT (High Pressure Thermoplastic Technology) shell
1 shell size
Channeled ports
Removable and washable comfort liner
Top vents with an exhaust port in back
Cheek pads with laser cut foam
3D optically correct fog-resistant face shield with Quick Release System
Inner drop down sun shield
Quick release, security plate reinforced strap
ECE certified
Reviews
Rated

4

out of

5
by
bempey
from
Very nice helmet but sizing was way off
I bought this after researching for a couple of months. For the features its a great buy. However the sizing is not even close. I have 3 XXL helmets that I use. I got this in a 2XL as well. The helmet and visor both said XXL, but it was too small for me, and too small for my son who takes an XL, but a bit big for my wife who wears an L. So, I'd put the "XXL" as large-ish "L" for North American sizes. I have seen other reviews of other Chinese helmets stating that many of them use Asian sizes, which are about 1.5 sizes smaller than American/European sizing. BTW: The size chart was North American sizes, and did indicate an XXL would fit, but the helmet was much smaller. I'm very sad, because its a sharp looking helmet (in the dark-grey colour), and has great features. The trim looks great, the straps and HW all look very high-end. I just wish it fit! NOTE: Returning it was easy. Service was excellent. Great company to do business with!
Date published: 2015-10-17
Rated

4

out of

5
by
Anonymous
from
Best fit and price.
My wife got this one and she loves the helmet, best of both worlds as she only wants to wear one helmet. It does fog up a lot when stationary or at lights on cold days. She is very happy with the helmet. We shopped a lot for helmets and did a lot of research and this was it.
Date published: 2014-04-25
Rated

4

out of

5
by
CreepyRodney
from
Buy at least a size larger. Excellent build quality. A bit noisy, but so is my bike. Strap is convenient but a tiny bit choky. Helmet can not be put on while chin bar in place. Sun visor irritates nose a bit, but shifting the helmet fixes that. Overall opinion, worth the money. Seems like it should be more expensive.
Date published: 2016-08-15
Rated

5

out of

5
by
James
from
Comfort at a moderate price.
After wearing the LS2 0F569 helmet for 12 hours over 2 days I was pleased by its comfort. Very natural and not at all distracting. Nice features like controllable ventilation and built-in sun glasses. Good marks to the website for excellent fitment info.
Date published: 2016-05-17
Rated

4

out of

5
by
LenD
from
Comfortable and Great Protection From the Elements
I bought this helmet last winter, and wore it on a few short rides this spring. I found the fit to be a bit small, but overall very comfortable, with no pressure points and a very wide field of vision. I REALLY got to put this helmet to the test last week, when I did a 4-day, 3,200 km ride in wind, rain and sunshine. I took another of my favourite helmets with me, "just in case", but ended up wearing the LS-2 for the entire trip. The wind, rain and debris protection is excellent with the shield down. I like to raise it for better airflow when riding slower, though, and found the sun shield to be pretty flimsy when it was exposed to the breeze. It also isn't QUITE dark enough for a ride into the setting sun. Might be better if there was a visor. As with many helmets, the wind noise can be managed with a decent set of earplugs, or with stereo headphones. Overall, I would recommend this helmet.
Date published: 2017-06-20
Rated

4

out of

5
by
Dave 815
from
I bought this helmet after much research and am very happy with it. I like the fact that you can run with or without the face shield, the quick detach works great. I like the quick release chin strap but cannot lock the helmet to the bike. Overall a good value and a nice helmet.
Date published: 2016-08-13
Rated

1

out of

5
by
LabradorKid
from
Not Happy with it.
My head measures for a Large (59-60cm), yet I bought an XXL and it was still too small. I find the forehead area too tight as well. And when I added a com system, the helmet flexed wider and the front and back closed in even tighter. The sun shield and clear visor are a great feature. Wish I never bought it.
Date published: 2016-08-13
Rated

5

out of

5
by
Executioner3
from
Nice helmet
Helmet is light and comfortable. As other reviews say order a size larger.
Date published: 2016-05-10
Questions
Comments about this helmet is that the size is smaller than the chart. My head is 21.5 inches and I usually wear a small. What size should I get this Ls2?
Considering your normal size is a small, a medium would be a better fit in this case.
Date published: 2019-09-09
Is this an oval helmet? no one is talking head shape.. a round head in an oval helmet would require a larger lid. Ordering 2 sizes up sounds over the top.
LS2 list this helmet as an intermediate oval head shape
Date published: 2019-09-04
Is the OF569 and the OF569 Scape the exact same helmet with or without the chin guard? If I like the OF569 can I later buy a chin guard for it?
Hi, Yes, they are the same helmet, with, and without the chin piece, this is not something that we are able to sell separately. ~Danielle, Customer Service, Canada's Motorcycle
Date published: 2015-02-10
hi. I see some people are saying that the sun visor rattles. is that with the main shield down or have you addressed this.
Hi Stuthere, For those that are experiencing this issue it seems to be up or down. ~Danielle, Customer Service, Canada's Motorcycle
Date published: 2015-11-10
What is HPTT composite?
Fancy words for "plastic". lol
Date published: 2016-09-27
Is the sunshade useable over glasses? Just regular prescription eyewear not something big and clunky, I have tried similar helmets and the sunshade touched the glasses when lowering.
Yes the sunshade is useable over small glasses. I tried this helmet myself and the shield did not touch my glasses.
Date published: 2015-04-26
I have to wear eyeglasses so is it possible to put the helmet on without removing my glasses every time I go to put on the helmet?
Hi Perdov, I myself wear glasses, and remove them each time I take a helmet on and off. If the chin bar section is released from this helmet, it is possible to keep your glasses on. However I would suggest removing them, to avoid any damage to your frames. ~Danielle, Customer Service, Canada's Motorcycle
Date published: 2015-01-14
Can anyone recommend a Bluetooth headset that will fit in the LD2-OF569 helmet
Hi Perry, Just about any one of our communication systems will be good for this helmet. Make sure you choose one with a boom or Hybrid microphone. If you need help choosing a communication system, feel free to contact one of our Customer Service representatives who'll be happy to help you narrow down your choices. Thanks! ~Emily, Customer Representative, Canada's Motorcycle
Date published: 2015-04-01