Maxima Chain Wax/Clean Up/MPPL Ultimate Combo Kit
Item # : 84998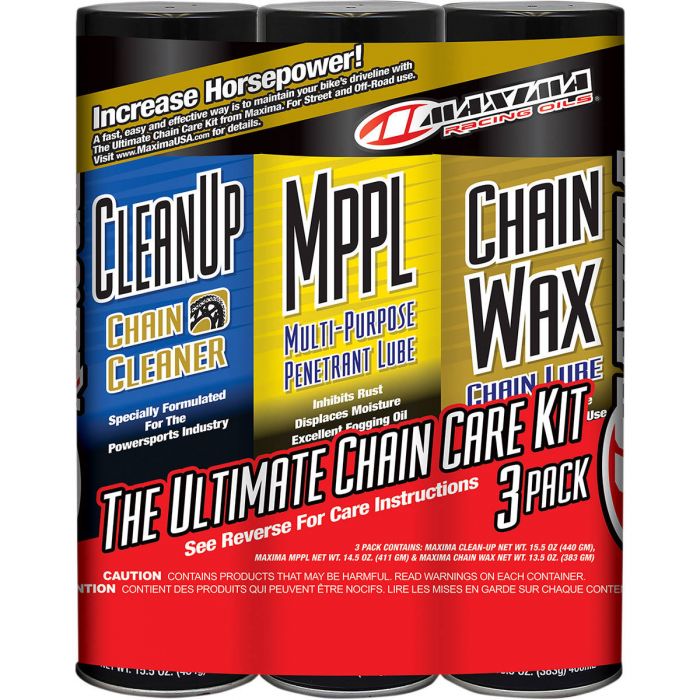 Maxima Chain Wax/Clean Up/MPPL Ultimate Combo Kit
Item # 84998
Description
Maxima Chain Wax/Clean Up/MPPL Ultimate Combo Kit
Features:
Increases horsepower and torque to the rear wheel
Offers outstanding chain and sprocket life
Safe for O-ring and non O-Ring chains
Comes with one large can each: 1 CleanUp chain cleaner; 1 MPPL; 1 Chain Wax
4 step process noticeably reduces rolling resistance:
Simply spray on CleanUp
Hose off with water
Liberally apply MPPL
Lube chain with Chain Wax
Manufacturer Part Numbers:
Reviews
Rated

4

out of

5
by
HolySpark
from
Great Product - Bad Packaging
The product in itself works great and I'm using it pretty much everytime I clean my bike. Make sure you give some time to the wax to "stick" on your chain before driving off otherwise you'll get your bike dirty real fast. The only reason I'm giving this only 4 stars is that I received a product that had clearly been opened before as the plastic packaging was broken and 2 bottle caps out of 3 were damaged. One was seriously cracked and the other one was just shattered and laying at the bottom of the plastic wrapping. So at this point nothing tells me that this is not a refurbished product that has been used and the cans might have already been half emptied and I'll never know but hey, it's still a nice product so I'm not gonna be a d*** about it.
Date published: 2017-09-18
Rated

5

out of

5
by
Ben
from
best combo
very easy to use great product love it
Date published: 2013-07-25
Rated

4

out of

5
by
Tombonombona
from
Good stuff
Good product. Cleans well, and protects for a decent amount of time. I havent taken my bike through a ton of mud yet so I'm not sure how it will work there but it holds up to general trail and city riding not a problem. Gets my thumbs up.
Date published: 2013-06-21
Rated

5

out of

5
by
blaze125
from
Works great
I can't compare it to any other product since this was my first time ever cleaning\lubing\waxing a chain. Though I can say it does work. Just look at the before and after pictures. The after does not show the wax applied, the shot was taken after rinsing off the cleaner.
Date published: 2018-05-27
Rated

5

out of

5
by
RoadAtlas
from
Très efficace
J'en suis satisfait. Le nettoyant à chaîne sent très fort et est très efficace. Idéalement, ayez une brosse à chaîne, c'est encore mieux.
Date published: 2020-03-26
Rated

5

out of

5
by
Sanigma
from
Good products
I've been using this combo to clean and service my bike's final drive system since the day I got her. Now two bikes in, and I'm still using the same combo. Works great, gets the job done. Have never had a chain issue
Date published: 2019-12-01
Rated

5

out of

5
by
Rob00
from
Wax stays right on the chain
Great product. The wax is much better than a grease. No mess after riding.
Date published: 2019-08-30
Rated

5

out of

5
by
Carlo
from
Wicked 3 Pack
I used Honda products for a bit, but they are garbage compared to this. The same can ( 1 ) of the Chain Wax alone, is $ 22 bucks locally, at any dealer... This is a great deal. The Clean Up worked awesome with my Motion Pro brush, the MPPL got the water and rust off, and the Chain Wax worked great. A little goes a long way with the Chain Wax. so don't over soak. There is no fling with this lube, but if you over spray, you will see it coat some parts down low. This 3 pack is worth every cent. When you have a streetbike that is capable of 300 km / hr, this 3 pack will make sure that your chain can withstand the torture and abuse it goes through. I will absolutely buy this again,
Date published: 2019-05-15
Questions
There is one other similar bundle to this. The only difference is this one comes with chain wax and the other is with chain gaurd. Whats the difference between the two?
The chain guard is a permanent application as of the wax you would have to clean.
Date published: 2019-09-06