Maxima Synthetic Oil Change Kit with Black Filter - 90-119015B
Item # : 542357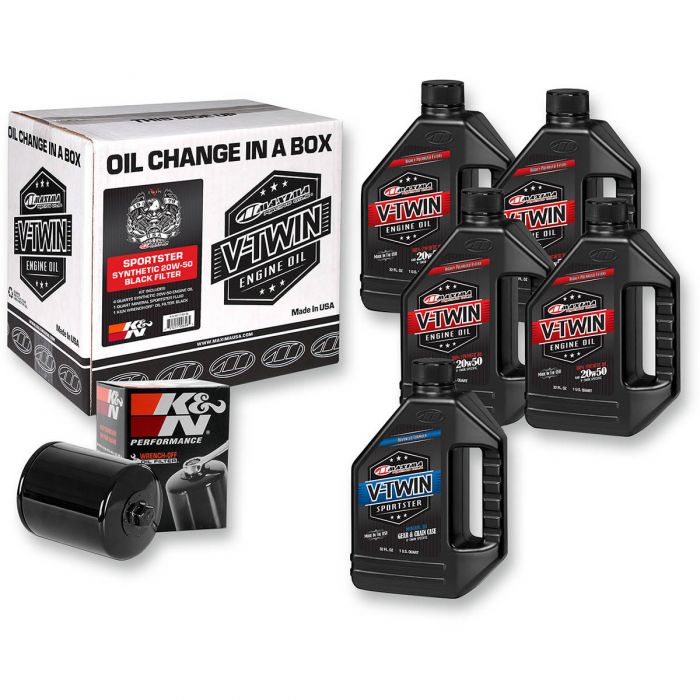 Maxima Synthetic Oil Change Kit with Black Filter - 90-119015B
Item # 542357
Description
Maxima Synthetic Oil Change Kit with Black Filter
Kit includes all products necessary to complete an oil change on your H-D motorcycle (engine, transmission/primary oils) plus oil filter. Sportster Synthetic 20W-50 Black Filter Kit contains the following:
4 quarts of Maxima V-Twin 100% Synthetic Engine Oil
1 quart of Maxima V-Twin Mineral Sportster Oil
1 K&N; Wrench-Off Oil Filter™: Black (KN-170)
Fits '86-present Sportster engines
Maxima V-Twin 100% Synthetic Engine Oil is an ester based motorcycle oil engineered and approved to be used as a multi-compartment oil for H-D V-Twin engines, transmissions and primaries. Surface-active ester technology lowers operating temperatures, reduces wear, increases film strength and offers extended protection
Maxima Sportster Gear & Chaincase Oil is a high-quality, mineral based motorcycle gear oil formulated for high-performance transmissions and primary chaincases. Extreme pressure additives and surface active chemistry protect against shock loads and allow smooth shifting under peak loads and RPMs. Ultra-clean detergents protect gears from wear, deposits and allow for trouble-free operation.
Meets or exceeds all manufacturers' specifications and will not void your new vehicle warranty
Manufacturer Part Number: 90-119015B
Questions
Does this kit contain new orings for plugs and primary gasket?
It does not just oil and filter
Date published: 2019-02-14