Maxxis M7305D Maxxcross Desert IT Rear Tire
Item # : 63298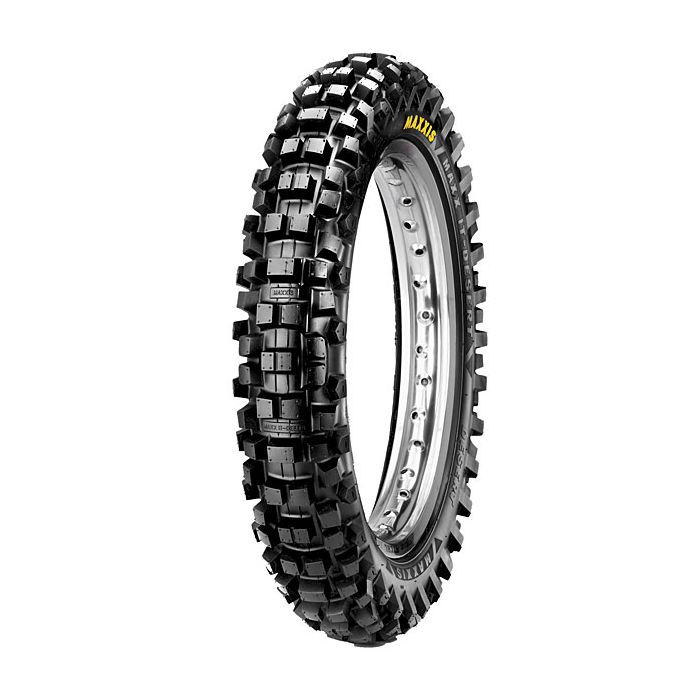 Maxxis M7305D Maxxcross Desert IT Rear Tire
Item # 63298
Description
Maxxis M7305D Maxxcross Desert IT Rear Tire
Specially designed compound increases durability in rocky or desert conditions by reducing chipping and cutting
Tall knob design improves traction when racing in sandy conditions
Stiffer carcass design minimizes flex, reducing the chance of pinched tubes
Reviews
Rated

5

out of

5
by
Michel Latour
from
Lives up to it's reputation
Perhaps not the best traction in any specific terrain but does quite well everywhere including occasional pavement runs. Edges kept sharp even after 300km of varied terrain. Using the larger 90/100-21 size, with the taller sidewall you gain a bit of ground clearance and rim protection. Soaks up rocky trails very well.
Date published: 2016-12-14
Rated

5

out of

5
by
Racer272
from
Extremely durable rear tire.
20 plus hours of hard laps practicing on hard pack MX track on a RM-Z 450. Lots of life left, perfect practice tire.
Date published: 2015-02-15
Rated

5

out of

5
by
JakeKillsTires
from
Best tire I ever used
I use this on hard back clay, rocks, and sometimes he occasional street ride and I'm honestly amazed with this tire so far I have about 700-1000km on it and there's only a bit of rounding on the edges of the knobs I can't believe how good this tire is. I use this on a 250r and I am not easy on her
Date published: 2017-08-09
Rated

5

out of

5
by
djkent
from
Was Skeptical
I had read some sub par reviews on this tire. The rear got amazing reviews as it should because it's amazing. I have to disagree with the negatives, I replaced a Millville 2 which only had about 10 hours with this tire. Installed it with the NueTech Tubliss system and ran it at about 5psi. Works great and better than the Kenda in my eyes. Traction in the loose dirt was way better than I expected and allowed me to push just a little bit harder. Good stiff sidewall and a great option for tubliss and if in the desert.
Date published: 2016-05-10
Rated

5

out of

5
by
Brickster
from
No regrets taking this tire to the desert
Bought this tire for the LA-Barstow-Vegas dual sport rally on my KTM500EXC. Tire worked great through 1400km of hard, fast riding through lots of rocks and endless sand. No chunking or cracking, just the wear you would expect on a ride like this.
Date published: 2015-12-06
Rated

4

out of

5
by
_Al_
from
Durable
It doesn't have the bezt traction in the world but this tire is durable and get the job done.
Date published: 2019-08-28
Rated

4

out of

5
by
Doc_speeder
from
Long wearing, good traction, tough as nails
I put this on the front of my YZ250X in 90/100-21 size. Several rides on it now, mostly in the mountains where there's lots of rocks and roots. They are holding up fantastically. They don't offer much in the way of feedback, and when I first rode on them I didn't care for the way they always tried to climb out of ruts and single track trails, but I bumped the pressure up to about 12 psi from my normal 9 psi and that really helped. They actually have pretty good cornering bite, but you have to just sort of trust them because you can't feel it. I'm running with heavy duty tubes. All in all, a good tire and they'll last a long time.
Date published: 2018-09-07
Rated

5

out of

5
by
RGWP
from
Best all around single track tire
When you use this tire with a tubeless system it is the best tire money can buy for off road all around riding racing. I've been using this setup for the last 4 years and decided to try one of these new super gummy tires and the Maxxis IT desert is still a better Tire. It lasts, has Awesome traction, and running it at 0-4psi it helps the suspension feel on the roots and small rough stuff
Date published: 2018-08-28