Michelin Anakee 3 Front Tire
Item # : 137884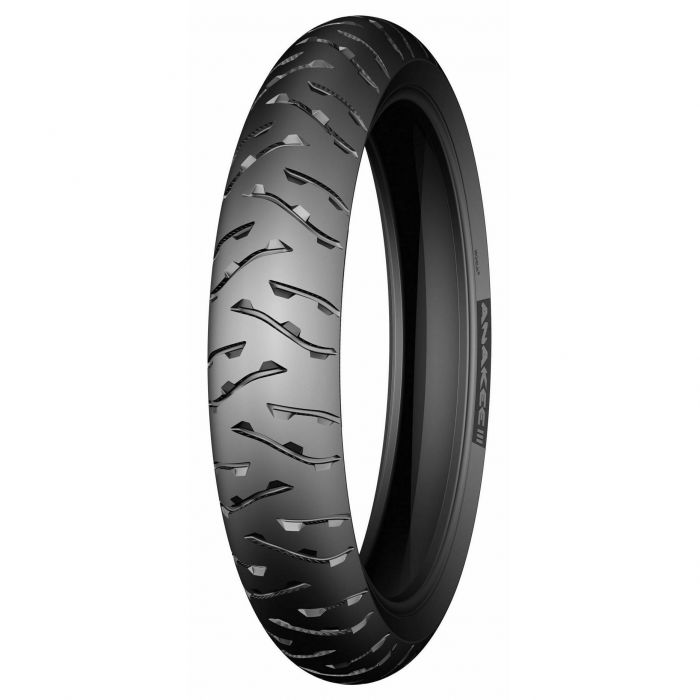 Michelin Anakee 3 Front Tire
Item # 137884
Description
Michelin Anakee 3 Adventure Touring Front Tire
Click here to see the differences between the various Michelin Road Tires.
MICHELIN Road Tires Positioning Chart
The all-new 90% on-road, 10% off-road adventure touring tire from Michelin.
Performance that lasts mile after mile
New silica tread compound yields even more mileage compared to Michelin Anakee 2 tires
Innovative tread pattern inhibits irregular wear patterns, while evacuating water, dirt and mud
Enhanced ride qualities
Tire architecture engineered for easy maneuverability and precise handling
Excellent stability and rider feedback, thanks to a new high-rigidity casing
Excellent wet traction
Innovative silica tread compounds offer the best balance between grip and durability
Distinctive tread pattern pulls water away from the contact patch
Reviews
Rated

5

out of

5
by
SRra
from
Excellent wear life
I live in Vancouver BC and spend a large amount of my riding in absolute downpour. These tires have never been affected by the amount of rain. The amount of confidence these tires have given me riding in horrible weather covers the cost alone. I have 14,000km and I am about 1mm above the wear bar. I do ride pretty aggressively and have about 2000km on logging roads.
Date published: 2016-04-25
Rated

5

out of

5
by
Twisty roads rule
from
Amazing dual sport tires
Installed these on my BMWR1200gs and went on a 3200km ride to BC on some of the top twisty roads out there! Great grip! Amazing sense of confidence on these tires!!
Date published: 2015-08-08
Rated

4

out of

5
by
Backroader
from
New Tires
These tires are perfect for the style of riding I do, which I mostly black top with a small percentage of hard pack. A good performance tire for a heavily loaded bike.
Date published: 2017-05-04
Rated

5

out of

5
by
Harywood
from
Super Tire
I read numerous reviews prior to purchasing the Anakee 3 and it seemed to receive consistently above average scores, prompting my decision to buy. This tire is amazing. I'm running it on a 2014 V-Strom 1000 and just returned from a 9400 km tour of the US Southwest. It was entirely predictable through anything I threw at it. Tight twisties, long sweepers, you name it. Wet/dry - totally confidence inspiring. No Chicken Strips left after the first set of twisties on a bike fully-loaded with camping gear. A bonus is the wear. Temperatures ranged from 25 to 50 Celsius (79 - 122 F) through Arizona and Death Valley. At the 10500 km mark now, there's still more than 50% tread left easily. And good resistance to squaring. They sing a bit at certain speeds but this reduces after a while and is the only thing that detracts from what is a near-perfect tire - highly recommended!
Date published: 2015-07-07
Rated

3

out of

5
by
Squinty
from
WHAT!? I can't hear you!?
Just put a rear tire on a 1200GS last night and went for about a 100 km ride. The Anakee 3 is LOUD! Annoyingly loud. That's a shame, because the tire handles and grips very well, but I'm not sure I can handle the noise.
Date published: 2019-07-19
Rated

5

out of

5
by
Chris S
from
Good wear
This is the third set I have bought , and the last one I got 23,000 km out of rear front I changed at 28000 km, they handle well in the curves , packed dirt and light gravel are fine, sand not so good, . For the riding I do mostly 2 up on paved roads they are great
Date published: 2017-10-27
Rated

3

out of

5
by
deijmaster
from
Great tire... but noisy!!!
This is the tire my 2017.5 1200 GS came with. Great tire in most conditimost but I need to say this... these babies are loud on the road... to the point that I'm not sure if I'll keep them for long.
Date published: 2017-09-09
Rated

5

out of

5
by
Bryan
from
Superb handling and performance
Just put 6000+ km's on my new Anakee3's on the 3 Flags Classic and these tires have been just excellent. Handling through some very tight windy sections was superb on my R1200GSA, and the tires are hardly showing any wear. Very pleased!!
Date published: 2015-10-17