Michelin Anakee Wild Rear Tire
Item # : 481505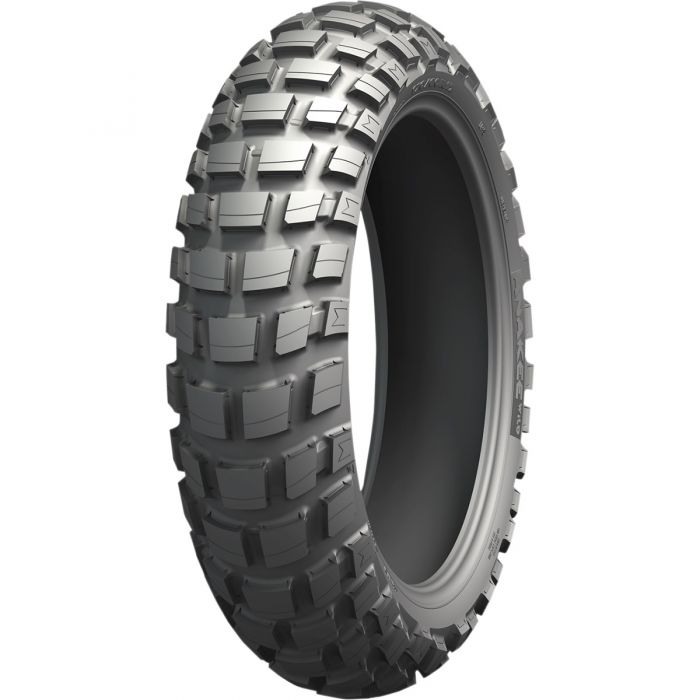 Michelin Anakee Wild Rear Tire
Item # 481505
Description
Michelin Anakee Wild Rear Tire
Click here to see the differences between the various Michelin Tires.
MICHELIN Off-Road Tires Positioning Chart
MICHELIN Road Tires Positioning Chart
Anakee Wild offers exceptional durability and road/off-road resistance thanks to radial technology and optimised tyre thread depth. Tried and tested in extreme road conditions!
Stability and comfort on the road thanks to radial technology available for the first time on a knobbly tyre
Handling , On/Off traction, and precise steering thanks to an innovative tread pattern
Excellent longevity and resistance against heating and aggression thanks to its optimized tread pattern's depth and new tread compound
Resistance to damage and high temperatures thanks to optimized tread depth and new compounds
An off-road version of the popular Anakee III
50% road / 50% off-road use
Reviews
Rated

3

out of

5
by
Steve
from
Won't last long
I ride a Triumph tiger 800. I did one trip on the WABDR and that tire is torn up. Chunks missing, etc. I did grip well, and very noisy on the street over 100 km/h. They only have 2000 kms on them and I am shopping for a new rear tire. I wouldn't trust it for another back country ride. I was on Tkc80 which held up better.
Date published: 2018-05-15
Rated

5

out of

5
by
superfunkomatic
from
Longevity, traction and confidence
I bought an Anakee Wild front tire for my Africa Twin for a trip with 25% of the terrain being gravel, dirt and mixed surfaces. Wow! I'm impressed this is the most confidence inspiring offroad front tire I've used (more than the TKC 80). It's done just short of 6,000 kilometres and it still has about 1/3 to 1/4 of it's life left. I'll certainly be buying another of these for the front of my bike.
Date published: 2018-08-16
Rated

4

out of

5
by
MarioTech
from
Grat traction
Very good traction in gravel. Great handling on my BMW1200GS. In rain no apparent slipping on gravel or pavement. I'm into a 5k trip on pavement i wished I would have put on some street tires. I find the Anakee wild very noisy like any other knobby tire. One reason I chose them because they are radial tires. After a while on pavement it becones annoying a good thing I have a full face helmet. When i close the vizor the hissing sound goes away. My Metzeler Tourance where great on pavement but dangerous on loose gravel. Thats the trade off
Date published: 2016-08-14
Rated

3

out of

5
by
smiley
from
Michelin anakee
bought this tires go on a 4 day adventure ride. it did not handle the terrain well, mostly forest service roads, some rocky and rough, tore this tire up, chunks out of the knobbies. compared to the other tires in the group, not good. tire hooked up good with the ground, relatively decent on the pavement. only 1200kms on it now, doubt I will get 5000 out of it.
Date published: 2016-08-15
Rated

3

out of

5
by
Jess
from
Good I think
I haven't installed this yet because I am enjoying my spinny old bald tire still. This Michelin was expensive so I hope it is as good as what people say.
Date published: 2018-07-10
Rated

4

out of

5
by
mcrotchburns
from
Good tires
Have a set of these on my 1090r. Good highway performance, good dirt road and off road grip. 2500km so far and no signs of wear. Would buy again.
Date published: 2019-08-28
Rated

3

out of

5
by
Randaroo
from
Hopefuly mileage lives up to T63 historical amount
Bugger to get on, souper stiff sidewall/bead and fear a flat repair out in the bush will be no fun. I've been using the T63 for the last few changes and like the value/performance but now they have been replaced by these, Anakee Wild, we shall see. I typicaly got 5000kms plus on the T63, 4600 on the Mita E09, about 2500 on the M21 or the 606 so i really hope these new skins last and don't flat way out in the beyond.(my specialty,... gasp) I'd like a nobby'er sidewall as these, like all duelsport tires, are like marbles in the corners. Nice look'nn tire on my old warhorse but for me looks don't matter, I want them to live long and rip... a bit. Oh ya, Fortnine, i love the video's and the price. Canadapost was ummm... as expected, I'm learning. thank you's everybody
Date published: 2019-06-12
Rated

3

out of

5
by
BrentmanII
from
Wobble at higher speeds
This the first time I have ever bought 50/50 tires. So far I am not impressed. They were very hard to change ( too stiff )! On pavement at passing speeds they cause the whole bike to wobble. They say after 500 plus km they get better which they did improve but still a unstable tire. On Gravel they are just ok.
Date published: 2018-07-08