Michelin Commander II Cruiser Front Tire
Item # : 87961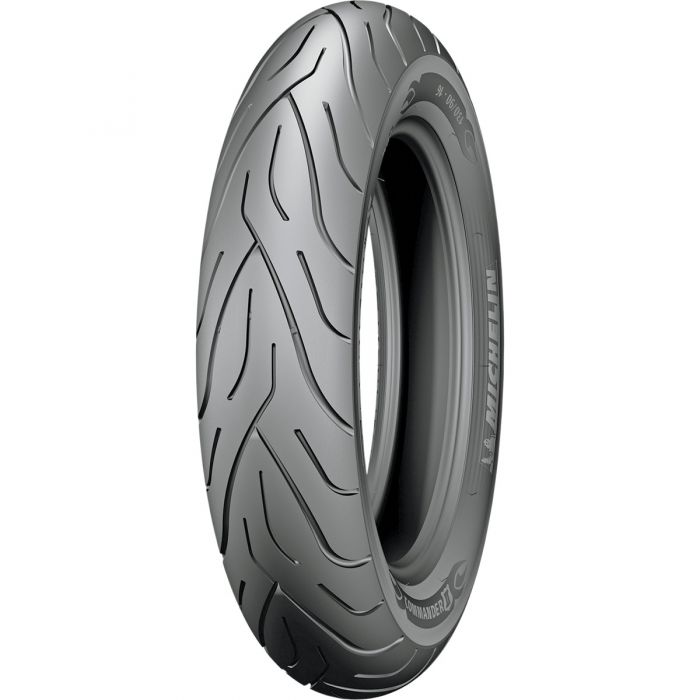 Michelin Commander II Cruiser Front Tire
Item # 87961
Description
Michelin Commander 2 Cruiser Front Tire
Click here to see the differences between the various Michelin Road Tires.
MICHELIN Road Tires Positioning Chart
The Michelin Commander II tire combines a great brand with an excellent product that exceeds cruiser segment expectations. The Commander II provides unmatched longevity as well as style and stability even in wet weather. Designed with a brand-new tread compound that is formulated without aromatic oils to improve grip and mileage. In addition, the computer-based tread design maximizes mileage and encourages even wear.
Aramid tread plies resist centrifugal growth along with weight savings, providing perfect stability at high speeds
Aramid is stronger than steel and is used in aerospace and military applications
A highly dense polyester tire carcass increases belt-ply resistance and provides better overall rigidity to provide high-speed stability along with all-weather handling
A square bead wire package helps to ease installation and also increase casing rigidity for improved stability
Tread pattern maximizes water evacuation and grip on wet roads
360 degree serrated and suspended sidewalls to give an impeccable finish along with a unique logo
Compares to the Metzeler ME 880 Front Tire
Reviews
Rated

5

out of

5
by
Vulcanbike
from
Long Life
I bought this tire to replace my old Michelin Commander II. Now I know that most of you will find this hard to believe, but the old tire has 56,000 kms on it. I am adding the photo and using a tire gauge I have just under 2mm of thread in the center. I am a touring style of rider therefore not interested in riding around like some kind of racer. I put on 30,000 plus kms a year so a long life good performing tire is a real bonus.
Date published: 2016-03-24
Rated

5

out of

5
by
RocketDawg
from
Best Tire I've ever used
So far, we have used 5 sets of the Commander II, and love them. Each year, the wife and I ride about 25,000Km each, and at the end of the season both bikes still have tread above the wear bars. I had the Avons on my Glide, and switched to the Commander. Night and Day. The commanders have never slipped in any weather. Rain, hail, 5 degrees to 45 degrees in the desert, I have full confidence in these tires. Not only that, my wife has full confidence in her bike, and that makes these tires priceless to me. Road snakes are only a memory, these tires don't even feel 90% of them. The handling lasts the life of the tire. As long as Michelin makes these, I will never switch. I have already installed the commanders on both bikes again this year. Set # 6 & 7 !
Date published: 2017-03-29
Rated

5

out of

5
by
Talisman
from
Best Bias Touring
The Michelin Commander 2 is hands above the best bias ply tire for touring. Excellent in the rain and it will out last anything out there in the market today. I've put over 22k on several pairs.
Date published: 2016-05-16
Rated

5

out of

5
by
R J L
from
Good handling and decent tread life
This is my 2nd Comander II on my HD FatBoy. The FatBoy is known for poor tire tread wear through the centre. The Commander II gave me a 50% increase in longevity with similar handling and cornering performane to the stock HD Tire.
Date published: 2015-08-10
Rated

5

out of

5
by
tinman
from
My second commander II, 16000 km. on first one on a stratoliner. Very happy with it.
Date published: 2016-01-10
Rated

5

out of

5
by
Bolaine2
from
Awesome tread and sidewall design
I have sold hundreds of Michelin auto tires and have had awesome customer feed back. This is why I had no hesitation in buying the Michelin Motorcycle tire. The 180/60/16 Commander 2 was not available yet for My GL1800 Goldwing, but I installed a 205/65/16 with no clearance issues and the increased tire diameter also helps bring My bike's speed closer to the speedo reading. Bike height is affected very minimal. also.
Date published: 2015-02-24
Rated

5

out of

5
by
Curly
from
Commander II
I've been riding since 1979. The best tire I've ever used-bar none.
Date published: 2014-06-09
Rated

5

out of

5
by
Dagwood
from
Great tire ...great ride...
Bought Front and back tires for my Fat Boy Lo 2010 last year 2015 before Sturgis. Rode there and back with a mean speed . Great ride and road holding was excellent. What a difference from the Dunlop tires that I had on before. Much better road handling on corners with very good response. These tires did not follow the cracks/lines in the road, like the dunlop. Will buy the same tires from Canada Motorcycle again.
Date published: 2016-04-15
Questions
on my 2004 yamaha roadstar 1700 front tire is 130/90-16 M/C 67H. Can i put the Michelin commander II 130/90B/16 ?
Yes, this should be no problem. The load index of the Michelin Commander is slightly higher at 73, but this should not cause issues. We just would not recommend selecting a tire with a lower load rating than recommended in your owner's manual. We also usually recommend sticking with the same style of tire on the front and rear of your bike for the best performance. Both of these tires are bias ply
Date published: 2019-10-04
i am interested in a pair of the tires----would you suggest the biased tire or the radial---i ride a 2009 Harley Electric Glide
Hi Debro, The recommended tires for an 09 Electra Glide Standard are biased tires, the front size should be a 130/80B17 and the rear should be a 180/65B16. Charlie | Customer Service | Canada's Motorcycle
Date published: 2015-02-23
Can this tire be used on a rim that requires a tube also? The bike is a 2004 VTX1900 Honda with spoked rims.
Yes the Michelin Commander 2 tires can be run with tubes.
Date published: 2015-05-27
When would one rather use a radial tire over a bias ply? Our Victory Vegas came with a bias ply tire set-up. Should we stick with bias ply, since that's what the bike came with? We've been using radials lately with good luck too.
I would recommend staying with your manufacturer's recommended tire setup.
Date published: 2016-01-17
I have a 07 Honda GL1800. I'm looking at this tire for the rear. I love the twisties. Is this tire suitable? I really like Michelins,hence the query
Unfortunately Michelin does not currently have any recommended tires for the GL1800.
Date published: 2019-05-24
Are these radials or do they need a tube?
The Michelin Commander II's are all Tubeless tires which can be run with a tube for spoked wheel applications. The Commander II's come in both Radial and Bias Ply depending on the size of the tire and both are Tubeless tires than can be used with a tube if needed for a spoked wheel application.
Date published: 2016-03-02
Does this tire come with a radial rating? The spec for my bike says it should be 160/70 R17 73V
This tire is not available in a radial option for the size you require
Date published: 2019-08-05
My O.E.M. rear tire is 190/60/17 which is out of stock on site I want to replace with Michelin Commander II 200/50/17 , wondering the width diff. from the 190 to 200 size
I used this tire on my 2006 Yamaha Roadliner. The width was really good, looked awesome and I had no issues. The lower profile looks great too but I also installed a lowering kit at the same time and now I grind more than I wanted. The lower profile also increased the revs too much at highway speed so I will probably go too the 200/60/17 next tire change out.
Date published: 2016-08-08