Michelin Pilot Power 2CT Rear Tire
Item # : 26403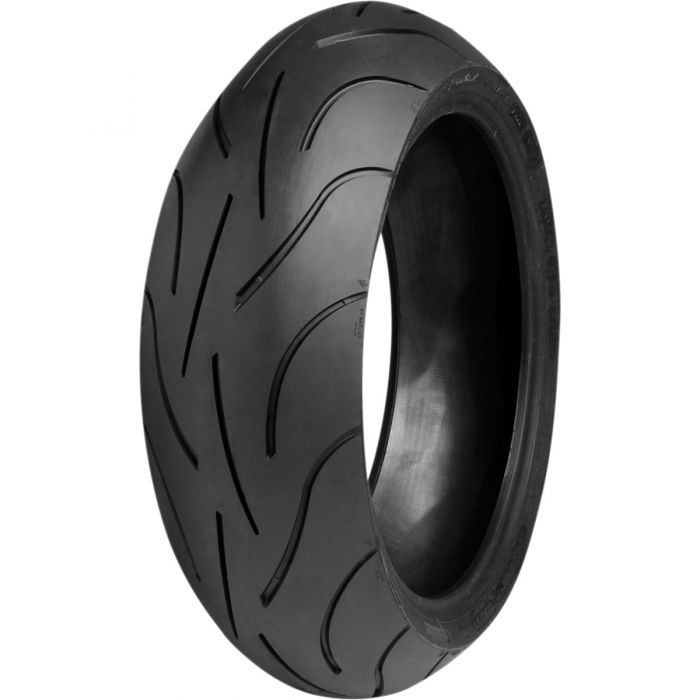 Michelin Pilot Power 2CT Rear Tire
Item # 26403
Description
Michelin Pilot Power 2CT Rear Tire
Click here to see the differences between the various Michelin Road Tires.
MICHELIN Road Tires Positioning Chart
MICHELIN Pilot Power 2CT Cross-Section
Pilot Power 2CT tires add two-compound technology to the already renowned Pilot Power range. While 2CT technology originated in MotoGP racing, Pilot Power 2CT tires are intended for the most demanding sportbike riders, who use their bikes both on the road and for track days. Its tread surface is divided into three separate areas, incorporating two different rubber compounds. This helps provide numerous benefits in terms of dry grip, lean angle, handling and progressive acceleration and braking on wet surfaces.
Track-day tire that's equally at home on the road
Real MotoGP technology from the tire company that introduced dual-compound tires in GP racing
20% softer rubber mix on the edges of the tread yields phenomenal cornering grip
Lean angles up to 51.2° measured on Michelin test track
Precise handling and feedback
An extension of the Pilot Power line, not a replacement
Lap times within 7% of Michelin MotoGP slicks when fitted to Colin Edwards' Yamaha MotoGP bike at Malaysia's Sepang circuit in February 2006.
Reviews
Rated

5

out of

5
by
Steve
from
Best Tire
2ct is by far the best tire I have ever used, period. Does everything right, and wears well. Complete confidence boost in wet conditions. Changed the way I ride. I don't even look at anything else.
Date published: 2015-08-10
Rated

4

out of

5
by
Anonymous
from
Good traction, short treadlife
Tire grips really well and is good for regular riding around town and some twisties. The problem I had was these tires are no good for long distance highway. I did a big trip and 1000km into the trip I noticed a flatspot forming. I wore the tire all the way down to the chords in the center and there was little to no wear on the sides. Bottom line is that these are not good for extended highway use, but great for performance like putting down power and cornering, and maybe a bit of both at the same time ;)
Date published: 2014-06-09
Rated

5

out of

5
by
Sportbike604
from
No Complaints, Like my old PP originals but better
Just got these, have about 500km on them so far. No problems. Tire arrived well. I guess the only hardship was they don't put heavy side marks on the edge anymore to help with mounting. But reading around that's because they're supposed to be quite consistent out the factory. I just mounted and balanced and it's fine. Don't have a whole lot to compare to on the current Yamaha R6 I ride. I've always been on Michelin. However, I've ridden this in rain and at speed on pavement and seems slightly better than my old Pilot Power originals.
Date published: 2015-08-22
Rated

5

out of

5
by
Steve
from
My favourite
This is the tire that changed it all for me. I always thought Michelins were a bit pricey, but after making the switch, I've never been happier. I love the predictable traction, and the wet weather performance. These tires also wear well.
Date published: 2015-10-17
Rated

4

out of

5
by
Hazy
from
I would recommend and buy this product.
These tire stick to the road as if they are having claws.
Date published: 2013-07-22
Rated

5

out of

5
by
The Assassin
from
What a dual compound tire should be
I've been running race scrubs on my litre bikes on the street since the late 90's. I can't always find the time for the frequent tire changes because it takes 2 hours to get out of Toronto to some decent roads and I'm a bit tired of lumpy tires that aren't even round half the time so I thought it might be time to try some street rubber. The Michelin 2CT's were surprisingly good during hot temperatures, even when pushed they stuck pretty much everywhere I'd hoped they would. They're only OK in cooler spring and autumn temps, they'll step out a little under hard throttle in the stiffer middle part of the tread, say at a quarter lean coming off corners but you know where to expect it. All in all, a good tire with predictable turn in and tons of stability. Mileage was way better than my scrubs obviously, I'm on my third set this season but I've been rabid about getting out more this year! I can't say I've sacrificed much in the traction department, street asphalt is a bit too smooth in southern ontario to be sliding both ends consistently. Try a set of these in hot weather and you'll be pleasantly surprised.
Date published: 2015-11-03
Rated

5

out of

5
by
MasterLi
from
Great service
The site was easy to use and ordering was a breeze. I ordered a front and rear tire which arrived nicely wrapped within days. Great service and I'll definitely use them again.
Date published: 2016-08-13
Rated

4

out of

5
by
Anonymous
from
Great all around tire!
Bought this tire few months back , to match the front pilot series i got for basicly a steal 40$ brand new !!! , amazing tires very happy overall
Date published: 2019-11-18