Michelin Pilot Road 4 GT Rear Tire
Item # : 188812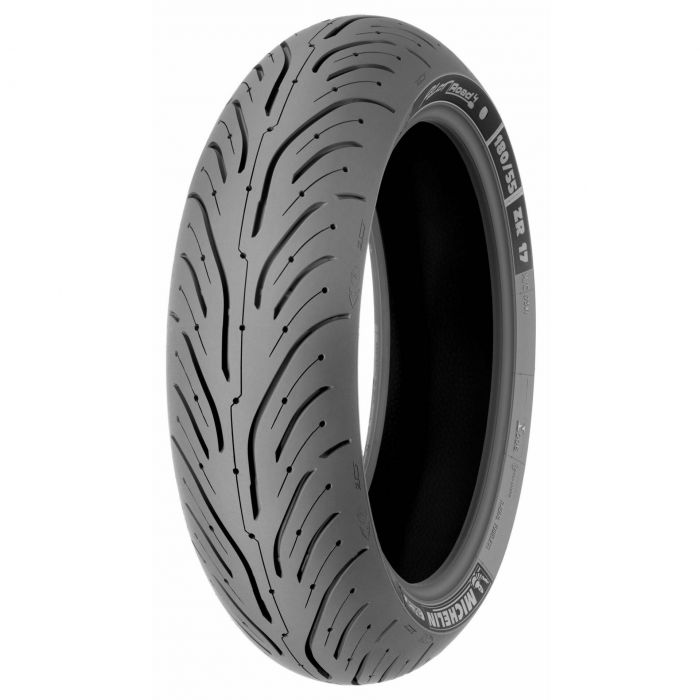 Michelin Pilot Road 4 GT Rear Tire
Item # 188812
Description
Michelin Pilot Road 4 GT Rear Tire
Click here to see the differences between the various Michelin Road Tires.
MICHELIN Road Tires Positioning Chart
MICHELIN Pilot Road 4 GT Cross-Section
The Michelin Pilot Road 4 tires represent the latest iteration and next generation of Pilot Road evolution. Designed to deliver maximum safety in most conditions especially on wet roads and in particular when braking, Michelin's goal is to cover all riders in all conditions. Touting both enhanced safety and extended tire life, the Pilot Road 4 tires are a tangible illustration of Michelin's Total Performance strategy of constantly and simultaneously improving tire performance characteristics across the range.
The Pilot Road 4 tires will be available in three versions, the standard PR4, PR4 Trail for enduro and ADV bikes that are primarily ridden on-road and the PR4 GT for heavier, touring bikes. The Pilot Road 4 GT tires are already the OEM choice for the new BMW R1200RT.
Superior wet-weather performance
Michelin Pilot Road 4 tires stop shorter in the wet vs. the leading competitive sport touring tires and Michelin Pilot Road 3
Longest tread life in its class
Up to 20% longer tread life than Michelin Pilot Road 3 tires
Dependable grip even in challenging conditions
2 Compound Technology with all new silica-charged rubber compounds for excellent grip from 23°F to 113°F
New XST+ siping and enhanced tread patterns for optimum grip at all lean angles
Three separate versions available
Pilot Road 4 for all-around sport touring use
Pilot Road 4 GT has a stiffer casing with a patented new technology for motorcycle tires that delivers the stability you need for heavier GT-class bikes while riding solo, two-up or with luggage, and the comfort you desire
Pilot Road 4 Trail for adventure touring bikes ridden exclusively on the road
Reviews
Rated

4

out of

5
by
BDF
from
Delivers as advertised
Great all round sport touring tire. Does the job for my Connie,one up in the twisties or two up in touring mode. If you ride rain or shine this is the tire for your sport tourer.
Date published: 2014-06-02
Rated

5

out of

5
by
Harnic
from
Excellent tire!
This tire sticks the road even better than the PR3 it replaced. I ride a 2012 Yamaha FJR 1300 which is already a great handling bike & this tire just improves on that performance.
Date published: 2015-07-04
Rated

4

out of

5
by
Anonymous
from
Definitely for heavier bikes
2011 Ducati Multistrada 1200ST I really like these tires. I think I would have been able to say I 'love' them if I had chosen the regular Road 4's instead of the GTs. I thought I would go for the GT's because I do a fair bit of 2-up riding with saddle bags & top box loaded. The GTs are great on smooth roads but on cracked pavement and expecially sharp-edged bumps the impacts can be jarring. In the corners, these things have stuck stick like glue so far. I have yet to take a weeks vacation so that I can get down to some actual 'twisties', but I have been strafing the curves that we have within 4 hrs of home and I am very impressed. If the longevity compares to the grippiness, I will be extremely happy with these tires and will put on a set of Road 4s once these wear out.
Date published: 2014-05-31
Rated

5

out of

5
by
Christian
from
Perfect Sport Touring Tires
I have used this tire on my Suzuki GSX1250FA for the past 16,000 kms. The wet and dry traction is amazing, and I am impressed by the mileage that I got out of the tire. My OEM tire was a Bridgestone Battlax BT-023 and I found that the tire did not have the wet traction that the Pilot Road 4 GT has. My stock tire only got 9,500 kms before it was due for a replacement.
Date published: 2016-04-05
Rated

5

out of

5
by
QSKV
from
Excellent Tire front and Rear
After a 6600 KM Trip to UT Very happy with wear and traction Wear looks like about 25% better than Pilot Road 3
Date published: 2015-07-06
Rated

5

out of

5
by
grant51
from
Fantastic grip, ride and overall experience
I replaced a set of Metzelers on my BMW K1600GTL with the Michelin Road 4 GT's earlier this year. I have only put about 2,000 km on them so far but my experience has been fantastic. They feel very sound and secure on wet pavement and really grip the surface in the twisties. I'm not sure yet how long they will last but overall so far, I would highly recommend.
Date published: 2014-11-13
Rated

5

out of

5
by
masterteach
from
Super fast delivery
Product as described with next day delivery. Wow! I had the tires installed the next day and they really made the difference in the handling of the bike. I am super impressed!
Date published: 2016-05-11
Rated

5

out of

5
by
dj1200gt
from
Best Tires for BMW1200GT
I have been buying Michelin tires for my GT as long as I've owned it. They are the best in all conditions and wear so well on my heavy bike as we ride hard and usually two up.
Date published: 2016-03-25