Mobius X8 Wrist Brace
Item # : 617860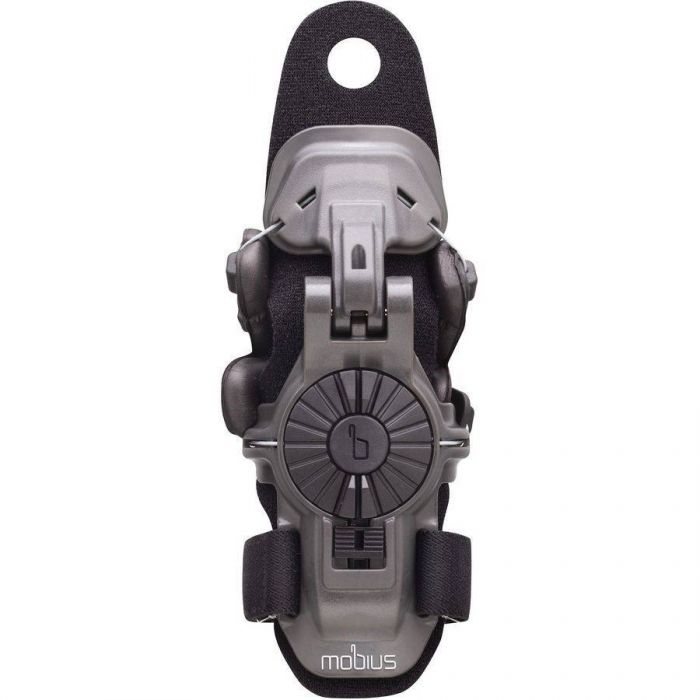 Mobius X8 Wrist Brace
Item # 617860
Description
Mobius X8 Wrist Brace
The X8 Wrist Brace incorporates the CCRS (Continuous Cable Routing System), Mobius' innovative patent pending technology, which provides maximum support across the wrist joint, allows more mobility and progressively resists hyperextension and minimizing the risk of injury to the ligaments and bones. The unique design dynamically changes the tension in the cable throughout the wrist's full range of motion preventing excessive bending (lateral and medial) and hyperextension. The tension adjustment dial achieves the desired support with ease and the degree of extension can be limited from 10-70 degrees with a simple adjustment screw.
Features:
Adjustable range of motion
Palm-free design
Continuous Cable Routing System for correct support
Tendon Back Plate provides progressive support without causing arm pump
Ergonomic dial for a fast, comfortable fit
Adjustable liner for a precise fit
Odorless EVA Foam
Sold individually
Specifications:
Injection Molded Shells: 20% Glass Filled Nylon shells are designed to be flexible in places to allow the shells to conform to the users leg/wrist for better fit, comfort and stability, and designed to be rigid where necessary to resist excessive movement and provide impact resistance.
Quick Adjust Ergonomic Dial: An easy to use dial provides a quick and detailed tension adjustment. This allows for a perfect non-slip fit of the Tendon Back Plate, and a fast release upon brace removal.
UHMWPE Cable: The cable is made with an Ultra High Molecular Weight Polyethylene Fiber. This material is being used in many advanced applications such as the aerospace industry and the military. It is the latest replacement material for Kevlar. It is known for its high tensile, bending and abrasion strength.
Tendon Back Plate: The Tendon Back Plate is uniquely designed to route the cable around the users wrist in strategic locations to reinforce the main ligaments of the wrist. The Tendon Back Plate is made from a special flexible Kraton
material designed to grip and prevent migration.
Foam Padding: The Foam Padding is made from closed cell ethyl vinyl acetate (EVA) foam. The EVA foam pads are designed to conform to the users unique leg/wrist shape providing maximum comfort and control while gripping and preventing migration. Closed cell EVA Foam won't absorb moisture (sweat), so they are odorless and easy to clean.
Straps: The velcro straps are designed to be comfortable and fully adjustable.
Sizing:
To obtain sizing, please measure at the narrowest part of your wrist measure width
S/M 1.8"-2.3" (4.5 cm-5.8 cm)
M/L 2.4"-2.9" (6.1 cm-7.4 cm)
Note: If the measurement falls between the two sizes, select the larger size
Reviews
Rated

5

out of

5
by
GeorgeA
from
Amazing
Had a lot of rides on this brace and it really helps. The bolt fell out from me not checking it regularly but I stuck some grip wire in and now it's bomb proof!
Date published: 2019-04-22
Rated

4

out of

5
by
MountainMadness
from
It does what they say it does
I got this since I destroyed my wrist a few years ago. I have 2 distal plates top and bottom with numerous screws to hold it together while it healed. Since I now have a lot of scar tissue, limited motion and issues with the hardware I needed a brace that would work well for dirt biking. I also have a dynamic all sports custom brace which works well for snowmobiling and snowboarding. I think this brace performs better dirt biking as I can get it to better clamp by wrist. I would recommend this to anyone who is having issues doing an activity due to wrist problems. Its a small investment to make so that you can continue to do the things you enjoy. This still isn't a magic device that will fix poor strength and fitness. Nor will it allow complete pain free activities. It does however reduce the amount of stress on the joint significantly enabling me to continue to mountain bike and dirt bike. Prior to this brace my wrist was in constant pain both on the bikes and post rides.
Date published: 2019-04-22
Rated

5

out of

5
by
Summit Power Tools
from
This is the 3rd wrist brace Ive used now and by far the best!
Date published: 2019-08-28
Questions
Do get a pair of these or just one
These are sold individually (1) per package.
Date published: 2018-08-06