Moose Fork and Dust Seal Kit
Item # : 148274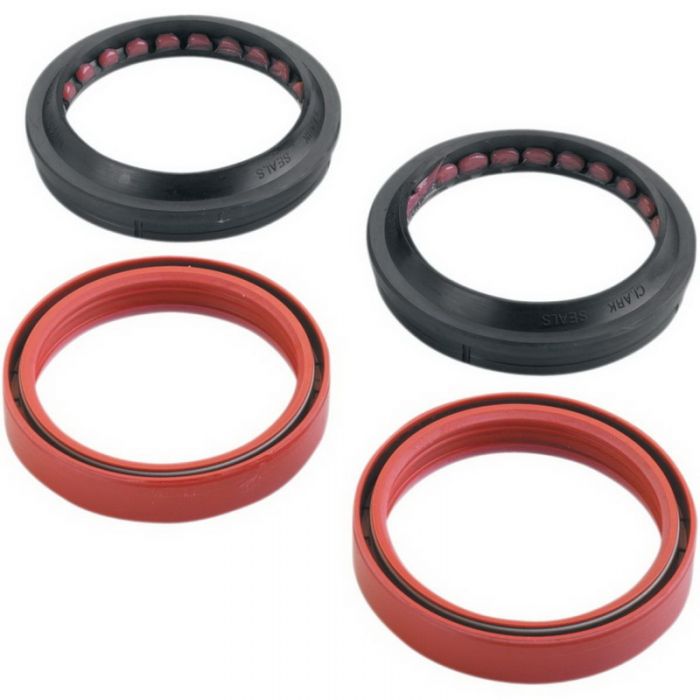 Moose Fork and Dust Seal Kit
Item # 148274
Description
Moose Fork and Dust Seal Kit
Features:
Seal profile is engineered to create equal pressure in each seal lipequalized seal pressure creates less drag and longer seal life
Patented MAX-LIFE has a coefficient of friction up to 3 times less than the OEM seal material
Triple-lip seal design
Dyno-tested to last 3 to 4 times longer than OEM seals
Directional ribs allow seal to be installed easily
Kit includes fork seals and dust wipers
Reviews
Rated

1

out of

5
by
Acanadiansmith
from
Leaking again
Not sure if one of the seals we defective or if installation was the problem but my right oil seal is leaking after 1 week or so with riding 3 to 4 times.
Date published: 2015-10-17
Rated

1

out of

5
by
Brule
from
Not happy
I installed this on my bike on one fork, the other was fine and not leaking the fit was tight as it should be the install went fine no leaks. Two rides later the leak was back. I don't ride hard no jumps or high speeds all woods second gear is good for the single track I ride there were no nicks on the forks they look brand new the bike had under 1000km at the time. Glad I didn't change the other side to have two new seals. I will be putting the other seal on soon but don't have much hope it will last any longer if it does I will update this review
Date published: 2015-11-04
Rated

5

out of

5
by
Dqm999
from
No more fork leaks
I put these on a beat up klr650, and they did the job.
Date published: 2018-08-26
Rated

1

out of

5
by
Alex
from
Leaks!
bought these seals, got them installed by a pro, he said the fitment wasnt as snug as he would like to see from seals. one fork leaked right after installed on first ride. went and bought OEM seal, installed myself. ( im not a mechanic by any means) and fixed the leak. would not trust these seals.
Date published: 2018-06-17
Rated

1

out of

5
by
brobbo13
from
Do not buy
In short -these fork seals do the exact opposite of what they are required to do - which is keep the fork oil inside the fork. First ride, the fork stanchions were covered in oil. Even installing the main oil seal required an excessive amounts of hits from the seal driver to properly seat. When disassembling (to replace to an alternate brand,) same issue - which then caused damage to the fork sliders. I suspect that in the manufacturing process, the OD on the oil seal is about .5mm out of spec. To compound matters, when discussing with others- it seems as though they have had the same issue with this brand. Finally, lest anyone think it was assembly issue on my part. As mentioned I use a seal driver with a seal bullet. More over the new set (different brand) assembled as expected and with out issue. That, and after the long day of racing the forks were bone dry.
Date published: 2018-05-23