Moose Heavy Duty ATV/UTV Inner Tube
Item # : 457221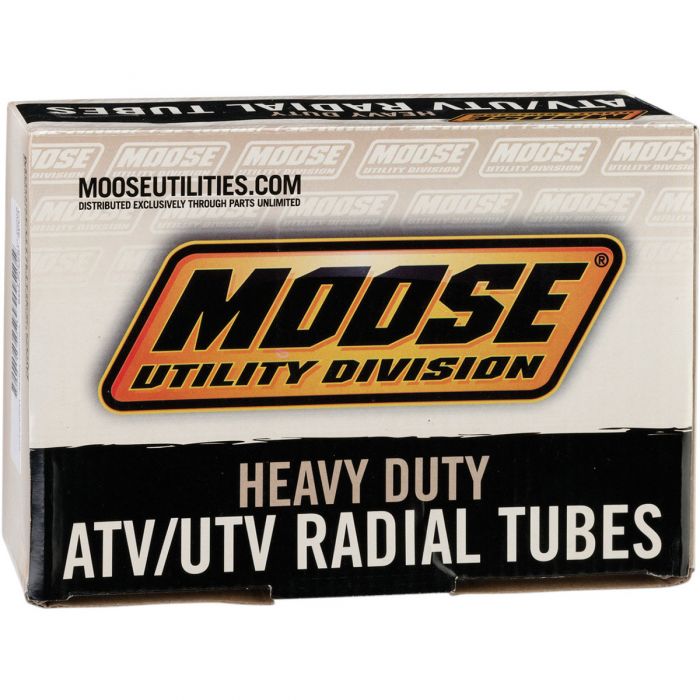 Moose Heavy Duty ATV/UTV Inner Tube
Item # 457221
Description
Moose Utility Heavy Duty ATV/UTV Inner Tube
High-quality, heavy-duty rubber inner tubes
Heavy-duty valves
Diverse range of sizes
Sold each
Stem Type TR-6 (except 145/70-6 which is JS87P)
Manufacturer Part Numbers:
0351-0035 - 145/70-6 - JS87P
0351-0036 - 16x8-7 - TR6
0351-0037 - 18/22x8.5/12-8 - TR6
0351-0038 - 20/22x7/8-9 - TR6
0351-0039 - 20/25x10/13.5-9 - TR6
0351-0040 - 21/23x7/8-10 - TR6
0351-0041 - 18/24x8/11-10/11 - TR6
0351-0042 - 22/25x7/10.5-11/12 - TR6
0351-0043 - 26/27x9/10-12 - TR6
0351-0044 - 24/27x10/12-12 - TR6
0351-0045 - 23/25x8/13.5-10 - TR6 Off
0351-0046 - 19x7-8 - TR6
0351-0047 - 26x9-14 - TR6
0351-0048 - 26x11-14 - TR6
Reviews
Rated

5

out of

5
by
Samhoward
from
Fantastic product, shipped fast!
Perfect fit! Great service. Was really surprised with the quality
Date published: 2018-06-22
Rated

5

out of

5
by
Glenn
from
Worked great
These tubes are a great alternative to buying new tires. My tires had lots of thread buy were dry cracked on the sides and wouldn't hold air. I put these tubes in two weeks ago and the tires are still up. Great product
Date published: 2018-05-17
Rated

5

out of

5
by
Craig
from
Perfect fit
My little guys atv tires were getting dried and cracked, but still had plenty of tread. For the usage he gives it, adding these tubes made sense. Perfect fit and now no flats... and a happier little atv rider!
Date published: 2017-06-25
Rated

5

out of

5
by
DSlag
from
Heavy Duty
Bought the tube to insert in a 26x10-12 tire that had TWO tread through sidewall punctures (4 holes); The tire had been patched from the inside. Arrived in 4 days. Found the Moose inner tube to be very heavy duty. Inserted the tube with lots of talcum powder for dry lubrication. Have ~150km summer trails on it with no issues. Cheaper than a new tire; Time will tell. Was a little concerned about the tube central valve stem fitting on rim with an offset to outside valve stem hole but fitting was easy. Customer support indicated it would not be a problem.
Date published: 2019-08-30
Rated

5

out of

5
by
farmer
from
Tire tubes
Goog Quality product, seems like strong material to stand up to daily use on my farm.
Date published: 2018-11-21
Rated

5

out of

5
by
Silverfox23
from
Good quality
Only had them on for a few days but they seem to be a little thicker than a normal tube.
Date published: 2017-12-21
Rated

5

out of

5
by
eddy2
from
Great product the inner tubes are made of thick rubber
Date published: 2017-03-28
Rated

5

out of

5
by
Alan
from
Good stuff
I installed those at the rear of my ATV. I read on an ATV users site that spinning tires would rip-off the valve. I did NOT have this problem. I keep 7 pounds of air in the tires and they never spun on the rim. Overall, very satisfied.
Date published: 2016-02-15