Motion Pro Rev2 Throttle Kit
Item # : 299932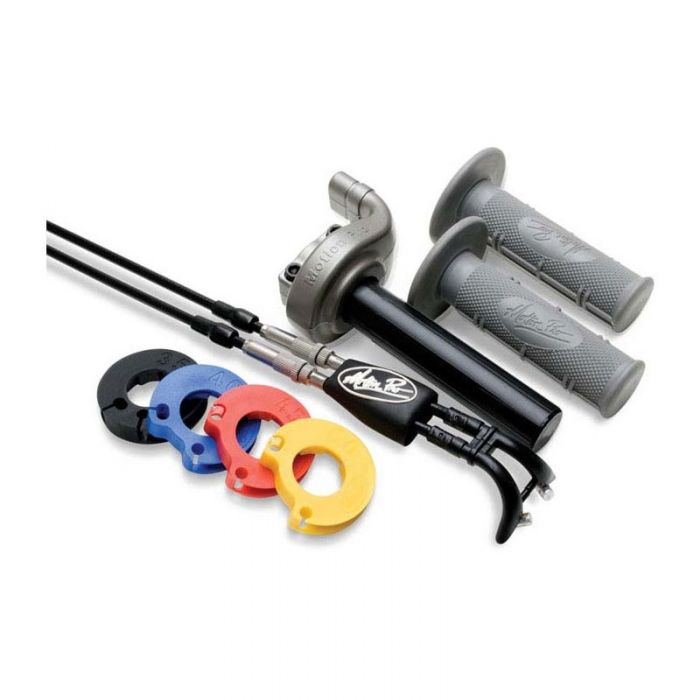 Motion Pro Rev2 Throttle Kit
Item # 299932
Description
Motion Pro Rev2 Throttle Kit
The most advanced variable rate throttle in the world
Innovative reel changing system lets you tailor the throttle rate to riding conditions and rider preference
Ultra-compact housing with snap-together elbows make it easy to install and change reels
New sleek design requires less handlebar space for lever clearance and throttle position
Use smaller reels for slower throttle rate and larger reels for faster throttle rate
Included cam reel provides progressive throttle response preferred by some riders
Unique reel design allows fast reel changes
Cable boot keeps dirt and dust out for reliable and smooth operation
Billet aluminum inline cable adjusters for easy installation and adjustment
Lower section of cables use 5 mm housing with PTFE liner for reduced friction, increased routing flexibility and lighter weight
Upper section of cables use 6 mm housing to provide solid support of adjusters
Simple to install and maintain
Kit includes Rev2 throttle assembly with throttle tube, Motion Pro Revolver black vinyl cables, Motion Pro RoadControl grips and Rev2 Street cam reel
Standard interchangeable reels 35mm, 40 mm, 45 mm, 50 mm are also included
Designed by Motion Pro
Off road Rev2 throttle kits require a minimum of 200 mm of handlebar length in order to provide sufficient clearance between Rev2 throttle housing and hydraulic brake lever
Reviews
Rated

5

out of

5
by
Peck
from
Great upgrade!
Direct fit, easy installation, great addition to the long list of upgrades I've done to my bike. I have always had an issue with trying to get a full twist out of my stock throttle on my 07 GSX-R 750, so when I seen this and did some research; it was a must have!!! I was pleasantly surprised when I received it, I noticed it came with a new addition. That being the 5th spool,the orange one. It is the street/race spool, it is what I am currently using and I love the throttle response! First 40% is close to stock feel ,allowing you good control for city riding. After that 40% it's all business! I am completely happy with this product, I have and would recommend this to everyone who has a throttle to twist!!! Cheers! Ryan..
Date published: 2016-08-15
Rated

5

out of

5
by
Jason9929
from
A good buy
I bought it to replace the throttle assembly on my '05. It works great. I strongly recommend it.
Date published: 2019-01-24
Rated

5

out of

5
by
skippy
from
pro rev 2 throttle
fast shipping,a bit tricky to install took about 1 hour.check that cables not binding when turning bars.seem to work very well.A bit on the pricey side.
Date published: 2017-08-11
Rated

5

out of

5
by
rambo
from
Must have if you track
The new road race cam is amazing! Grips are nice, cams are easy to change, great product!
Date published: 2016-02-07
Rated

5

out of

5
by
MAGIC
from
Performances garanties
Très facile à installer, permet un ajustement parfait au type de ride souhaité. Dans mon cas, en compétition c'est ce qu'il faut pour gagner du temps et de la rapidité et de la stabilité!!
Date published: 2015-07-07