Motul 710 Ester 2T Synthetic Oil
Item # : 60197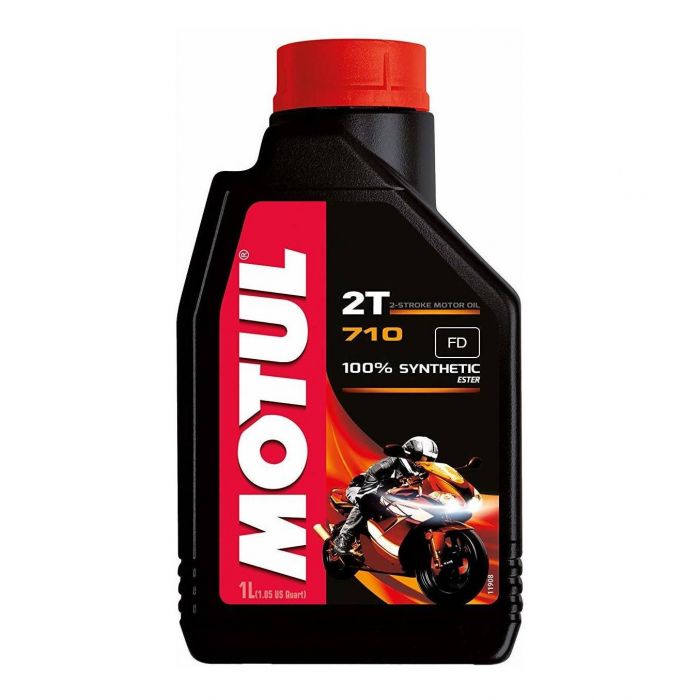 Motul 710 Ester 2T Synthetic Oil
Item # 60197
Description
Motul 710 Ester 2T Synthetic Oil
Features:
100% Synthetic - Ester - Anti-Smoke
Specially engineered for high performance engines running at high rpm, perfect oil film resistance to protect against wear
Improved power output, minimize engine internal friction
Formulation built on synthetic bases with very high combustion properties which minimize smoke and deposits
Meet JASO FD / FC
Standard: API TC / ISO-L-EGD
*Oil injection or Pre-mix
Manufacturer Part Numbers:
104034 - 1 L
104035 - 4 L
Reviews
Rated

5

out of

5
by
gringobaja
from
Best oil for my use.Power valve friendly and great combustion
Date published: 2015-07-05
Rated

5

out of

5
by
gt750
from
So far so good!
Bought this product to run in my Vintage 1990 Yamaha DT200R. Bike has only 5200 k.m.'s on it, so far. Original piston, original everything! Want to keep it running strong for the next 27 years. After cleaning out the Flat Slide Carburetor, it runs very strong. When cold, I can see some smoke out of the tail pipe, but once warm, she's basically smoke free. A lot of guys I ride with WANT to be behind me so they can smell the sweet perfume! Two strokes RULE!!! This Motul Ester based oil isn't 1/2 bad either!
Date published: 2017-08-12
Rated

5

out of

5
by
chris
from
Always a great oil
Picked this up to mix with my 1987 Yamaha DT200. Work's well without issue.
Date published: 2016-08-30
Rated

5

out of

5
by
Tompullings
from
Clean
I really liked running this oil in my bike. No spooge and minimal smoke. Started using it in all my 2 strokes except outboards. Smells ok and mixes green.
Date published: 2018-08-29
Rated

5

out of

5
by
gixxerguy1000
from
works great
my sons atv smoked bad so I started using this,works way better and virtually no smoke at all
Date published: 2017-09-16
Rated

5

out of

5
by
Marclabuse
from
Motul! jamais décu!
Je suis encore en essai, (couleur de bougie). Je vais consommer moins d'huile, qu'avec une huile ordinaire...
Date published: 2017-08-14
Rated

5

out of

5
by
Mark 22
from
No more oil drip
20 minutes after running this oil the oil stopped running down the silencer of my ktm. No jetting changes and smells good to!
Date published: 2016-06-01
Rated

5

out of

5
by
chainsaw junky
from
works great in an ECHO550p
I picked up the Motul 710 ester oil to reduce the smoke output from my chainsaw. this stuff works much better than Stihl's premium blend and Echo's power blend X. The exhaust is much less smokey (a few puffs at start up, then no more smoke). The chainsaw output has also increased noticably vs Stihl's oil.
Date published: 2013-10-11