Mustang One-Piece Wide Touring Seat
Item # : 156626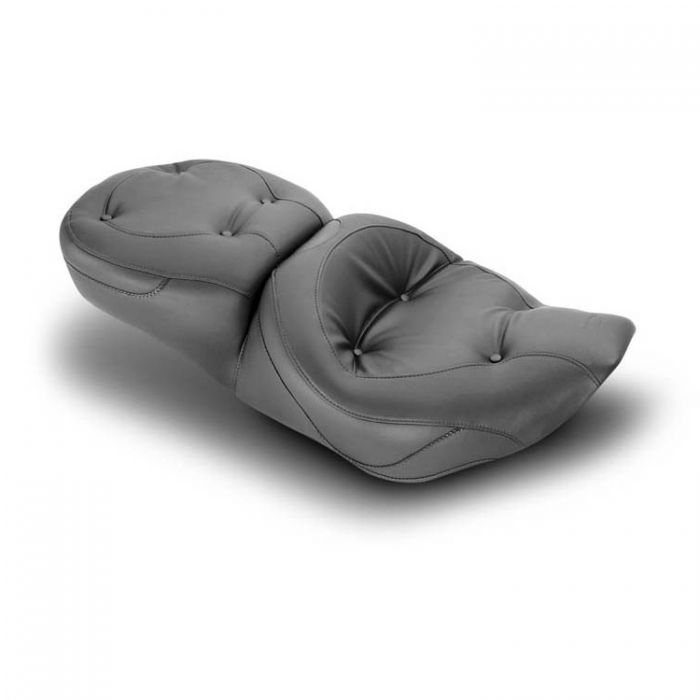 Mustang One-Piece Wide Touring Seat
Item # 156626
Description
Mustang One-Piece Wide Touring Seat
Features:
These touring seats are the ultimate in design and cushioning
Top covering made of highest-quality expanded vinyl
Made in USA
Reviews
Rated

5

out of

5
by
Todd
from
WOW.....Unbelievable comfort and looks.
For anyone still on the fence on whether to buy a mustang seat please read on. For everyone else who want a quick review: it is a MUST PERCHASE!!! I've been hesitant for over a year on whether to buy a new seat, buy pads, buy sheep skin or modify the stock seat with new padding. Money does play a factor with me and a new seat seems so expensive. I had bought a horse saddle padding that strapped on to the driver's seat on my 2006 Vulcan 800. It was a cushion material with a furry top that was $75. Ideally no good if it rained. I was able to ride for about 1.5 hours before needing to stop because my butt got sore and numb. With only using the stock seat and no pad I was lucky to reach 45 minutes before wanting to give up riding for the day. My girlfriend had gel pads lying around her place so we tried these out so that she had something on the passenger seat and I used one in combination with the horse saddle pad I owned. We went away for the weekend to a place that was 3 hour drive away. We had to stop 3 times to rest our bottoms and when finally there we were in no mood or shape to get back on the bike to tour the area. The gel pads looked ugly and had to be removed wherever we went in case of rain or theft. So that's it...3 hours was enough for riding! I looked all over the internet. I saw the reviews for Mustang seats but couldn't believe they would be so different from the gel pad and saddle pad I used. I almost bought gel pads specifically designed for my bike which would have cost me close to $500 after taxes and shipping. I finally opted to buy the Mustang seat in hopes that all reviews I read were correct and I can gladly say they are. If I knew then what I know now, it would have been a day 1 purchase. Don't let price get in the way of your comfort. I can honestly say that it is a world of difference between a stock seat and a Mustang seat. You will thank yourself each and every time you go for a ride. For starters, it was easy to install. It looks amazing and actually adds to the look of my bike! The seat is firmer than the stock which really shocked me that a firmer seat would be that much more comfortable. I feel it makes me sit in a slightly different angle to the stock seat but boy does that help in so many ways. The mini back rest the passenger seat creates keeps you in that angled position so you don't slide around the seat. So of course I had to try it out the moment I installed it. Instantly I noticed how much smoother the ride felt which was phenomenal considering I don't recall many reviews mentioning this. The smoothness is what actually removes the numbing feeling you get 30 minutes in on the stock seat. Bumps in the road are like a thing of the past. Not the big bumps mind you but they too feel a lot better. My riding height feels about the same. The passengers riding height is slightly increased. I feel more confident and secure in the seat with how it causes you to sit in only one spot and angle. Trust me, with your feet on the pegs and moving forward you will love the feel of this riding position. Almost to hard to explain but its a WOW moment for sure. I wasn't planning on riding more than 40 minutes to see if the numbness or pain would begin. It didn't! I loved it so much I rode longer. At the 2 hour mark I was in heaven and picked up my girlfriend. We rode for another hour. After 3 hours there was no numbness or soreness on my butt. Very unbelievable! I really felt I could ride the rest of the night and couldn't wait to ride again. My girlfriend felt the same after just 1 hour on the passenger seat. A lot of reviews say you need to work/wear in the seat but I found it amazing on the first trip. I won't believe that it could get even better than this. In closing I would say to anyone who is hesitant to put those fears behind you and buy a Mustang seat. It is everything they promise and more. I can honestly say I was an idiot for over a year for not buying this sooner. Mustang seats should be an included item on new bikes. Thanks for reading and ride safe.
Date published: 2016-06-03
Rated

5

out of

5
by
Northerner
from
Awesome Choice!
I have a Sportster that I bought last year with a stock seat and wanted something more comfortable for distance. Since I expect the seat to last, I looked at quality rather than only price. I opted for the Regal button tufted and am I ever glad I did. As an older rider, my backside sure appreciates the extra size and comfort and my wife is much happier on the back for longer trips now too. The seat fit perfectly and seems to be made to the highest specifications. I'm really happy I chose this seat and backrest combination and don't believe that anyone else would ever regret it.
Date published: 2016-06-25
Rated

5

out of

5
by
Kondor49
from
Long Distance Comfort.
Why motorcycle manufacturers can't do it never ceases to amaze me. Perhaps they hope to force your butt into an aftermarket, generally expensive, replacement seat. The two up saddle on my Sportster 1200L was mediocre at best. Past experience with Mustang seats on a variety of bikes immediately had me going in their direction once again. What a relief. From an hour or so and an aching rear end to, all day, any distance comfort. Thank you Mustang. Well made, two minute installation, good looks and styling. I've owned a bike ( or bikes ) of one kind or another since 1963 and for as long as Mustang upgrade seats have been available, I have put one on my ride.
Date published: 2016-06-24
Rated

3

out of

5
by
None123
from
Excellent quality but....
Having the narrower version of this seat on my 07 Heritage I was excited to put the what I thought was just wider version on my '13 Fatboy. While the description includes the widths it does not include the height. This version raised my seating position almost 2" and does not have the deep bucket of the narrower seat. I would have had to replace my windshield etc. and did not like the higher seating. Canada motorcycles excellent return policy was fabulous! They stand behind what they sell and issued a prepaid return label with no hassles at all! I love Mustang seats but not this model.
Date published: 2016-06-24
Rated

5

out of

5
by
Zoom zoom
from
Great seat
I bought this for 1991 Suzuki intruder 1400vs fits like a glove the original seat was a cloth material and would chafe if went for a ride this will definitely be a much needed improvement
Date published: 2019-04-19
Rated

5

out of

5
by
Bluecb
from
Pure comfort !!
I needed a better seat plain and simple as the one i had was pure torture after about 45 min. I put this seat on a month ago and my first ride went for close to 2 hrs straight and it was pure comfort and its getting better with each ride as it breaks in . Zero complaints.
Date published: 2018-06-07
Rated

4

out of

5
by
Anonymous
from
Excellent choice
I installed the Mustang seat on my 96 1100 ACE and I'm glad that I did, it is wider and more comfortable than the stock seat which had many years of use on it already. It takes a little while to break the new seat in, but it's worth it.
Date published: 2014-06-01
Rated

5

out of

5
by
fradem
from
Le banc fait à la perfection.
Facile à installer et super confortable; comme toujours pour les bancs Mustang.
Date published: 2020-03-26
Questions
does this seat have a hole for my backrest like a factory seat does?
Yes it does and unlike some of the other seat manufacturers the Mustang seat allows you to use the Harley Davidson backrest and mounting bracket.
Date published: 2019-05-05