National Cycle VStream Windshield
Item # : 140504
$126.99 - $476.99
$126.99 - $476.99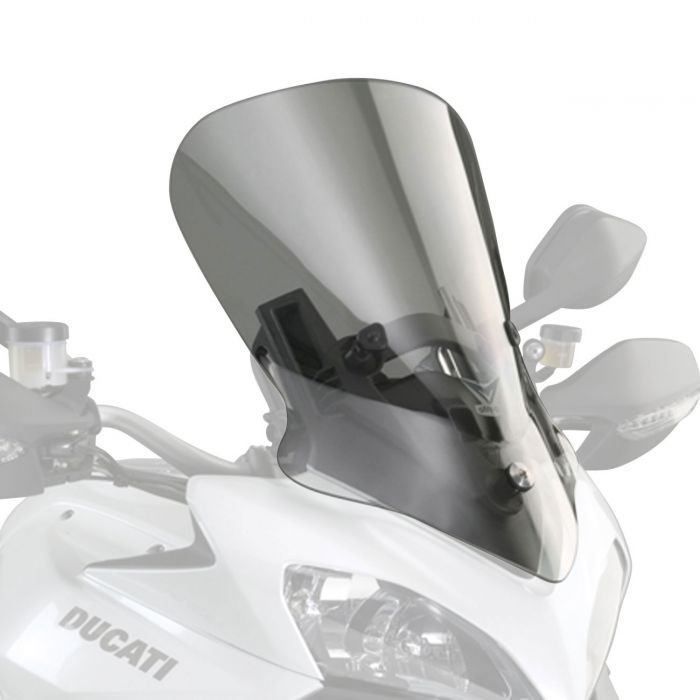 National Cycle VStream Windshield
Item # 140504
Description
National Cycle VStream Windshield
COMFORT - OPTICS - STRENGTH
The Cross Country from Victory is a beautiful bike and your choice of one of three VStream® windscreens we offer will take it to another level.
The VStream's cutting-edge, aeroacoustic contour features a wider profile at the top of the windscreen, which pushes turbulent, noisy airflow out and away from the sides of the rider's helmet. This extra width creates a quiet pocket of air with significantly reduced helmet buffeting for a calmer and quieter ride compared to the stock screen. The passenger will notice an improvement in comfort as well!
Reduced wind noise... less turbulence... superior strength... perfect style. The VStream revolution is here!
Features:
The VStream gets its name from the unique shape and dimensional contours designed and engineered into the windscreen
The patented V profile helps push the turbulent wind out and away from the side of the riders head, producing a quieter and more comfortable riding experience
This improvement also reduces wind noise and buffeting for the passenger
All VStream Windscreens are manufactured in the USA from thick, durable hardcoated polycarbonate and are covered by National Cycles exclusive 3-Year Warranty against breakage
Reviews
Rated

1

out of

5
by
Flying Wee
from
Warning!! Think again prior to dealing with NC!!
Regarding the V Stream windshield: After 2 months of riding, the magnifying effect of the windshield caused my instrument shroud to melt in several places on my VStrom. I was told that there is a disclaimer on the last page of the instructions suggesting there would be no responsibility on Nationals part if damages occur. Why would a manufacturer knowingly sell such a product? The net result is that I'm out the cost of the windshield and the part and repair to the VStrom. The response time after the initial email resulted in several calls after a month of waiting. One customer service rep suggesting he believed it was covered and the rep higher up the food chain denied this. One might surmise support staff might be on the same page! I had done due diligence contacting Suzuki to insure there were no wiring issues in this area to cause damage as well as reviewing wiring schematics. Several dealerships felt it could only be the windshield. In the life of the bike I have used several aftermarket units with no damage and similar or better coverage. Overall, its been a costly and disappointing experience that may be appeased by expressing my opinions through the forums and magazines I subscribe to. Close to 500.00 worth? We'll see
Date published: 2015-07-10
Rated

5

out of

5
by
FrankieB
from
Very effective-Très efficace
Bought this for my 2013 Kawasaki Concours 14. Had lots of turbulence with the original windshield; not anymore. Super comfortable now, well worth the money. Plus de turbulence du tout, vaut vraiment le coût.
Date published: 2015-10-27
Rated

1

out of

5
by
Rick
from
Very misleading advertising
Bought the V-stream windshield for ST1300. It was advertised to greatly reduce buffeting. The fact is that there is absolutely no reduction of buffeting, if anything it is worse than stock windshield,
Date published: 2015-09-14
Rated

5

out of

5
by
Randy
from
Great Wind Protection
I'm in Alberta and it's windy here! I bought this windscreen to improve wind protection on my Yamaha FJR 1300. I'm 5' 10" tall and I sit tall on my bike. In the fully UP position on the electric windscreen adjustment, my vision is through the windscreen, not over it. This is good very extreme windy days, however I lower the windscreen so that my vision is a few inches over top of the windscreen. The wind noise is significantly reduced and the force on my helmet is near zero. I think I'm in the "bubble" of low pressure. In short, the screen is very effective. Super clarity in the Lexan. Nice shape. Further, I want to recognize the customer service group at CanadaMotorcycle. The first windscreen that I ordered arrived in short time but upon opening the box I discovered a 2" scratch in the Lexan screen very near the prime viewing area. I took photos and submitted a request for return and replacment. CM got back to me in less than 24hrs with a RMA #. I returned the screen and ordered a replacement. My money was refunded for the original purchase within one week. The second screen was personally inspected by CM to ensure defect free before it was shipped to me. Overall, this customer service experience was excellent. I will be a loyal customer for sure.
Date published: 2016-05-11
Rated

1

out of

5
by
Mart1896
from
Très mauvais produit
Très mauvais produit sur un ninja300. Cause énormément de turbulence et fait vibrer les poignées. Le comble du malheur, il a fait fondre le tableau de bord suite à un effet de loupe.
Date published: 2017-08-27
Rated

5

out of

5
by
Deevoded
from
Works as expected
This windshield does exactly what it's supposed to, at 6ft tall it keeps the wind off my chest and just above my chin. Easily enough room to tuck behind it to get completely out of the wind. Installation is quick enough to leave it off for city riding and screw it in quickly for highway trips. Doesn't look too bad on the bike either..
Date published: 2017-05-09
Rated

4

out of

5
by
kestrel
from
V Stream is very thick, about twice as thick as stock. This helps high speed flexion. Buffeting was higher than expected (I'm 6 feet tall), taller or shorter riders might feel less.
Date published: 2015-08-08
Rated

4

out of

5
by
Rumman
from
much better than stock windscreen
installed and tested today, much better than stock wind screen, bike looks 100% better in my opinion. Drastically reduces wind noise, reasonably priced, easy to install, conclusion: great purchase.
Date published: 2016-07-08
Questions
does it come with the mounting hardware or do I have to buy it separately , and if I do what do I get. I have a 2010 m50 suzuki boulevard
The National Cycle VStream Windshield has a sturdy 4-point mount system attaches to the forks, requires no modifications to stock components, and provides outstanding rigidity. All hardware is included.
Date published: 2019-10-16