Nelson-Rigg CL-GPS Journey GPS Mate
Item # : 432090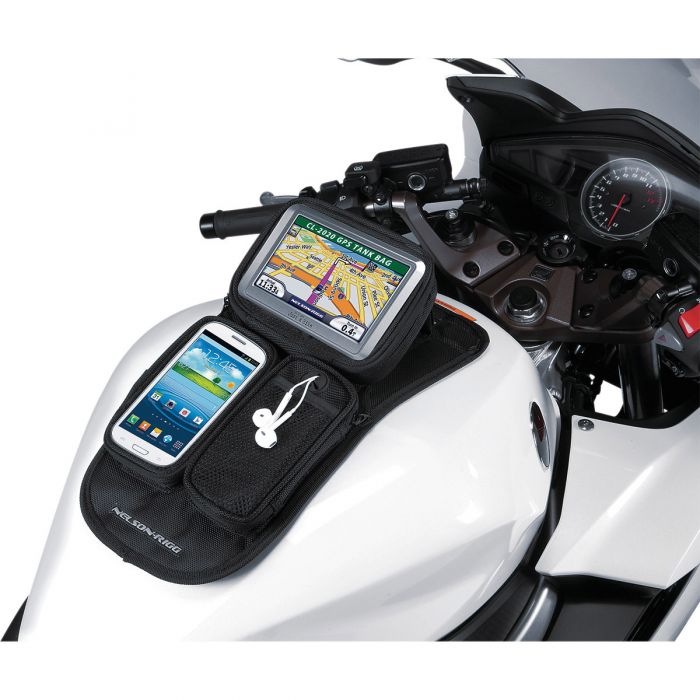 Nelson-Rigg CL-GPS Journey GPS Mate
Item # 432090
Description
Nelson-Rigg CL-GPS Journey GPS Mate
Features:
Attaches to tanks with available magnetic or strap mounting
Multi-position GPS pocket fits most popular GPS and electronic devices
Additional clear pocket for mobile device and smartphones
Clear pouches are touch screen device friendly
Protective base material prevents slipping or marking
Convenient harry handle
Magnetic version attaches to Nelson-Rigg CL-2015 Journey tank bag converting it to GPS Tank Bag
Includes a Lifetime "No Hassle" warranty
GPS Pocket Measures: 6"W x 1.5"D x 4.5"H
Cell Phone Pocket Measures: 3.5"W x 1"D x 6"H
Audio Pocket Measures: 2.75"W x 1"D x 6"H
Magnetic Instructions - CL-GPS-MG
Strap Instructions - CL-GPS-ST
Reviews
Rated

4

out of

5
by
Ronster
from
Easily removable for safe storage.
This product is designed for those times you leave your bike on the street or in parking lots in those not so nice areas of town. All you need to do is unplug your power source and throw it in a saddle bag or put it in your backpack and take it with you. It mounts securely and leaves you with full vision of your guages. There is a cutout for a handle at the top and when gasing up you grab it and peel the bag halfway back and it will stay in place by the back magnets and your gas cap is now accessible. The only downside is the cell phone compartment only holds my cellphone without the protective case on. The GPS compartment will hold a good size GPS so make sure you check the size of your cell phone before purchasing.
Date published: 2017-05-12
Rated

5

out of

5
by
Robert
from
Great features and nicely priced
I bought this a month or so ago and wasn't sure if this would work for my bike as I have a CaAm Spyder which doesn't have the tank where this bag is designed to fit. The top straps hooked up like a normal application and the lower straps fit under the seat to hold the bag on the bike. I love that the protective clear plastic is touch screen compatible. My gps and cell phone fit nicely inside and stay dry and safe while I am riding. I can use my gps with my riding gloves on now which wasn't possible before. The bag looks and fits great and the price was perfect. Delivery was quick. Great job guys I will be buying off you in the future.
Date published: 2016-08-13
Rated

5

out of

5
by
Sylvain
from
Exactly as expected
Installed on my CBR250R. The magnets are very strong, the material is of very good quality and strong, the fit is perfect. I recommend It with out hesitation.
Date published: 2016-08-13
Rated

5

out of

5
by
Steveo
from
Works and fits awsome cbr500r
Love it NJ UT the phone holder part won't fit any samsung note phones. So I put mine in the gps spot still works great. The magnetic mounts work and stick really well.
Date published: 2016-05-17
Rated

5

out of

5
by
herck
from
excellent
point positif = s adapte très bien sur le réservoir de mon cbr 1100 il tient bien en place , pas de crainte qu il se détache même a haute vitesse idéal quand il n y a pas trop d endroit ou fixer un gps et /ou cell sur le guidon de la moto . il n entrave aucunement la conduite.J ai pas tester a grande pluie , mais a voir la qualité du produit je m inquiète pas pour l étanchéité point négatif = s installe et s enlève très facilement .. donc ne pas laisser sans surveillance de toute façon c est fait dans ce but ... j aurai bien aimer que Nelson-Rigg aurai (configurer de compagnie ) d adapter au choix le fait qu on puisse configurer nous même l option de modifier entre magnétique et courroies fixe . Si nos besoin soit modifier ou si on change de moto...sans pour autant racheter le même produit pour une question d attache enfin reste a savoir comment se portera le magnétisme des aimants après plusieurs années .... dans l ensemble les points négatif sont très négligeable .
Date published: 2019-09-18
Rated

4

out of

5
by
Pitty211
from
Serves the purpose
I bought this solely to hold the 6.5 inch GPS unit I bought I have the straps version on my V-strom 1000. Works well and doesn't move. Disconnects to be locked up or carried away in seconds. Someone else mentioned the zippers and grommets. My issue is that for as well built as it looks, it's not even close to water resistant.
Date published: 2019-06-16
Rated

1

out of

5
by
Jeff
from
Okay product
I bought this bag to strap onto my Ninja 650R to go on a weeklong trip through Washington State. After using it daily, I was disappointed in its design. While the GPS pouch had a gromit for the power wire, the cell phone pouch did not. To add to that, the zippers all open bottom to top allowing your cell phone to potentially fall out if the zipper isn't fully done up. That also means that the power cord has to enter the cell phone pouch from the bottom too. The gps pouch worked well, however the additional music pouch needs to be slightly bigger to hold a pair of sunglasses. On the positive side, the cell phone pouch is big enough to hold my cellphone, wallet, and passport.
Date published: 2018-07-24
Rated

5

out of

5
by
Donatella
from
Great product!
This is awesome! I bought the strap version to install straight on my tank's Ninja! Had this for about a week and I'm glad I did. It was easy to install and easy to take off when I arrive at my destination. Easy to bring my phone without forgetting it in the saddlebags. Didnt scratch the tank yet but i'll modify this if it ever does but the back is kinda ruberized so I doubt it will be noticeable until some time. Very happy with the price and the quality! Not spacious but that's what you'd expect with this! My LG G6 + its case fits well in both pockets with the foam padding. 3rd pocket useful for its usb cable.
Date published: 2018-05-23
Questions
Is it rainproof and will the magnetic version fit a 2014 Harley Davidson Street Glide tank Thanks
The CL GPS journey is not listed as a waterproof or water resistant item from Nelson-Rigg. Please use the dimensions in the details to confirm if this universal product will work for you.
Date published: 2015-09-17