Nelson-Rigg Deluxe Adventure Motorcycle Dry Saddlebags
Item # : 558159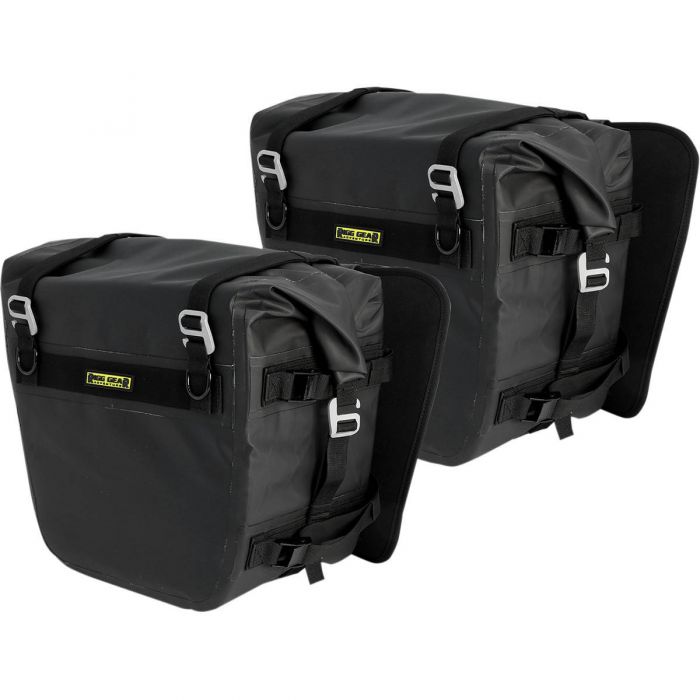 Nelson-Rigg Deluxe Adventure Motorcycle Dry Saddlebags
Item # 558159
Description
Nelson-Rigg Deluxe Adventure Motorcycle Dry Saddlebags
Features:
All mounting hardware are aircraft-grade aluminum, no breakable plastic buckles
100% waterproof saddlebags, all seams are electronically heat welded
Includes two lightweight saddlebag liners to easily remove and pack contents
Removable stiffener allows bag to hold its shape when empty
Firm internal back plate helps support bag
Replaceable pad helps protects bags from contact with rack
Compression straps can also be used to mount our dry roll bags
Each bag securely mounts using four quick-release cam buckles and double pull webbing
Made from waterproof and durable 24 oz. tarpaulin PVC
UV-coated outer material cleans easily and prevents slipping or marking
Easily mounts to motorcycles, PWCs and snowmobiles
Main compartment measures: 15"L x 8"W x 14"H
Holds 27.53 liters per side
Manufacturer Part Numbers:
SE-3050-BLK - Black
SE-3050-YEL - Yellow
Reviews
Rated

5

out of

5
by
Dogon2whls
from
Love the Nelson-Rigg !
Purchased the Nelson Rigg Deluxe Adventure Dry bags to mount on a Suzuki DR650 with a Cycleracks rear rack and very minimalist L-shaped brackets (with aluminum heat shield muffler side) for a 9500 km trip to Tuktoyaktuk. Very pleased with the quality of construction, simple design and nice touches. Among those nice touches: the internal stiffeners, the elastic strap keepers and removable inner bags which greatly ease loading/unloading. It took several mountings to get the fit just right, but thanks to the strong, simple straps and mounting points, it was easy to come up wih a system that is secure and prevents unnecessary wear and tear on the equipment. The protective pads on the bike side of the bags are flexible enough to conform to each bikes' individual contours. The metal "G" buckles and cam locks held secure without loosening over long days and rough terrain. The extra long " over the top " straps will prove useful as i expand my luggage. All my equipment stayed dry throughout the trip despite rain and mud and hose offs; as long as the roll top is done properly and secured there should be no reason for it to fail. I did use a single Rokstrap over each of the bags for extra peace of mind to satisfy my inner Boy Scout. The only comment i have, and not a complaint, is that it takes the straps a while to break in and lose their intial stiffness to tension though the "G" straps . . . First world problem! All in all , super happy i bought these bags and look forward to many more trips, i am sure they will age well!
Date published: 2018-07-07
Rated

5

out of

5
by
Zonechamp
from
Great Adv bag
I just finished a 2200km trip with these bags and they worked perfect. 900km offroad bouncing around in the dust and bush, 4 hours of riding in the rain and the inside looks brand new. No leaks or dust got inside. Best setup for my KLR by far. You can pack alot of gear in these bags, more than looks from pictures. I would buy again in a heartbeat.
Date published: 2018-07-08
Rated

5

out of

5
by
Amateur adventure rider
from
Worth it and excellent quality
I bought 6 months ago, and have dropped my Africa Twin on it multiple (I mean multiple) times on gravel(mostly) and rocky washout at low to standing still speeds and has not made a hole in the luggage yet. Exterior has some scratch marks but no signs of actual damage. These guys are water proof as well haven't gotten anything damp yet.
Date published: 2018-05-07
Rated

4

out of

5
by
Codeman
from
Awesome in the RAIN!,
I bought these for a trip down the west coast from Portland to SanFrancisco and they worked great! We had some brutal rain and they were perfect. I used them with TUSK racks and they fit great. The only comment I have is that they are a bit of a pain if you need in them regularly,( that's why so waterproof) Off-road great, but my hard cases for road trip would be a little more convenient. Very happy with them
Date published: 2019-01-13
Rated

4

out of

5
by
Codeman
from
Worked great in the rain!!
I bought these for a trip down the west coast from Portland to San Francisco and expected rain. Highway 101, 1, and these bags did not disappoint!! The rain poured down but everything was perfectly dry! The negative I can say is that mounting to the racks is tedious but eventually you get quick at it. These will be great for off-road with out breaking the bank!!
Date published: 2018-12-04
Rated

5

out of

5
by
Cochee
from
Very easy to use
I bought a set for my girlfriends DR650 to use on a year long ride. So far we have only done a few weeks. A lot of this has been off road and the bike has been dropped over a dozen times. Have been caught in heavy rain and they are definitely waterproof. I think the advertising photos do not do these bags justice. They are extremely well made and excellent for the price. Would definitely recommend.
Date published: 2018-08-28
Rated

5

out of

5
by
Shred1dog
from
High quality bags!
Love the dry bags. Managed to make them work on my 2018 CB500X with out the use of a rack! Strapped them to a "Dairyland" milk crate and fastened down with bungee and tie down.
Date published: 2018-08-26
Rated

5

out of

5
by
Fredly
from
Cheaper than Wolfman, and just as good!
These bags are rugged and tough. Fully waterproof, well built bags. I love the inner bags, as they make packing and removing all of the contents a breeze. It's a lot of buckles and straps to deal with, but I appreciate the hardiness of the the all metal hardware.
Date published: 2018-06-23
Questions
I have a 2014 Triumph Tiger 800 and am seriously considering getting these bags. what rack system would be recommended.
These will strap to any tubular system frame. I strap them to my factory hard side case mounts when the side cases are taken off. Anything sorta flat will do. I'd say get the cheapest side case rack frame you can find for your bike and they will fit. Or buy some expensive hard sided luggage with a separate frame and they will fit to that too. Very versatile.
Date published: 2019-05-31
I ride a Yamaha FZ07 2017. I'm wondering if these dry bags will work with my motorcycle?
No I would recommend it for dual sport/adventure type motorcycles
Date published: 2018-05-21
3yrs ago I ordered the "Nelson-Rigg Adventure Dry Saddlebags". I was disappointed because they were difficult to install and too complicated to remove every night on a long trip. Is anybody in a position to compare these with what I tried before?
I answered the question myself. I decided to purchase a set for my last trip in the USA backcountry. Nothing like the previous version. Sturdy and quick attachment system. Hold a lot of stuff and keeps it clean and wet. And yes, the inside liner bags are great when you want to take your gear with you and leave the bags on. Don't hesitate, grab a set!
Date published: 2019-01-11
Do you need to install a rack system to use those bags?
No, as long as your exhaust doesn't touch them you should be fine.
Date published: 2018-06-06
Do these bags come sold as a pair?  Also how does the mounting work with a plain tube frame on a KTM 1090R?
They are sold as a pair and I had them mounted to the Kappa side panier frames. They do need to be mounted to a side case frame to support them and keep them away from the exhaust.
Date published: 2018-07-04
Salut, j'aimerais savoir si les sacoche viennent en pair ou si le prix est pour une sacoche seulement.J'aimerais aussi savoir avec quels support je pourrais les utilisées.J'ai un V-Strom 650XT 2017. Merci
Salut! Elle viennent en paire pour le prix, et pour le support, d'après moi n'importe le quel fait :) perso je me le suis bricoler l'important c'est juste de pouvoir faire passer les sangles sur ou sous la selle et d'attacher les autres à n'importe quel tube du frame ou d'un support. En réalité le support est la uniquement pour maintenir les sacoche droite
Date published: 2018-03-06
I am looking at ordering these bags with a kappa rack - the type of rack that solid bags mount to PL1111 rack - will the mount system interfere with these bags?
any smooth surface rack should work fine. Watch this video to answer your question https://www.youtube.com/watch?v=Jv5ZsORAgtw. I've had my bags for two seasons and have travelled over 6000 miles without any issues. Excellent value
Date published: 2019-10-01