Nelson-Rigg RG-020 Dual Sport Saddlebags
Item # : 481724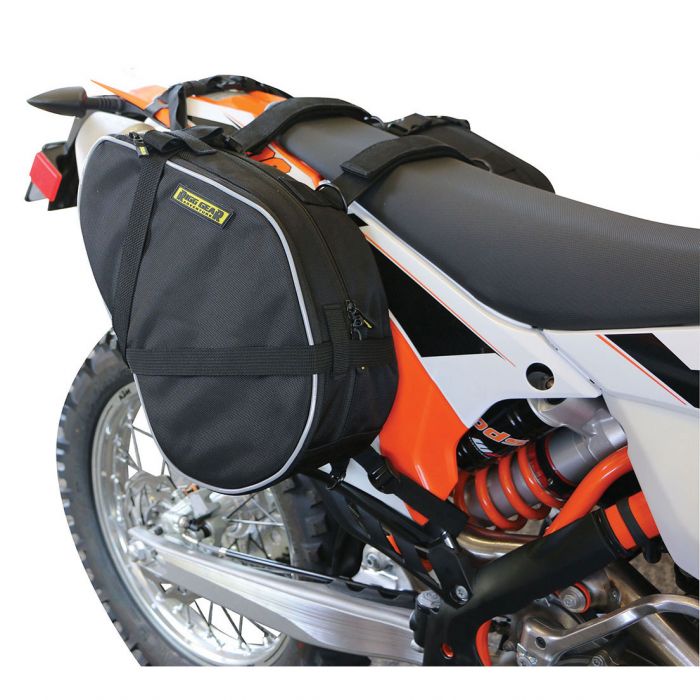 Nelson-Rigg RG-020 Dual Sport Saddlebags
Item # 481724
Description
Nelson-Rigg RG-020 Dual Sport Saddlebags
Features:
RG-020 expandable main compartment for extra storage
Tool pouch/pocket under main compartment with external access
Securely mounts with heavy duty Self-Fastening straps and quick release buckles
Universal fit for most dual-sport, enduro and Adventure motorcycles
Anti-slip/scratch protective panel
Top quality UV treated and water resistant 1680D Tri-Max® Ballistic nylon
Reflective piping and accent for nighttime visibility
Reverse coil zippers help keep out dust and dirt
Rubber coated oversized zip pullers operate easily with gloves
Includes our Lifetime Warranty
Dimensions: 14.5"L x 9"W x 6"D
Expanded: 14.5"L x 9"W x 8"D
Holds 12 liters per side / 15 liters Expanded per side
Installation Instructions (PDF)
Manufacturer Part Number: RG-020
Reviews
Rated

5

out of

5
by
Drdre
from
Great bag for people who don't want a backpack
Good bag for any motocross it dual sport, good to have some things in there for if you ever get stuck.. spare oil..drinks spare tools and stuff keeps pretty dry even in heavy rain I can fit a 2 l Coke bottle ,oil quart and a couple small things in just one side of bag
Date published: 2017-08-10
Rated

5

out of

5
by
Cliffy
from
well made, stayed in place
Put on 3000 km trip with these over various terrain. Never became loose. Well made. Work as advertised. No issues with hot exhaust and no need for a heat shield.
Date published: 2016-05-19
Rated

4

out of

5
by
Guillaume MTL
from
Does the job
Ive been using them on 2 weekend off-road trips riding gnarly trails, these bags do the job, they stay put and can carry my overnight essentials. I had one crash and didnt even bother to look at the bag as Im confident in how tought they are. The only gripe I have with them is that all the straps needed to secure them down makes it a little more complicated than GL coyote or Mosko moto rekless to get to your stuff and mount/unmount.
Date published: 2017-06-15
Rated

5

out of

5
by
Punk
from
MOST Awesome bags
Ive bought them and used them for an offroad ride from Ensenada to Cabo. They were great it made it so i could go without a backpack so no weight on the rider The bags were durable fit nicely ,(you just had to make sure you fit them where they wouldnt burn the straps ). I used them on a more extreme ride in the mountains and they handled the bike being slid down the hillside . Theyre great value and everytime i go to Baja someone wants to buy them off of me . Theres not a better bag out there especially for the money.
Date published: 2019-01-23
Rated

5

out of

5
by
HuskyLC
from
Great Fit!
Fits bike well. Too big for short rides but great for long rides.
Date published: 2017-06-24
Rated

5

out of

5
by
Tibeu
from
Très bon achat
On oublis qu'elles sont là! Même dans le terrain difficile. Très bon achat!
Date published: 2016-05-10
Rated

3

out of

5
by
DRZlife
from
I bought the Nelson-Rigg RG-020 Dual Sport Saddlebags for a week long adventure trip around B.C. The bags are rugged, look sharp, mount securely, and hold a good amount of gear for their size. However on the second day of my trip the bag on the exhaust side caused the side rear fender that it was resting on to melt. The bag does not let the plastic fender cool off causing it to warp and melt. This bag only had about 6 pounds of gear in it when it says its rated for 10. I suggest mounting it as forward as you can or buying an exhaust heat shield or side racks. After accepting the melted fender I removed both bags at the end of the trip to find both side fenders severely scuffed. My bike is brand new so it is a little frustrating how beat up it already looks.
Date published: 2018-06-22
Rated

4

out of

5
by
dr650
from
exactly as described
Bought this for my dr650, giving it 4 stars based on the fact that it "seems" well made and its versatility in ways to mount and position. It's winter and i haven't been able to ride with it on the bike. So the 4 stars are for the price, the service from fortnine and its versatility and expandability, unfortunately i can't comment on how tough it is yet.
Date published: 2017-02-11
Questions
Anybody know if this will fit a drz400 with the moose expedition rear rack installed?
This is a universal item, so there is no specific fitment information available for this part. We would recommend using the item dimensions, and installation instructions, to see if this would fit with your rack. There is a lot of adjustment in the straps, and it fits most dual-sport, enduro and Adventure motorcycles, plus it mounts over your seat or fender, so it shouldn't interfere with your rack.
Date published: 2019-10-10
are they waterproof?
I used dry sacks inside the bags for anything i wanted to keep dry on a 2 day ride. It rained and snowed on me for a whole day and I was surprized to see that no water at all made it into the saddle bags. I dont think i needed the dry bags as liners, but i have them so.....
Date published: 2019-04-01
Does it fit on a klx 250s?
I installed it on a DR200 and it fit perfectly. I can't imagine that it wouldn't fit the Klx 250. There is a lot of adjustment in the straps. The quality is very good. The bags don't hold a ton of stuff but they are very handy for commuting use. I'd buy them again.
Date published: 2019-04-01