No-Toil Air Filter Oil
Item # : 152935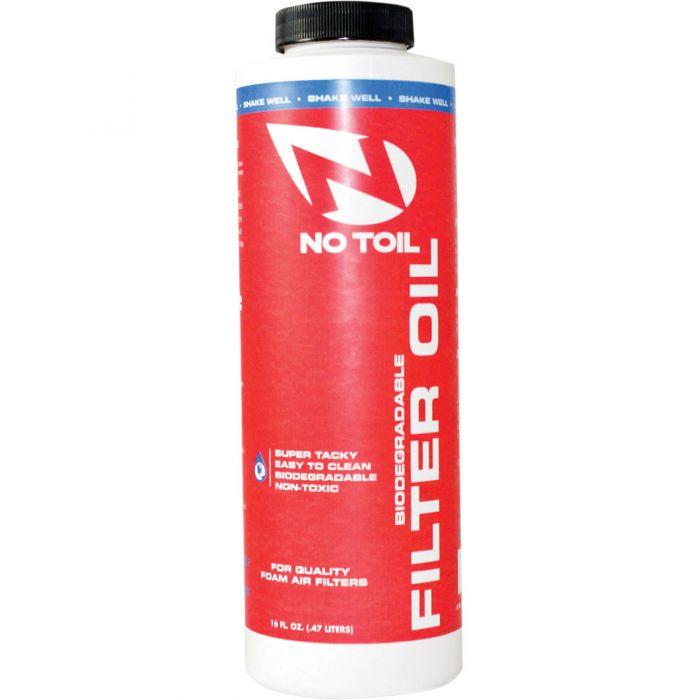 No-Toil Air Filter Oil
Item # 152935
Description
No-Toil Air Filter Oil
No-Toil Filter Oil is such a revolutionary engineering breakthrough in super-tacky, high airflow, high performance filter oil; it has U.S. patents and European patents pending. No-Toil filter oil is 100% waterproof, but easily washes out of the filter using only water and No-Toil Filter Cleaner! It's super tacky and attracts micro dust and dirt particles, and with Micro-Flo additive, maximizes horsepower-critical air flow-through, even when dirty. The neon dye tracer lets you see that your entire filter is coated with No-Toil oil.
Easy cleaning in seconds with water and No-Toil Cleaner
Biodegradable and non-toxic, so it will not harm the environment
Waterproof, will not wash off with water alone
Super tacky, sticky, and amazing at stopping harmful dirt and dust particles
Reviews
Rated

5

out of

5
by
Brody04
from
Great stuff to use
I bought this stuff works great and they have the best price around
Date published: 2019-06-12
Rated

5

out of

5
by
loic
from
très bien et facile à nettoyer
très content du résultat huilsge parfait du filtre
Date published: 2018-09-11
Rated

5

out of

5
by
H878
from
Excellent!
Just as easy to apply as regular air filter oil, would be hard to go back to that! I'll recommend to anyone!
Date published: 2018-07-09
Rated

5

out of

5
by
slowboy613
from
Buy it!
Ive tired a few different filter oils, and I wont be trying anymore after this one. I ride at a sand track often, and my filters take a beating. So far I haven't noticed any sand getting past the filter. The oil coats easy, washes easy too. The biggest thing I noticed though, was how much more air flow this allowed too. It leaned the bike out a fair bit, and I had to go and change needle position and slow speed jet. No real complaints about it, go get yourself some already.
Date published: 2018-06-09
Rated

5

out of

5
by
SCRKTM
from
Awesome Product
Expensive, but very easy to clean. Time is worth something. Love this product.
Date published: 2018-05-28
Rated

5

out of

5
by
Moosh
from
I swear by this air filter oil
Tried this oil when i bought my kx125 2001 brand new and never regretted my choice. No stinking harmfull vapors putting it on. Is practicly brand new after every wash and easy clean up every time!! Throw it in your kichen sink with warm water and no-toil soap and 3 minutes later you are done. Enviroment friendly too
Date published: 2017-08-09