NOCO Genius Boost 12V UltraSafe Lithium Jump Starter Power Supply - 400A - GB20
Item # : 557075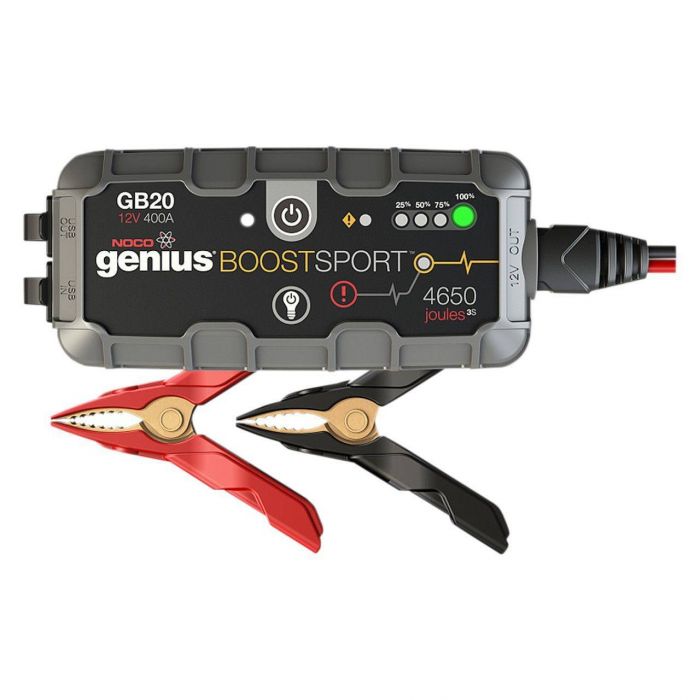 NOCO Genius Boost 12V UltraSafe Lithium Jump Starter Power Supply - 400A - GB20
Item # 557075
Description
NOCO Genius Boost 12V UltraSafe Lithium Jump Starter - GB20
The GB20 is a portable lithium-ion battery jump starter pack that delivers 400-amps (4,650 J3S) for jump starting a dead battery in seconds. It features a patented safety technology that provides spark-proof connections and reverse polarity protection making safe and easy for anyone to use. It's a powerful battery booster that doubles as a portable power source for recharging USB devices, like a smartphone, tablet and more. And designed for a car, boat, motorcycle, RV and more with gas engines up to 4 liters.
Features:
A lithium battery jump starter rated at 400 Amps (4,650 Joules3S).
Spark-proof connections and reverse polarity protection.
Recharges USB devices, like smartphones, tablets, and more.
100 lumen LED flashlight with multiple modes, including SOS.
Jump starts gas engines up to 4 liters.
Provides up to 20 jump starts on a single charge.
Specifications:
Starting Current: 400 Amps (Peak)
Joules 3S Rating: 4,650 J3S
Battery Types: 12 Volt Lead-Acid Batteries
Internal Battery: 24 Watt-Hour Lithium-Ion
USB Input: 2.1 Amps
USB Output: 2.1 Amps
Gas Engine Rating: 4.0 Liters
Diesel Engine Rating: Not Recommended
LED Flashlight: 100 Lumens
What's In The Box:
GB20 Lithium Battery Jump Starter
Needle-Nosed Battery Clamps
Micro USB Cable
Micorfiber Storage Bag
User Guide & Warranty Information
Additional Resources:
Manufacturer Part Number: GB20
Reviews
Rated

5

out of

5
by
Bumble Bee
from
Packs a Punch
I bought the booster to have for motorcycle trips this summer. I wanted something small to take all just in case. I charged it and put it with my bike. Came home recently and left the lights on all night on the Nissan Frontier. That battery was Dead. The booster turned the truck over (slowly) but it did start. I'm very impressed and know it will start a motorcycle with a low battery from lights on when the bike is not running.
Date published: 2019-04-20
Rated

5

out of

5
by
Motor Dude
from
Saved my Day
I bought this unit a couple weeks ago and used to it to boost my snowmobile after it had been sitting in the extreme cold. It started up right away.
Date published: 2019-01-31
Rated

1

out of

5
by
jackie 27
from
keep your receipt
i bought this 8 months ago and worked great for the summer BUT recently when i took it out of my trunk to use it, i noticed charge was down so went to the house and put it on charge -well i am still waiting for it to take a charge -and before some donut asks whether the plug had power, i checked that ( being an electrician) and tried it on different outlets as well - i have since read some other reviews saying that theirs wouldn't charge up either - also if it sits in your trunk and gets cold it won't boost - what is the point of that if you are picking your car up at the airport in the snow - run home and get your nice warm boost?? i think not -all in all it was wonderful when it worked but i need something i can count on, sorry
Date published: 2018-11-03
Rated

4

out of

5
by
Deagle
from
very convenient
I needed to use it sometime to boost my motorcycle battery and it works well.
Date published: 2018-07-08
Rated

2

out of

5
by
Kashif
from
Disappointed
I bought this charger to boost my motorcycle battery however It never worked out. I even tried with the high amp option but that did not work. If it can't start my motorcycle how this booster could start my car battery if I ever need to. I regret purchasing it.
Date published: 2018-05-09
Rated

5

out of

5
by
mike
from
I bought this for my snowmobile, to boost in cold weather if need
Date published: 2018-02-05
Questions
Lorsque lenoco genius est biencharge, combien de temps lebooster demeurera efficace? Merci
Une recharge du Noco Genius Boost 12V est bonne pour environ 20 démarrages.
Date published: 2019-08-07