NoNoise Motorsport Noise Filter Ear Protection
Item # : 546519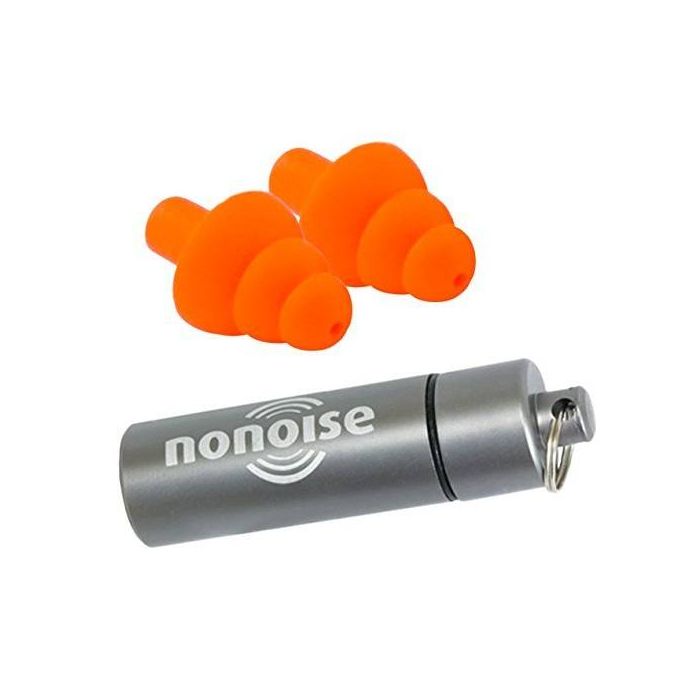 NoNoise Motorsport Noise Filter Ear Protection
Item # 546519
Description
No Noise Motorsport Earplugs
Wind noise while motorcycle riding regularly exceeds the levels at which hearing damage will occur. Protect your hearing without blocking the sounds you want to hear with NoNoise Motorsport noise filter hearing protection.
Designed specifically for motorcyclists, the Motorsport noise filter hearing protection by NoNoise will help protect your hearing from harmful noise levels while allowing lower level noises such as conversation, sirens and horns to be heard. So much more than ear plugs, NoNoise utilizes ceramic filtration technology to filter higher sound levels that cause hearing damage but allow lower sound levels to be heard.
Features:
Reduces wind and road noise
Allows communication and intercom use
Preserves situational awareness
Comfortable, washable and re-usable
Silicone free construction
Venturi shaped sound channel
Zirconium oxide ceramic filter
No muffling or blocked ear feeling
Thermoplastic outer construction
Over 20 years experience in industry and military hearing protection
Exceeds strict European EN352-2 guidelines and certified to ISO9001:2008
Manufacturer Part Number: NN.MTR.UK
Reviews
Rated

1

out of

5
by
buggy man
from
Well the best thing about them is the metal tube they come in. No better than a cheap pair of plugs costing ten times less. Not worth the money really.
Date published: 2017-08-10
Rated

5

out of

5
by
Roberto87
from
Will never go without
I bought these at the beginning of the season and have enjoyed them very much, comfortable and can still hear people talk fine. One day I tried riding without them and the noise was incredible. These are a must for anyone who rides on the highway.
Date published: 2017-06-23
Rated

1

out of

5
by
bradley400
from
Waste of money
I had previously used the disposable foam plugs which are great at blocking wind noise but start to hurt my ears on longer rides, so I began looking for something better. I figured these had to be good due to the high price. Unfortunately they barely block out any wind noise at all, and they hurt my ears just as much as the disposable foam plugs. Maybe I just have oddly shaped ears, but these didn't work for me at all.
Date published: 2019-06-16
Rated

1

out of

5
by
JohnDoe
from
It doesn't seal or it gets stuck in my ear
Maybe it's just me, but this thing just doesn't seem to be working for me. It's either not sealing properly and not providing any protection or goes so deep in my ear that I have to ask somebody to pull it out, with pliers for example, yes that has happened multiple times. Fun times one would say. I am heavily disappointed and would return them if I could and would NEVER recommend them to anybody. Will get myself cheap foam plugs, they fit much better and I CAN get them out on my own. I rarely buy expensive items, but I thought I have just one hearing and I'll buy the good stuff. In this case I didn't get what I paid for, so it's very disappointing.
Date published: 2018-08-22
Rated

1

out of

5
by
Thomas679
from
pas confortable
J'ai acheté deux kits, un pour moi et le second pour ma passagère. Il n'est pas possible de les porter plus de 45min. La douleur nous oblige à les enlever. Pourtant nous avons deux casques différents et essayer plusieurs façon de le placer. Il semblerait que le casque appuie dessus et que cela soit ça qui cause la douleur. C'est très dommage car ils sont vraiment cher. Jamais eu ce type de problème avec des bouchons en mousse... :(
Date published: 2017-08-10
Rated

1

out of

5
by
mjoa68
from
Extremely overpriced!
As another reviewer here had the sense to point out; these are no different than the disposable ones you buy at the hardware store for a few bucks for a pack of 20 or 30. You're essentially paying 40 bucks for a fancy little aluminium tube that's probably worth a dollar or two... Other than that you're getting one pair of disposable plastic ear plugs that can't be worth more than a few cents and that you'll be replacing after a season (if you don't lose one before that). Just go to the drugstore or hardware store and pick up a pack of the closed cell foam ones. They're much more comfortable, create a much better seal (it's worth learning how to insert them *properly*), and you can get them in actual specific decibel ratings (not vague descriptors like "gardening" lol) You'll get a bunch of spares for when you innevitably lose one, or for once the material wears down. TLDR: These are to ear plugs as Monster is to HDMI cables, but worse since they are actually an inferior technology... NoNoise? More like NoSense... SMH
Date published: 2018-05-08
Rated

1

out of

5
by
Mike
from
Disappointed
Disappointed as these aren't reducing the wind buffeting noise in my ears.
Date published: 2019-08-28
Rated

4

out of

5
by
simonsays
from
They work.
They are hard to fit if you have small ear canals,but they do stay put and do allow you hear to hear your music and engine and limited wind noise at posted hwy speeds.
Date published: 2019-08-28
Questions
What is the decibel reduction?  For a few dollars a cheap set of ear plugs can reduce noise by 31 decibels.  Does this products performance justify such a high price?
Yes! First they're reusable, second when riding the wind noise is reduced yet I can hear my music through my com system perfectly. Don't cheap out on dollar store foam ones, get the good stuff! It's well worth it!
Date published: 2020-01-20