Olympia New Horizon Rain Jacket
Item # : 477904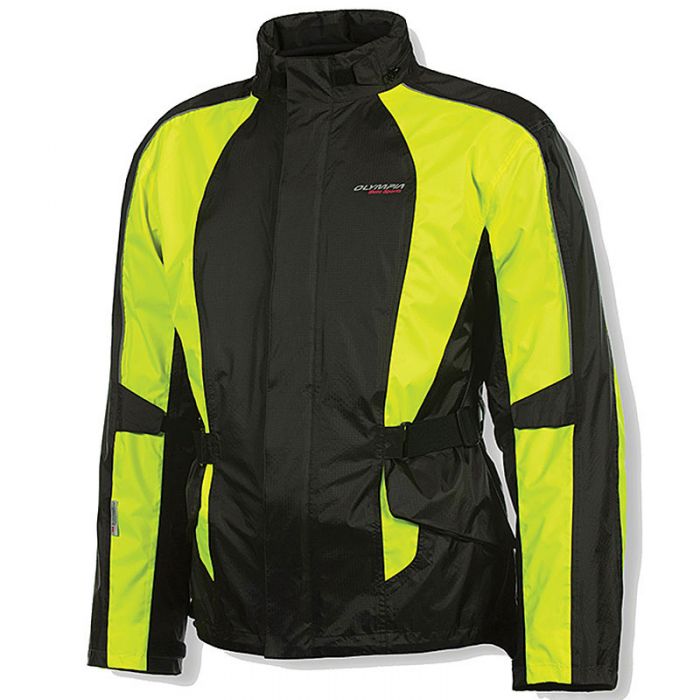 Olympia New Horizon Rain Jacket
Item # 477904
Description
Olympia New Horizon Rain Jacket
Olympia's original Horizon Jacket became its top selling item in 14 years and dealer re-orders were through the roof. Olympia's New Horizon offers similar and enhanced features found in the original as well sleek updated styling. Major upgrades include collar zipper access to the refined waterproof under helmet hood and an exclusive 360 neck gator detail. Additional upgrades include enhanced reflective detailing plus a new ergonomic zipper pull for added function and durability. Olympia's best-selling corresponding Horizon Rain Pant remains unchanged for 2016.
Features:
Outer shell constructed in sturdy lightweight waterproof, breathable rip stop nylon
Back overhang detail with hidden mesh panel insert for improved breathability
Stow away hood with 360 neck gator concealed inside collar
EZ-Pack Storage System: jacket can be stowed away in a self-contained storage pocket located in the interior of the jacket
Double storm placket front closure with two way zipper
Adjustable Velcro closure straps at the elbows and wrists plus slide buckles at waist and a shock cord bottom detail offer maximum adjustability
Two exterior waterproof pockets plus inside storage pocket
Micro fiber lined collar for added comfort
3M Scotchlite reflective piping at front, back and side arms offer enhanced visibility in low light situations
Cool mesh airflow lining
Reviews
Rated

5

out of

5
by
Charlie
from
Totally impressed with this jacket to perform.
I just finished a 5500 km trip from Ontario to Nova Scotia. Day Two was the long run from Quebec to Nova Scotia, 800 km of the Trans Canada HIghway and it rained the whole time, often very hard. Anything under that jacket stayed dry. It breathes really well. I was also using heavy ballistic pants during this trip and the top half of my jeans were soaked from the inside out in comparison. So I might go for the Olympia rain pants over my perforated armored pants to get the best of any possible weather. It acted as a good windbreaker for warmth too. I layered a t-shirt, synthetic fleece pullover and my perforated/armored riding jacket under it comfortably without struggling to get it on or off. Sizing: XXXL Olympia rain jacket fits loosely over my XXXL Joe Rocket Phoenix mesh yet the Phoenix itself is pretty snug on me, even though I wear XL t-shirts. Go figure on garment sizing. Trying on the XXXL Olympia with just a t-shirt looks pretty baggy but that's not how I gear up anyway. The New Horizons jacket can be strapped down at the wrists, elbows and around the waist to reduce ballooning. Sometimes I would feel the wind blast tugging and flapping at the shoulders so I inspected all seams at the end of the day. Everything OK. I never felt the need to try out the hood despite all the rain. It looks good enough (I bought the black and yellow) that I could wear it on the street and appear like I had a outdoors rain shell instead of some motorcycle gear, or tuck it in its pack and carry under my arm just in case. I've been buying good clothing for decades because of white water paddling and camping and this jacket is right up there. Part of its appeal is they kept it very simple so it doesn't deviate from its prime purpose. My only little quibble is that the outside left hip pocket could be fastened to the shell so it stays in place and makes fishing around and pulling out any objects to be awkward. I didn't use it for anything important. I understand it's a concession on something designed to be a rain shell, not a riding jacket.
Date published: 2016-07-17
Rated

5

out of

5
by
Mark Fernando
from
Completely Waterproof
I bought this jacket a year ago, and have worn it on a number of full days of riding through the rain and have found that this jacket has kept me dry every time. Bought a large and it fits well over my Icon Patrol Jacket. I have a 45" chest and 32" waist and found this jacket to fit well over my protective motorcycle jacket. The jacket also packs nicely into a built in stuff sack for when you have it stowed in your luggage. Would recommend this jacket as it works and keeps you dry even through a day of riding in the rain.
Date published: 2016-09-03
Rated

5

out of

5
by
Howard
from
It just worked
Got this just before a short trip in southern part of Saskatchewan. Well guess what it rained and rained then a lot harder all was great with this jacket and pants I was dry and warm and extremely happy with my purchase
Date published: 2016-08-15
Rated

5

out of

5
by
JohnnyA
from
Better be safe then sorry!
This is one item that I wasn't looking to use :) But I wanted to make sure if I was in a situation where a rain suit was needed I was prepared. I was cough by a rain storm, very windy and cold. The suit worked perfectly and kept me dried. Very good construction, light and very easy to pack. Probably the best money spent on all my bike gears. You don't want to use it, but when you need it, it great to see it work! Highly recommended jacket & pants
Date published: 2016-06-24
Rated

4

out of

5
by
bikeboy1
from
So Far So Good
I have not had the opportunity to ride this jacket in long heavy downpours but have had a reasonable dumping for a half hour and it didnt leak and it fits my coat reasonably well. It does not flap around in the wind so the sizing guide was pretty much spot on. I do like to keep the rain jacket on during the cooler months as the wind protection is very good which means I stay warmer longer. I ride right to the freezing mark and this coat helps me cope with that very well. Pockets all seem to be in easily accessible positions for me and the collar zips up nice and high for wet and cold.
Date published: 2016-06-29
Rated

5

out of

5
by
Bonkyboz
from
Rode my first rain fall dry
This product is what it says. Fit good, easy to put on by the road side. Quick Velcro strapping around the ankle and wrist. Best of all wraps up good and tight for easy storage without taking a ton of space.
Date published: 2019-08-28
Rated

4

out of

5
by
Arrakis
from
A really great rain jacket
I have own a few olympia products and have never been disappointed. This jacket holds up to that high Olympia standard. I have been caught in a a few downpours and this jacket kept me dry. Good placement of pockets. The high vis yellow is a nice feature on those particularly stormy days or nights. The price is a little more than other similar products. Maybe a bit too high for a rain jacket, but overall I am happy with this purchase.
Date published: 2019-06-29
Rated

5

out of

5
by
Big D
from
Very Happy with Jacket
I bought this jacket (and pants) in size XL/2XL two months ago for dual duty (wind and rain) for my daily 40 km commute. Size fits big, but fits over other riding gear easily. Works well as a wind/weather shell when the morning temperature is in single digits. Just finished a weekend trip, in excess of 1000 km,Owen Sound ON to Ottawa and return. Subjected the jacket to 4 hours of continuous rain. Drizzle to downpour...not much fun. Jacket worked great, Dry Dry Dry. Love it
Date published: 2019-05-29