Parts Unlimited AGM Battery
Item # : 502497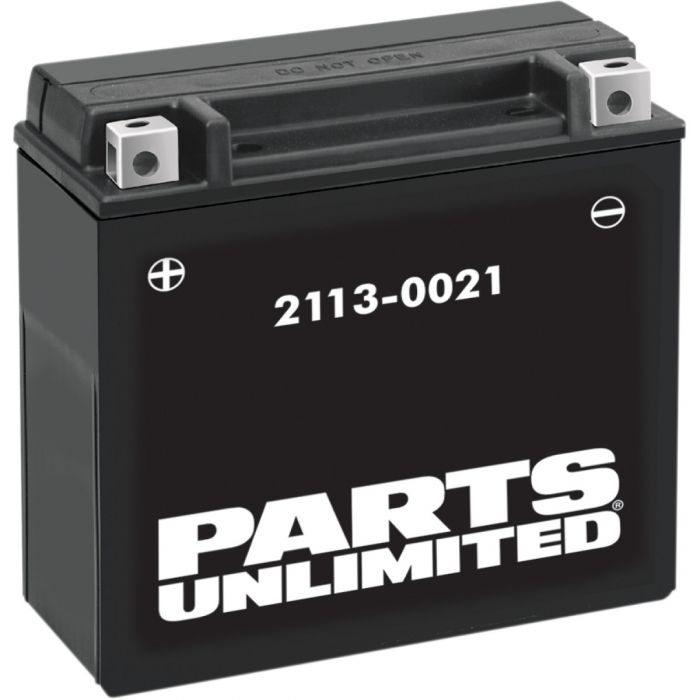 Parts Unlimited AGM Battery
Item # 502497
Description
Parts Unlimited / Parts Canada AGM Maintenance-Free Battery
Parts Unlimited is proud to offer a premium-quality, maintenance-free battery at a great low price
Special absorbed-glass mat battery eliminates water loss, permitting the battery to be permanently sealed once it is filled with acid
Holds charge three times longer than conventional batteries
High performance active material with anti-sulfation additive
High capacity and cranking performance
Acid pack included
Vertical installation only
Reviews
Rated

5

out of

5
by
RiderSteve
from
So far so good.
The battery arrived quickly, and it fit the motorcycle (2012 WR250R). While a review of a battery should involve comments about how long it lasted and so on, I have not had it in service long enough to evaluate it's value per dollar but, it was about 40% to 60% less expensive than what was available locally - and with better #'s - so it is starting off (pun intended) on the right foot. So far, the motorcycle turns over as it did with the original battery, and it handles multiple starts in a very short period of time without sounding like it was getting low in charge (you know when you are off-road, and you stall out, then stall out again, and again?).
Date published: 2018-05-09
Rated

5

out of

5
by
Roger
from
The same battery in my local town was $109.00 compared to $69.00 from Fortnine. Battery works great, lots of cranking power. Thanks Fortnine!
Date published: 2018-01-07
Rated

4

out of

5
by
LDre
from
Instaler sur mon xr 650l depuit 2 semaines. Y commence a faire froid. Bonne batterie. J'ai hate de voir la durabiliter.
Date published: 2019-09-12
Rated

5

out of

5
by
Steeven
from
Elle fonctionne. Que dire de plus..
Pas compliqué. Livraison rapide. Basé au Québec....
Date published: 2019-07-08
Rated

5

out of

5
by
Langdon cycle and sports
from
Parts canada battery review
Decent battery. Good fit. Holds a charge. I use a battery tender to maintain the charge. Seems to be good.
Date published: 2018-07-18
Rated

5

out of

5
by
Android
from
The battery has been in my bike for a month now and seems to be doing it's job as good as the factory original.
Date published: 2017-02-10
Rated

3

out of

5
by
tecate
from
good agm battery
i bought three of these. gladly it fits right on. good price, good value but was really dissapointed because i wanted to order 2 more and 3 weeks later the price was 12$ higher. i asked for a price match and the only answer i had was the price is the one on the web site there is nothing we can do about that. sorry but i ordered from another.
Date published: 2018-05-11
Rated

4

out of

5
by
Yamadog
from
Battery
Came in a few days. Charged and installed. So far so good
Date published: 2019-12-03
Questions
What is the warranty on this battery?
The battery comes with a 1 year warranty.
Date published: 2017-04-03
Hi! I just bought this battery and noticed that my old Yuasa battery is seated on it's side in my bike ('11 FZ8). Is this battery ok to have seated the same way? Thanks!
As far as mounting the battery on its side goes, I can't speak from personal expertise, only internet research, and it shows that mounting the battery laying on its side is no problem. What I can say from personal experience is that for the price and performance, you can't afford not to buy one of these. Unless you're starting your bike in -20C weather (again, I've no experience with that), this battery ought to serve its purpose well and for substantially less coin than the oem part.
Date published: 2017-04-14
Once the battery acid pack contents have been added to the battery is the battery cap sealed permanently or does the cap come off and on and potentially leak?
I don't recall how permanent. I know it doesn't need any further maintenance. keep upright. Has been working fine, did well through a couple cold winters now.
Date published: 2019-09-23
Hello, Is this battery shipped with acid in it , or supplied with it ? Thanks ! Mike
Its supplied with it. I have a few of these batteries and they seem to last just as long as the higher priced ones. 
Date published: 2017-04-14