Pirelli Diablo Rosso III Rear Tire
Item # : 478729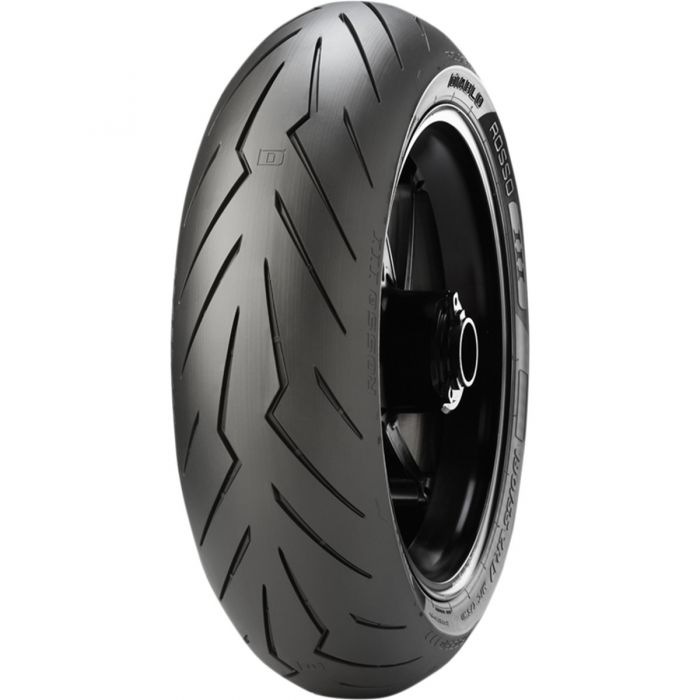 Pirelli Diablo Rosso III Rear Tire
Item # 478729
Description
Pirelli Diablo Rosso III Rear Tire
DIABLO ROSSO III: How to transform the most difficult road in pure amusement
Pirelli technology developed within the World Superbike Championship
Unprecedented handling for a new generation of sporty behaviour
Bi-compound with wide side soft stripe offering full grip starting from mid lean angle
Large footprint area for improved adherence
W-rated for speeds up to 270 km/h (168 mph)
Reviews
Rated

5

out of

5
by
Waterbong
from
Rosso 3
Got a great deal and super fast shipping on my rosso 3 tires! Amazibg traction in the corners during full lease seem to be wearing very nicely as well. Will be ordering from them again.
Date published: 2016-06-24
Rated

5

out of

5
by
elcedrico79
from
Super fonctionnalité
J'ai acheté le pneu et j'en suis très satisfait ! Très bonne qualité et adérance
Date published: 2017-09-16
Rated

5

out of

5
by
Ricks83
from
Super pneu ça colle vraiment bien dans les courbes
Meilleur achat de l'été ;) très bon pneu très bon rapport qualité/prix
Date published: 2017-08-09
Rated

5

out of

5
by
jason
from
super achat, je le recommande à tout le monde
j`ai acheté le dernièrement et j`ai constater que le pneu use beaucoup moins vite très bon.
Date published: 2019-09-03
Rated

4

out of

5
by
Luka350
from
Bon pneu pour petite moto
J'ai essayé le pneu et il est très bien bonne qualité
Date published: 2019-08-28
Rated

5

out of

5
by
Chihuahuahua
from
Awesome tire
Replacing stock completely transformed the bike's handling. Once the tires are well warmed, it becomes a surgically precise cornering machine. Pirelli for the win.
Date published: 2019-08-28
Rated

4

out of

5
by
Pat158
from
Good tire
Buy it and rode it for the last 2000km seems to wear not so fast and give a good grip in turns! Once warm its very fun to ride!! Recommand it
Date published: 2019-08-28
Rated

5

out of

5
by
Malky
from
Good wear, nice profile, still good grip.
Bought these a few weeks ago hand mounted, needed no balancing, just lined up the red dot to the valve (all Pirellis are like this). Have now 1500kms (20% wear), on RSV4 Factory, that is street fighter setup now. Wear is good compared to stock supercorsa II,s (3000kms and done) on the slab, and still maintains the corner grip to 95%. If you have a street bike thats on the slab mostly straight roads, these will work great, and once in the twisties, the knee can still go down. No wet use yet so can't advise...
Date published: 2019-06-28
Questions
Hi, would this tire in 160/60ZR17 fit on my 2015 Yamaha R3 with stock wheels? My current 140s (stock size) will need replacing soon and I'm looking for something more stabble and with more grip. Thanks
If your stock tire size is 160/60ZR17, then this tire will fit. You need to select a tire in the same size that is recommended in your owner's manual. You can also check the size that you are currently running, as the size will be listed on the tire's side wall
Date published: 2019-09-11
what does the "D-spec" mean?
The D spec is for OE replacement on Ducati motorcycles.
Date published: 2019-07-17
Salut j'ai des roues de Supermoto qui n'en sont pas Tubeless est-ce que ça va marcher? Merci 
Oui, un tube peut être installé dans le pneu.
Date published: 2018-05-16