PowerMadd Sentinel Handguards
Item # : 270788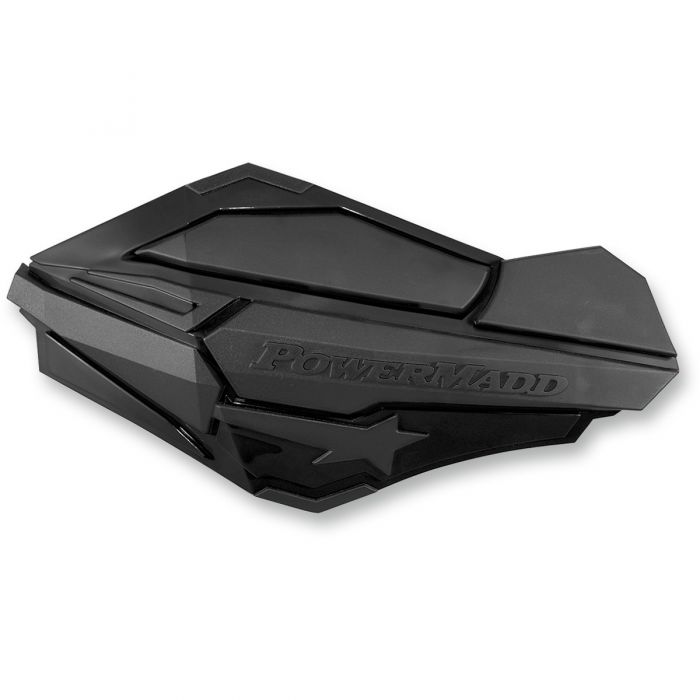 PowerMadd Sentinel Handguards
Item # 270788
Description
PowerMadd Sentinel Handguards
The Sentinel Handguard is designed to be the most stylish, durable and functional handguard to date. The Sentinel guard is larger compared to the Star Series which in turn gives you more protection. The mounting brackets are 6061 aluminum, while the guard itself is made of two different types of plastic-a stiff two piece spine for durability, and a softer colored body for flexibility. The Sentinel protects your hands from flying debris, rocks, bushes, branches, and mud. Plus it keeps your hands warmer by blocking the wind in cold weather. In the summer, simply snap out the removable vent cover to let air flow through. The Sentinel Handguard will work with: Sentinel Armor, Gauntlet, Flare, Hand Wrap, Mirror and Large Mirror.
Sentinel Handguards work with:
Sentinel Armor
Flare
Gauntlets
Hand Wrap
Mirror/Large Mirror Upgrade
Note: Requires mount kit 34450, 34452, 34454 or 34269.
Reviews
Rated

5

out of

5
by
Aumonnator
from
Powermadd sentinel avec miroir.
Excellent produit et excellent service. Très satisfait. 3 jours et c'est dans la boîte à malle.
Date published: 2019-04-21
Rated

4

out of

5
by
Gipple
from
I like 'em
I added these to my Super Sherpa street/trail, along with the fold down mirror kit to place the "lollipop" mirrors, which were catching overgrowth along the trails. The guards look great and give the bike a tougher look, and the bar-level mirrors make for a leaner profile. I haven't put them to the crash test yet, so I can't comment on durability. I find the mirrors to be too convex, so objects appear too distant and are hard to make out and judge distance. The folding action is stiff and catchy and I feel like they could snap off by the amount of force needed to rotate them. Not a huge deal for me because they are already very low profile and I never feel the need to fold them in. I'm going to see if I can add a normal perspective mirror to them. As a whole, probably not worth the $130 + tax, but I like 'em well enough.
Date published: 2018-08-28
Rated

5

out of

5
by
Marie
from
good product
Livraison rapide et ensemble complet, tres facile à installer aussi! un client satisfait, merci!
Date published: 2017-01-28
Rated

4

out of

5
by
Explorer
from
Good fit to my SR Viper 2016 LTX LE
Fits well with my machine. I would like to outline the excellent customer service of the Fortine team. The miror kit that was displaid as a complement to these handguards would fit, but was not the actual kit espacially designed for the Sentinel. I have returned the mirror kit and Fortnine processed the refund in no time. This is the customer focus that distinguishes Fortnine form the others.
Date published: 2017-01-27
Rated

5

out of

5
by
Michelle
from
Hand guards
I bought this for my husband, they are great quality and had fast shipping
Date published: 2017-05-04
Rated

5

out of

5
by
scuzzers
from
Looks good.
Got these for my first project bike and look forward to testing it.
Date published: 2019-02-04
Rated

5

out of

5
by
Mike
from
Handguard pas de support
Très bonne qualité. Ne contient aucun support. Vous devez acheter le kit complet donc ajouter un autre 50$ +. J'ai récupéré mes anciennes et installé ceux ci dessus en les ajustant avec du tuyau de plomberie. Bon résultat. Les miroirs des anciennes génération font bien dessus aussi.
Date published: 2019-04-22
Rated

5

out of

5
by
Seth
from
Bought a month ago. Love them, just as seen on page.
Date published: 2019-04-20
Questions
Would this fit on an 8 mm bolt for a previous acherbis  hand guard set?
No, the mount kit is item specific, so you would need to purchase one of the following mount kits for this item: 34450, 34452, 34454 or 34269
Date published: 2019-04-24
Do these hand guards come with the mounting hardware? And are they a universal fit? ( I ride a 2018 YZ 125). 
These are the plastics only, the universal mounting kit is sold separately. Requires mount kit 34450, 34452, 34454 or 34269.
Date published: 2019-02-10
Would these fit on a 2019 crf 250f?
These are the plastics only. You will need to order the correct universal mounting kit sold separately. Requires mount kit 34450, 34452, 34454 or 34269. You would need to check which mount kit is suitable for your application, based on the diameter of your bars
Date published: 2019-10-17
I just wanted to confirm that ordering 1 of these would include 2 handguards before proceeding with the order.
yes there is 2 handguards but no brackets.
Date published: 2016-06-19
Bonjours es que c'est deux protecteur ou seulement un pour le prix merci ?
Le paquet contient deux protecteurs pour le prix.
Date published: 2018-12-20