Progressive Suspension 465 Series Shocks
Item # : 149297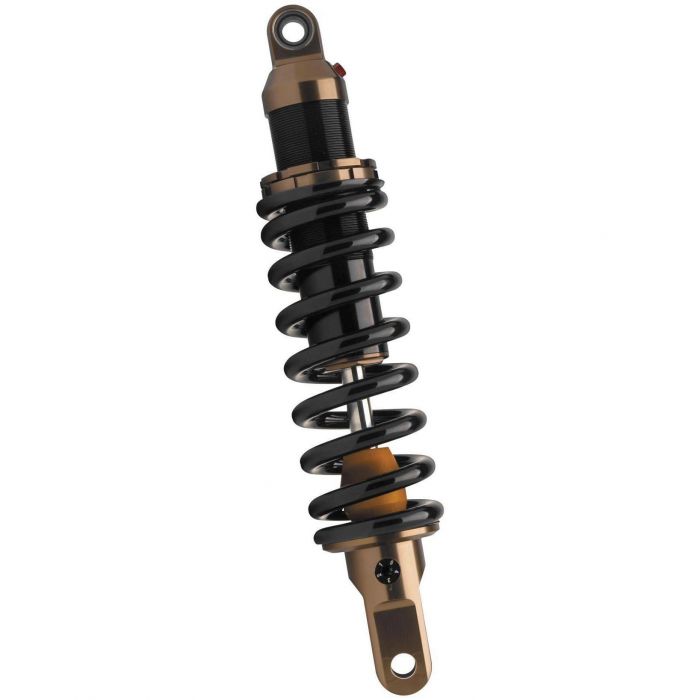 Progressive Suspension 465 Series Shocks
Item # 149297
Description
Progressive Suspension 465 Series Shocks
Completely new, the 465 Series represents state of the art high pressure gas monotube shock design. It utilizes a large 46mm bore and deflective disc piston for precise damping. The beefy 16mm hard chrome shaft rides on custom viton seals for low friction and leak free life. The 465 is custom tuned for each application and is completely optimized for each bike, from the damping and spring rate all the way down to the jounce bumper. Initial offerings include the KLR650 and will expand to include other monoshock bikes.
High-pressure gas monotube design for the ultimate performance
Five-position rebound adjustment
Tailors the suspension for changing conditions and riding styles
Threaded shock body to fine-tune sag
Aluminum body and components
Lightweight and stylish
Excellent durability and corrosion resistance are provided by the hard anodized finish
Consistent damping is provided by the 46mm bore and internal floating piston
High-quality Viton seals for leak-free reliability
Some models available in 1" lower than stock
Some models available with Remote Adjustable Preload - (RAP)
Custom tuned (damping and spring rate) for each fitment
Some or all shocks listed have TUV approval. Refer to the most recent TUV certificate for current listing
Made in the U.S.A.
Includes:
Shock w/Spring Installed
10mm-1.50 x 55mm Flange Head Bolt
Spanner Wrench
Allen Wrench
Reviews
Rated

5

out of

5
by
Big M
from
Great ride improvement for a Roadstar!
This product was fairly easy to install and brought a whole new life and ride to a 15 year old bike.
Date published: 2014-06-01
Rated

5

out of

5
by
Matt
from
My KLR 650 now has swagger to spare
Buy this shock if you're a KLR 650 owner. The stock shock is softer than baby sh...well you get the idea. Tuning is simple. Sag alteration is simple with the threaded top. Combined with the front spring upgrade it is a safer bike to ride with zero 'off the throttle' dive and minimal brake dive. Install take 30 minutes. Recently did a weekend mountain camping trip with the bike loaded and the shock barely broke a sweat. I'm 200lbs with 40lbs of gear. Save your money and forget the RAP option. this does fine.
Date published: 2016-08-15
Rated

5

out of

5
by
meo peo
from
465 Series Shocks
installation super , pas dessai sur route pour le moment . de la neige sur les routes....... QUEBEC
Date published: 2018-03-27
Rated

5

out of

5
by
4Pat
from
Like having a new bike! :-)
If you want tonlike your bike for a few more years, get a new shock after a few years!
Date published: 2017-09-18
Rated

4

out of

5
by
CDNRatMan
from
Last upgrade to an old girl
Did this upgrade to my 1999 Kawasaki Drifter 800 to replace the old worn out shock. The job was completed in Jan here in Northern Ontario so have to wait till May before I can actually ride the bike, but it should be a huge difference.....
Date published: 2014-02-09
Rated

5

out of

5
by
jake
from
Big improvement
I've put a couple thousand kms on this shock so far and am very impressed. After breaking it in the ride was very supple and controlled, the handling also felt a lot more stable while cornering. Adjusting the spring preload wasn't that easy but once set I shouldn't have to touch it. Very pleased so far, plan to test it in the Yukon with a full load aboard.
Date published: 2018-06-08
Rated

5

out of

5
by
Uberti77
from
I love my new shock . Easily adjustable! And quick service!
Date published: 2018-05-09
Questions
Is it a suitable shock replacement for an 07 vulcan custom 900? Site shows good fit, but has anyone used on a cruiser? How smooth is it ? Changing the oem for a new one.
I picked this shock it's fits right I place and has adjustments to make it stiffer or softer I actually have not got to ride mine with it in as I went with the one inch lower for my bike to get a look I wanted but with my bike previously lowered it would. Bottom out. In a few weeks I will be swapping out the lowering link for the original and try again.
Date published: 2019-04-30
Would this shock be suitable to handle a passenger weighing around 250 lbs for long distance riding? Is this price for 2 shocks?
Yes it would be, but you might want to get it with air
Date published: 2018-07-18
I've got a 2000 BMW 1150 GS. Your fitment check says it should fit but is it heavy duty enough for my 600 lb. Beemer? PS. I generally ride loaded up for touring.
I put that shock on a 1992 BMW K100RS. It was a little shorter than stock but the best I could do. No problems, but I didn't tour with it or experiment with different settings. Have since sold the bike. Try the BMW MOA forum for better advice.
Date published: 2018-04-24