Renthal 520 Ultralight Rear Sprocket
Item # : 103516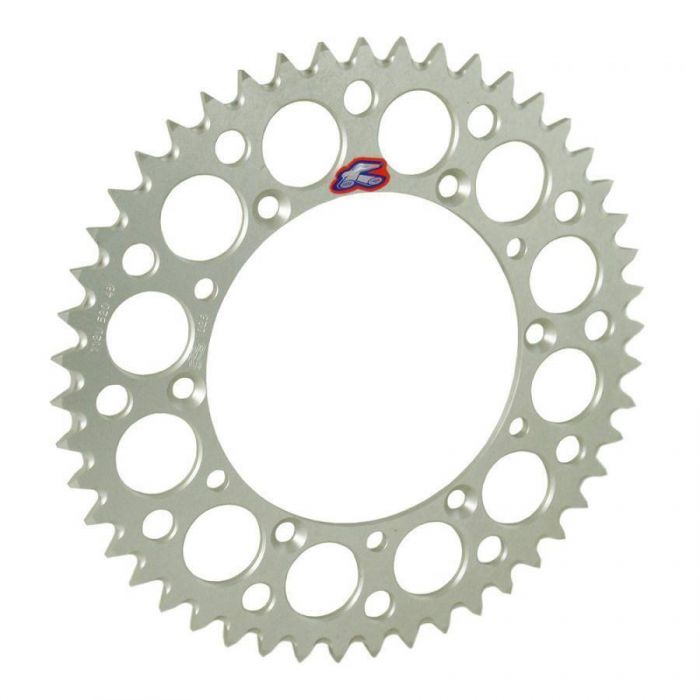 Renthal 520 Ultralight Rear Sprocket
Item # 103516
Description
Renthal 520 Ultralight Rear Sprocket
Renthal Ultralight rear chainwheels are manufactured to exteremly tight tolerences from a special material developed to withstand the rigours of Supercross, Motocross and Enduro.
The 7075 T6 aluminium alloy rear chainwheels are 66% lighter than steel, yet incredibly durable.
Their advanced tooth profile, concentricity and accuracy of fit provide maximum power transfer and long-life.
Renthals combination of a very high strength base material and an exceptionally hardwearing surface result in significantly increased chainwheel life
Reviews
Rated

1

out of

5
by
Jjames
from
Dissapointed
The colour is great looked nice on my kawi for a hour, then the minute my wheel started moving for a quick rip. The paint is gone after 5 minutes. Whole diameter, just expected the "pretty" to last more then a single ride. You will be dissapointed with the colour after u ride, (nothings rubbing it , chain cleaner is clear and rub free)
Date published: 2018-05-08
Rated

5

out of

5
by
justind2567
from
excellent
I bought this a month ago and was great went to California put 30 hard hours on and no signs of ware looks good and holds up also the 48t is half the weight of the stock ktm one
Date published: 2016-02-26
Rated

5

out of

5
by
Gooch
from
Nothing but the finest!
There's nothing better than a black Renthal sprocket with a gold chain. Looks amazing!
Date published: 2017-03-28
Rated

5

out of

5
by
Tombonombona
from
Good sprocket
Purchased and installed this a while ago for my KLX300R. Sprocket is very light and very green. I hope it will hold up well, being that it is alluminum. Haven't had a chance to use it much since it is still the middle of winter. But I have good hopes for it.
Date published: 2017-02-10
Rated

5

out of

5
by
96Redsox
from
Great sprocket
Looks amazing and add a nice look to my bike. Came earlier then expected and is overall a great product
Date published: 2019-06-30
Rated

4

out of

5
by
Robert
from
sprocket
bought this because i wanted a black one. im not sure why, but i dont like the ones that have metal just where the bolts go, i like the ones that fit right onto the hub. personal preference. its aluminum for weight. fort nine has good prices on these compared to local dealer, so its affordable to buy the brand name. the chamfer/counter sink on all aesthetic holes are only on the outside. that doesnt bug me, but proves they just mass produce these things and dont put a lot of attention to them. operation wise, its like any other sprocket. long term we will see if they have good wear. if you're after the best quality around in terms of material and attention to detail, and want to order multiples, maybe look into sprocket specialists. if you just want something that looks good these are great.
Date published: 2018-04-02
Questions
Can you tell me if you have this sprocket for a marchesini rim? 42T, 520.
I use this for the crf250L. Hope that helps.
Date published: 2017-03-15