Ricks Motorsport Electrics Rectifier-Regulator
Item # : 173611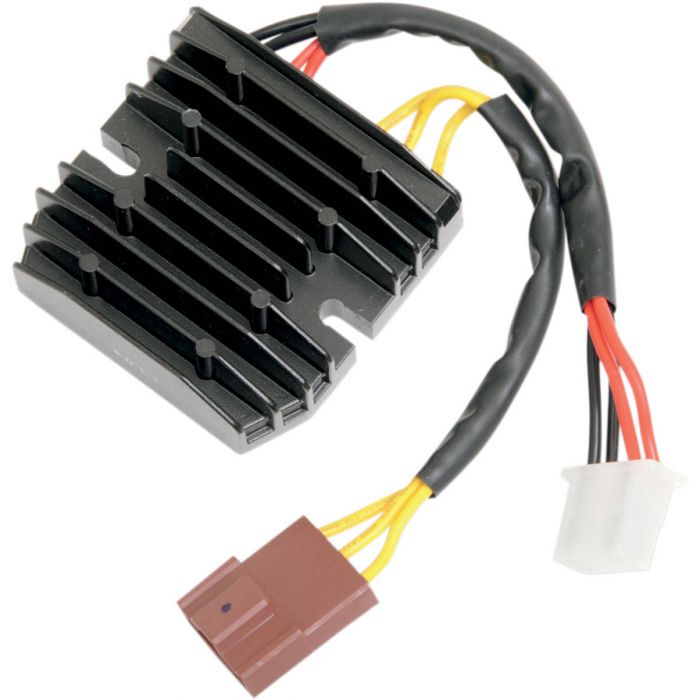 Ricks Motorsport Electrics Rectifier-Regulator
Item # 173611
Description
Ricks Motorsport Electrics Rectifier-Regulator
All of Rick's rectifier regulators are brand new parts and come with a one year replacement warranty. Most units are direct replacement pieces and come with the factory plug ends. This allows for an easy install - just unplug your part and plug ours in. We also know there is a need for universal rectifier regulators for certain unique machines. In this case, the rectifier regulator will come with wire leads only and you will need to hard wire it. Before replacing your rectifier regulator, be sure to read these instructions & check the integrity of all your electrical connectors. Item may vary from image
All regulator/rectifiers are new and built to OEM specifications.
Includes 1 year manufacturer warranty.
High quality cost effective replacement for OEM
Most with OEM-style plug end
Some models have a "Hot Shot" as the option, these are high performance, heavy duty Hot Shot versions made with special Mosfet technology that does not get hot.
Actual product may vary from image depending on make and model.
Must-do Tips BEFORE installing a Rectifier/Regulator
Check the AC output of the stator
Check that the stator is not grounded.
Replace any burned or corroded connectors on stator & rec/reg
Check & repair any melted wiring
Use hi-Temp Dielectric grease on all connectors
Reviews
Rated

4

out of

5
by
Gunmetal
from
Needs a small installation notice
Customer had the classic regulator plug meltdown and attempted to hardwire a new one. Ricks is a 6 wire while the OE is a 7 wire. They eliminate external voltage sense and the third output wire is AC voltage. If you don't know what your doing call Ricks for help they will get you sorted.
Date published: 2017-08-10
Rated

5

out of

5
by
Trouble
from
Part and service review
Hello folks, I have installed and the part has worked good. Your service was great as I had no issues and delivery was on time which was awesome.
Date published: 2017-08-09
Rated

4

out of

5
by
FSJ King
from
Works great fit right in quad is running great and charging the way it should
Date published: 2016-05-06
Rated

5

out of

5
by
Chris
from
Plug n play
As usual, fast delivery. Easy install (with the help of YouTube), plug n play. Just gained 1 volt and no more flashing dashlights. Will see for durability.
Date published: 2017-09-16
Rated

4

out of

5
by
Smee
from
Works
Great, Fixed my problem and I'm back riding again.
Date published: 2017-08-10
Rated

5

out of

5
by
Ducster 3961K
from
Overheating Problem Resolved
This regulator does exactly what it says it does...does not overheat. OEM 1098S regulator even after the recall replacement kept on overheating causing the headlights to go out unexpectedly. This regulator solved that problem. Great product.
Date published: 2016-06-24
Rated

3

out of

5
by
Juice
from
Poor service
I bought this product after having called a customer service rep to explain what I needed because the online photo didn't match what I needed. I was told it was the right one and that the photo is not an accurate representation. I received the wrong one and the photo was identical to the unit I received. 3 weeks later I received the correct one from Rick's directly. Fort Nine kept my bike off the road for 3 weeks. They accepted the wrong one back but 3 weeks off the road in a canadian summer is not acceptable.
Date published: 2017-09-25
Rated

5

out of

5
by
NELLIE
from
PERFECT FIT
BOUGHT IN JULY UNFORTUNATELY I NEED OTHER PARTS NOW
Date published: 2019-08-28
Questions
Will this work on a lithium battery?
Only if that specific lithium battery was designed to replace a regular motorcycle battery.
Date published: 2018-07-18