Ricks Motorsport Electrics Stator
Item # : 173883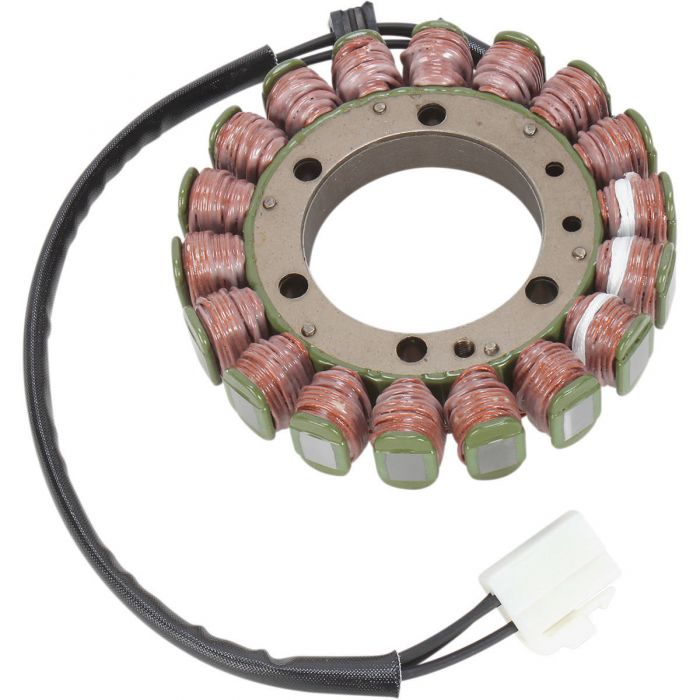 Ricks Motorsport Electrics Stator
Item # 173883
Description
Ricks Motorsport Electrics Stator
Features:
Rick's Motorsport Electrics has been providing stators for over 30 years. Rick's manufacturers new and rebuilds custom stators for motorcycles, ATVs, UTVs, off road, street bikes, & snowmobiles.
All rebuilt stators require a core exchange and come with a one year replacement warranty. Most new and rebuilt stators are built to stock specification, but we do offer some high output stator versions as part of the Hot Shot Series so you can get even more electrical power from your machine
OEM-style stators
Stators come with a wire harness, rubber grommets, and all end connectors for a more tech friendly installation whenever possible
Direct plug-in stators complete with all rubbers and OEM-style plug end (unless noted)
Reviews
Rated

3

out of

5
by
Donny
from
Almost perfect
I bought this stator a few months ago to replace the broken stock one . Install was easy . Instructions were very simple to follow . After the install I was reading 20v to the coil but no spark . Coil read a little out of spec so I replaced it . Still got voltage but not spark . I went from one end of the bike to another . Still no spark . I spent three days beating my head against the wall trying to figure out what was wrong . Then, out of nothing short of desperation, I switched the leads going to the cdi from the stator . Immediately after I got spark . Turns out whoever wired the stator from Ricks soldered the wrong wires on the wrong terminals . Red was where the green was suppose to be ect . I was getting 20v because it was sending the wrong sine wave to the coil . After this my bike has never ran better . I've had it running about 2 months now and it's a very solid unit (when wired properly) . I never contacted Fort Nine or Rick's for this matter , but I'm sure if I did they make it right. As it's fixed I don't see the reason .
Date published: 2017-10-27
Rated

5

out of

5
by
Josh
from
Direct fit.
Website says it's not compatible with 09 Gsxr 600, however if you buy 1/2" longer bolts and 2 washers while reusing 2 nuts it fits perfectly.
Date published: 2018-08-26
Rated

5

out of

5
by
Kram12
from
Nice fit.
Good fit .Bike is charging again. Shipped quickly.
Date published: 2019-11-22
Rated

5

out of

5
by
Masa
from
Exactly what was required!
Old stator o longer charging due to burnt coils. Replaced with new one and no complaints!
Date published: 2019-11-19
Rated

5

out of

5
by
Papajohn
from
Stator for my C90 Boulevard
The stator was a perfect fit and the charging system is back to 100%. Once again Fortnine.ca made the ordering and delivery easy and quick. Thank John from Moose Creak, ON
Date published: 2019-11-18
Rated

4

out of

5
by
Max in Montreal
from
Stator review
I was having issues with charging when the engine was hot. When hot the voltage would not go higher than about 12 volts. I did all tests and everything pointed to the stator. The choice was to go with Suzuki OEM at double the price, or one of the two models offered on Fort Nine for under 200$. I chose Ricks. Part came in fast enough and I replaced it my self. Eventually there was an issue once again when the engine was hot. I went to see a few moto mechanics and even to the Suzuki dealer, but no one could fine the issue. On Kijiji I found a young guy, 23 years old and we discussed my issue, and he listened to me talk. I ended by saying I did not mind him taking a look at it but I do not want to be charged 500$ and the issue would not be fixed, he was OK with that and said bring it over, he would figure out the problem. He started the bike from cold and checked the voltage every 30 seconds and wrote it down. After idling for 13 minutes, voltage dropped. He let the bike get cold again, started it, but this time he ran water from a hose to cool the area where the stator is located. 1 hour later the voltage was still fine. He figured out the stator does not work when the engine got hot. I have spoken to Fort Nine already and explained the issue and they let me know I have one year to return the part. I do not know how often a new one fails but it has in my case.
Date published: 2019-11-18
Rated

5

out of

5
by
PrairieMotoMB
from
Just installed, piece of cake to do!
Got this to replace the stock stator that was failing in my 1986 Honda XL600R. It probably took me around an hour to install and test. Great product and easy to install. I also installed the Ricks Regulator (pn 10-443) per the instructions to absorb more of the power.
Date published: 2019-09-10
Rated

5

out of

5
by
Greybeard
from
Works just fine
The old vefer is humming like a top with this stator
Date published: 2019-09-10
Questions
does the harness wire from stator plug rights into the xl600r harness are there any modifications that need to be done ?
It is a plug-and-play application.
Date published: 2017-08-13
The plug in the photo is different then whats on my bike. Is this just a what ever photo/example?
The photos on our website are, for the most part, for information purposes only. This means that the actual item may vary. The suppliers and manufacturers provide us with stock photos for the products, and often, when there are many different models, a standard photo is used. If you enter the year, make and model of your vehicle on the product page, you will be able to order the vehicle specific part for your bike, which will show as a "Guaranteed Fit"
Date published: 2019-10-07
Does this come with the rest of the stator? Magnets, ect? Im looking for one that has the outt/er part included ( the cover that gets pulled)
If you're referring to the engine case the stator bolts to .. it does NOT. The case is a separate component. You have to remove the old stator and install the new on the case. Best practice is to take pictures of how the old one is installed nefore taking anything apart. Where bolts are located and routing of the wire sheaves and positioning of the signal generator. Install new in same way .. maybe take a picture each step of the e.g. remove bolt .. take picture .. etc.
Date published: 2019-05-31
Does Ricks Motorsport Electrics Stator for the DR650 come with the pickup coil?
Not sure what you mean by the pick up coil ? But it's basically a plug and play operation.. Only thing you have to get extra is the gasket. Take out the old and put in the new.. A little time consuming operation, but well worth the savings..
Date published: 2016-08-10