Rox Speed FX Elite Pivot Risers for 7/8" and 1 1/8" Handlebars
Item # : 558404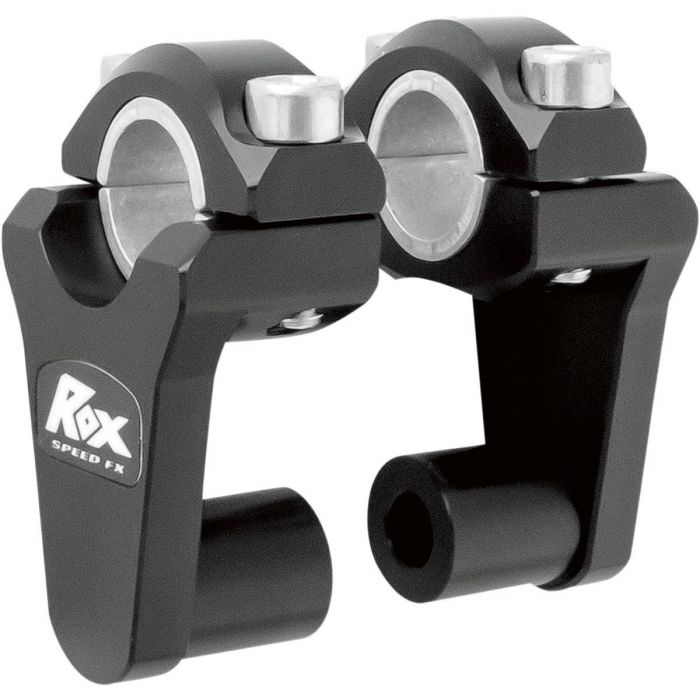 Rox Speed FX Elite Pivot Risers for 7/8" and 1 1/8" Handlebars
Item # 558404
Description
Rox Speed FX Elite Pivot Risers for 7/8" and 1 1/8" Handlebars
Full range of adjustment allows the rider to find their own individual bar position. Make your machine fit YOU, not the other way around. A more comfortable ride means a longer ride - and who doesn't want that?
Features:
Patented pivoting riser works on any machine with 7/8" bar clamps
Dual rotation points allow rider to select optimum riding position for comfort and control
Original clamps hold the risers which re-clamp the handlebars 2" higher with pivoting fore and aft adjustment
Out-board positioning makes them incredibly durable
Three heights available, 2", 3.5", and 5"
Elite series risers features a handlebar adapter which gives you the option of using either 7/8" bars or 1 1/8" taper bars: clamp in your choice of 7/8" handlebars or remove the 7/8" reducers and then clamp in an 1 1/8"aluminum handlebar
Note: It is important to verify that you have adequate brake line/cable length and stem clamp clearance before installing risers as longer cables may be required on some models.
Reviews
Rated

5

out of

5
by
Pascal
from
Great quality product!
Ride confort is way better now! More control of your machine and the quality of the product and durability is awsome!
Date published: 2017-12-10
Rated

5

out of

5
by
Isabelle
from
Great feature!
I bought it before doing a 4600 miles road Trip from Quebec to Utah. I had a better sitting position so I didn't get tired after 3 hours. I could ride for 8 hours without back pain!!
Date published: 2019-09-07
Rated

4

out of

5
by
TJ744
from
I like them
Had to reroute the clutch and throttle cables to get a bit more length, once that was done, the rest of the install went great. Total install time was 1 hour.
Date published: 2019-08-28
Rated

4

out of

5
by
meladell
from
Good - but a bit too tall for stock V-Strom cables
The Rox 2" risers that were put on my 2018 V-Strom 650 did make a difference when riding on the pegs, but some re-routing of the stock cables needed to be done to gain some extra wiggle room (I find that there's a fair bit of tension on the cables when getting to a full lock turn, but otherwise it's ok). It's a good product but if I had to buy again I'd try to find 1.5" risers.
Date published: 2019-06-27
Rated

5

out of

5
by
Dave
from
2" Rox Risers
2012 Versys w/ 7/8" bars that were too low, needed about 1" raise. Purchased these w/ 2" raise and had a set of 1-1/8" Protaper bars that had were lower than stock. The set up gave me about 1" overall that I was looking for. Have been riding the bike as off road as you can ride a Versys. I low jumped it twice, do wheelies, pull myself up off the bars, etc. these risers haven't moved. For reference sake I weigh 225 lbs in good shape and consider myself an intermediate to expert rider with 45 years experience on and off road and just quite racing dirt bikes two years ago. My opinion is this is a good product and has held up well for the approx. 2,500 km's since installed.
Date published: 2019-06-26
Rated

5

out of

5
by
TDub Dan
from
Super qualité
J'ai acheté ces ''riser" et je suis très satisfait. Ajustement parfait. Facile a installer. 2 pouces est le maximum de hauteur que je pouvais installer sur ma moto sans avoir a changer le câblage. Plus dispendieux que les autres mais la qualité est là.
Date published: 2019-06-25
Rated

5

out of

5
by
Hrood
from
Quality, Quality Quality!!!
question for you, do you want your handle bars to fail when driving at highway speeds? if you don't, buy these. I tried the cheap Chinese knockoff garbage and the bolts stripped right away. These ROX units are made of quality material and machined precisely to fit. AAA+++
Date published: 2019-06-12
Rated

5

out of

5
by
acmcn
from
Fit perfect
Bought for my sons crf125f it fit well and install was easy.
Date published: 2019-06-12
Questions
Does it include an adapter for 1 1/8 bars or do you have to purchase it?
with aluminum spacers in place it fits 7/8" with spacers removed The ROX fits 1 1/8 the spacers are included and are easy to remove
Date published: 2019-09-25
Will these fit Tw200?
any 7/8 bar. very helpful when standing on the bike
Date published: 2019-03-26