Rox Speed FX Height-Adjustable Snowmobile Risers for 7/8" and 1 1/8" Handlebars
Item # : 675595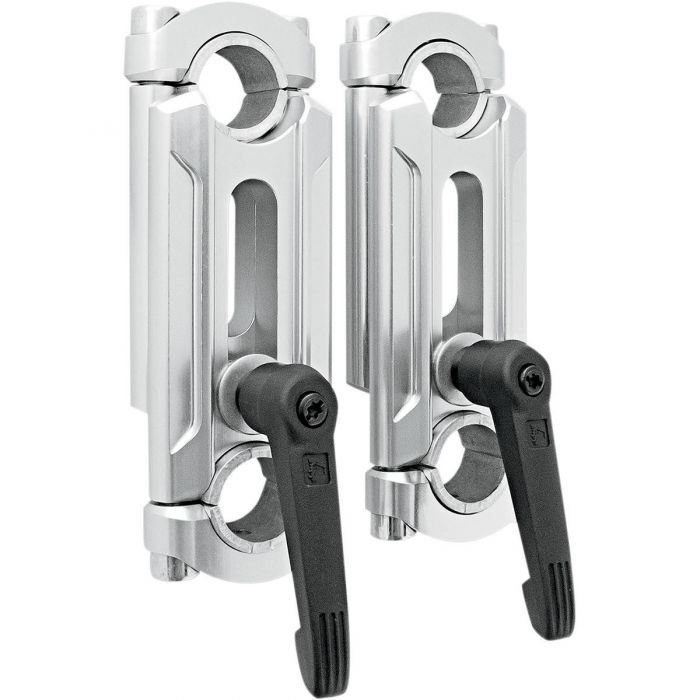 Rox Speed FX Height-Adjustable Snowmobile Risers for 7/8" and 1 1/8" Handlebars
Item # 675595
Description
Rox Speed FX Height-Adjustable Snowmobile Risers for 7/8'' and 1 1/8'' Handlebars
These adjustable height risers take the guess work out of deciding which size to buy with a choice of 4" to 6" rise or 6" to 8.25" rise and allow you to adjust the height easily on the trail, or backcountry and increase your comfort by customizing your sled and its feel to you.
Features:
Designed to replace OEM pivoting riser blocks
Allows you to clamp a stock 7/8" handlebar, or you can remove the 7/8" reducers and then clamp a 1 1/8" oversized bar
Reducers lock into risers to assure no slippage between components and serrated teeth ensure maximum gripping power on the handlebar
Independent left and right risers adapt to any T-stem width making them very universal and usable on different makes and models
Adapter tube #1R-HAAT6 is required when installing risers on a flat plate sled
Comes with 2 quick adjust levers that allow for easy adjustment while out riding
CNC-machined from billet 6061 T-6 aluminum and clear anodized
Note: It is important to verify that you have adequate brake line/cable length and stem clamp clearance before installing risers as longer cables may be required on some models. Also please note that Gen 4 Ski-Doo sleds cannot use the OEM mountain strap in the top side of these bar risers because the bolt spacing doesn't align properly.