S&S Cycle Chain Drive Camshaft Kit
Item # : 280093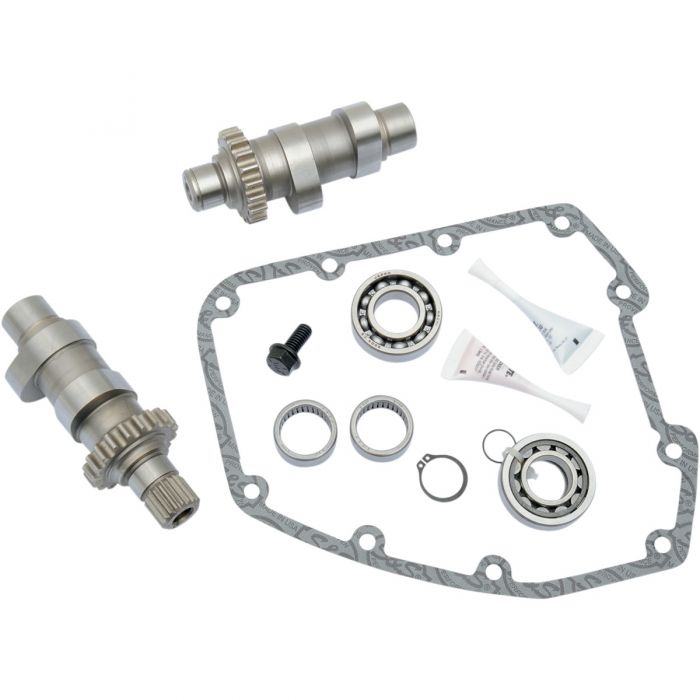 S&S Cycle Chain Drive Camshaft Kit
Item # 280093
Description
S&S Cycle Chain Drive Camshaft Kit
Features:
Designed as a bolt in, high torque cam models.
180 psi cranking compression, no need for compression releases.
For 22 CID engines with stock compression ratio Idle-4500 rpm
Intake Opening (degrees): 18
Intake Closing (degrees): 18
Exhaust Opening (degrees): 46
Exhaust Closing (degrees): 11
Intake Duration (degrees): 216
Exhaust Duration (degrees): 237
Valve Lift (in): .509
Intake Lift at TDC (in): .174
Exhaust Lift at TDC (in): .140
Reviews
Rated

5

out of

5
by
Matt
from
Awesome Sounding Cam
Purchased this cam and installed it over winter. Pulls hard from 2600-4500 but also is decent from idle. Best perk is the sound though, definitely increased the exhaust noise and you can definitely tell my bike has a cam by how it idles. Super easy installation with a service manual and the bearing tool., got it done in a day (including beer breaks).
Date published: 2017-05-04
Rated

5

out of

5
by
Flatstick
from
S&S 509 Cams
After much reaearch I put these cams in while replacing the timing chain tensioners on my 02 Ultra Classic 88 twin cam. Immediatley I noticed an improvement in throttle response. I no longer have to shift down to pass a car in the highest. Torque has improved noticeably and the engine sounds crisper. And as an added bonus my fuel mileage went up to 40mpg! Very pleased over all with these cams. Highly recommended!
Date published: 2017-05-04
Rated

5

out of

5
by
Little Kenny
from
Finally got out for a ride.. great bottom end and mid love it!
Date published: 2016-04-03
Rated

5

out of

5
by
CamoKazi
from
Good Cam for more low down grunt!!
I bought this kit to get a bit more torque low down when touring with 2 up and luggage. I am happy with the results. I am a professional technician and therefore have given the ease of install 5 stars. It is not a simple job but if you read the instructions provided and also check out installation videos on you-tube the average person can complete the job. You will need to purchase the cam bearing puller tool and the cam bearing install tool to do this job. The oem push rods can be used but you will have to remove the valve covers and rocker arms, or you can purchase the adjustable push rod kit. Hope this helps.
Date published: 2018-05-13
Rated

2

out of

5
by
Julio
from
Sadly Not Impressed
Purchased to replace stage II (SE255) cams in my 2011 Ultra Classic (96") that had hard surfacing deficiencies on one lobe. While there is nothing visibly wrong with the quality of these camshafts, they are NOT comparable to the SE255 cams as suggested by the manufacturer. Noticeably less torque/acceleration. Bike feels like an old tired dog now compared to how it was. It's taken some of the fun out of riding it for sure. Was always able to stay even with friends on their 103 bikes, however they easily pull away now at any speed, even when on flat roadways. I typically ride 10 - 15k a year touring (Canada/US) so these will be removed before the 2018 season and another set of the SE255 cams will be installed. If you're upgrading from a stock bike, these will probably impress you, however if you're like me and looking for a great touring cam with plenty of torque without the risk of loosing traction on wet road conditions when you roll on the throttle, I would strongly recommend the Screamin' Eagle 255 cams over this one. As for ease of installation, as a journeyman mechanic myself, this is a basic repair, however several specialty tools are required for the cam bearings replacement.
Date published: 2017-10-06