S100 Total Cycle Cleaner
Item # : 152946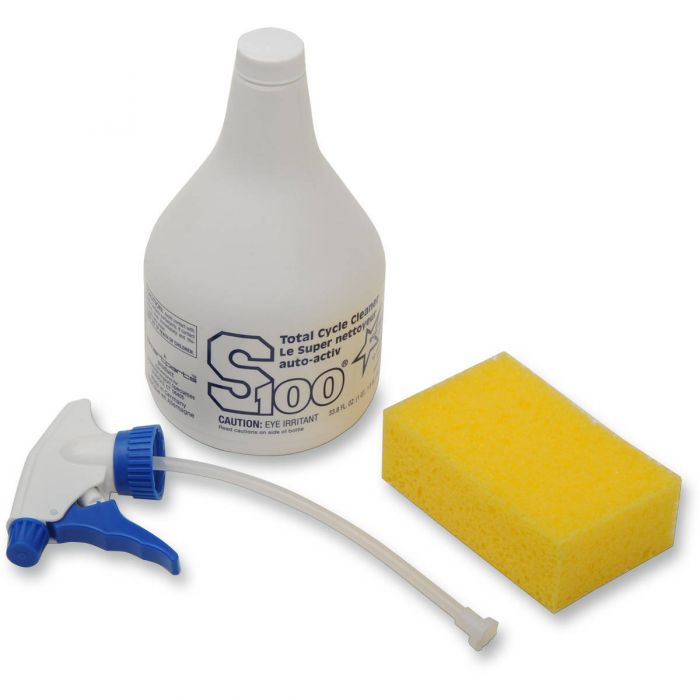 S100 Total Cycle Cleaner
Item # 152946
Description
S100 Total Cycle Cleaner
This is the product that changed the way Americans wash their motorcycles! When S100 Total Cycle Cleaner reached North America in 1985, it created an overnight sensation. Rider Magazine hailed it as a "revolution for the Saturday morning wash". Cycle Magazine said: "Nothing we have tried cuts through road grime quicker or more thoroughly…" The first bikers who tried S100 were stunned. Insects virtually fell off the windscreen, oil and road film dissolved immediately on contact. What once took hours of scrubbing and wiping was reduced to a simple 15 minute exercise. Soon Harley-Davidson® picked up S100 and began using it at their factory, test track and decided it was important enough to supply to their dealers.
The S100 Total Cycle Cleaner concept is simple. Spray on, touch the really tough stains with a sponge, hose off and dry. No more bucket of suds and getting down on "all fours"! It comes in both aerosol and liquid form and in a range of sizes all the way up to a 5 Liter (1.32 gallon) canister. If you haven't tried it, join the revolution and the tens of thousands of bikers who have discovered how to cut their cleaning time and increase their riding time!
Features:
Spray on, hose off formula
More riding time, less cleaning time
Advanced motorcycle cleaner removes dirt, chain lube, road grit
All surface safe
Manufacturer Part Numbers:
12001B - 1 L - Kit: Deluxe Kit including 1 L bottle with sprayer, sponge and booklet
12001R - 1 L: Refill for Kit
12005L - 5 L: Canister Refill for Kit
12500S - 500 mL: Starter Bottle with sprayer
Reviews
Rated

5

out of

5
by
STRider
from
Great Cleaner
Purchased 1L size and then the 5L. On lightly soiled equipment works as advertised, spray on and rinse off. If you are looking at heavier grime then spray on and use a paintbrush or something similar to do a light scrub, then rinse off. Have used on my ST1100, lawnmower, snowblower, car rims etc.... Did a great job of cleaning ST brake calipers swingarm, bottom parts of engine....... Expensive per L, but very effective.
Date published: 2016-06-24
Rated

5

out of

5
by
FLHSrider
from
great cleaner!
Ive been using s100 for over 15 years and i love it! Remember- you have to work fast and rinse it off lots! And for god sakes ***DONT GET IT IN YOUR EYES!!** (OWWCH!)
Date published: 2015-06-02
Rated

5

out of

5
by
Busa Owner
from
Works as promised
From warnings of others, I followed directions to the letter. S100 worked perfect and cleaned my bike perfectly and fast. It even cleaned in the creases in the brake calipers and made the bike look like new. As instructed, do not leave it on the bike. Spray it on and hose it off within seconds.
Date published: 2013-10-09
Rated

5

out of

5
by
Mint
from
Wonderful
I've been using S-100 for years. I'm a 37 year rider. I don't scrub bugs and road grime. Just use S-100
Date published: 2019-08-28
Rated

5

out of

5
by
GPAltaBob
from
Works miracles on dried on bugs!
I bought the 4 litre jug because I use it on the front of my GMC Canyon and on my bikes! I haven't found anything that softens dried on bugs quite as well as S100!!
Date published: 2017-09-16
Rated

5

out of

5
by
bruce
from
S100 The best cleaner there is
I have been using S100 for many years and honestly believe there is no better cleaner out there. Spray it on,give to tough spots a wipe, hose her off and your done
Date published: 2019-08-27
Rated

5

out of

5
by
Richard333
from
Le S100 m'a étonné
J'ai acheté le S100 sans trop y croire et ma foi, le produit m'a agréablement surpris. La moto était sale, vous savez dans un état tel que tu en as pour un après midi complet à laver et frotter, décourageant. Alors j'ai pris une chance et j'ai suivi les indications du fabricant et après avoir essuyé la moto, le constat était tout à fait convenable. Je l'avoue, je ne suis pas maniaque. Je ne ressens pas le besoin que la moto reluise de tous ses feux, une propreté plus générale me convient. Je dirais qu'avec le S100, 80/90% du travail est fait, ce qui est pas mal.
Date published: 2019-06-12
Rated

5

out of

5
by
Anonymous
from
Excellent all purpose cleaner for motorcycles!
Minus brakes. Good for everything else. Please understand the application. If your bike is heavily soiled then traditional bucket method is better. But for the weekly or bi weekly regular wash its the best I have found. Simply spray on and rinse generously.
Date published: 2018-09-05
Questions
Hi, Do you have a material safety data sheet (MSDS) of it, can you share with me?
This information is not provided to us by the manufacturer. We would recommend contacting S100 directly to find this out
Date published: 2019-08-05
Is S100 like a spray rinse application safe on Harley Davidson motorcycles? There are many items which one would I buy to wash my bike?
Makes cleaning any motorcycle faster and easier. Rinse motorcycle. Spray s100. Leave a few minutes (do not let it dry!). Brush any stubborn dirt (wheels?). Hose off. Wonderful product.
Date published: 2019-06-10
what is the dilution rate
use straight from the bottle...no mixing needed or suggested
Date published: 2019-10-09