Saddlemen Universal Saddlebag Support Brackets
Item # : 106670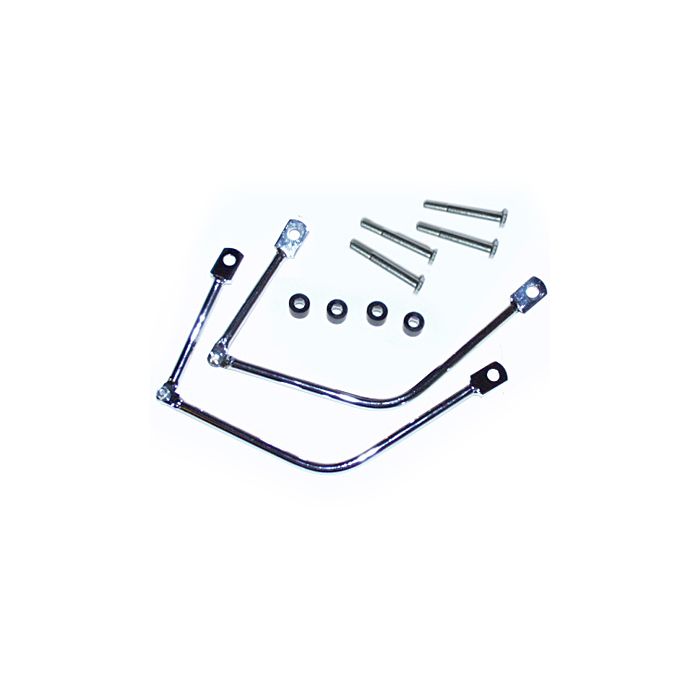 Saddlemen Universal Saddlebag Support Brackets
Item # 106670
Description
Saddlemen Universal Saddlebag Support Brackets
Support bracket kit includes two chrome-plated steel saddlebag supports and comes with an assortment of fasteners in lengths to fit most models and aftermarket accessories
Available for Harley-Davidson applications and Metric cruiser applications
Reviews
Rated

5

out of

5
by
Big Mac
from
Saddlebag brackets
I bought them about a month ago they work great thanks
Date published: 2018-06-20
Rated

5

out of

5
by
Grandsox
from
Excellent
Juste la bonne grosseur pour ma Honda Shadows 2007.
Date published: 2016-08-15
Rated

5

out of

5
by
nocadge
from
High Quality and Fits like a glove
I bought these Saddlemen Universal Saddlebag Support Brackets Metric Universal for my Soft Saddle bags on my 1982 Yamaha Virago 750. I had no problem Installing them and it took about 15 min. they are exactly what I needed
Date published: 2016-02-07
Rated

3

out of

5
by
BizB
from
Too small for RS Warrior
I had to modify them to work with my medium size bags. Very small bars. Hard to find anything that works well for a warrior.
Date published: 2017-11-28
Rated

5

out of

5
by
AsphaltJo
from
Works perfectly
fits perfectly for my 2009 Vstar XVS 950. Didn't need the bolts or spacer and had to adapt with the Chromed stripe, sissy bar frame and these bracket. Still a bit expensive for simple metal pieces that anyone could create a DIY version, but if you're lazy or in a hurry, this is just perfect
Date published: 2019-06-14
Rated

5

out of

5
by
Brenway4
from
Fit great
They fit my husbands bike great thanks looks great on his bike
Date published: 2019-06-13
Rated

4

out of

5
by
jody
from
Functional but small and incorrect bolts included
Purchased for the saddlemen saddlebags I got at the same time. The brackets are smaller than expected, not outlining the full size of a medium size saddlebag, but it was sufficient. The bolts included with it were not long enough for my 2016 Shadow Aero, so I had to improvise. I drilled small holes in the saddlebags and used tie-downs to attached to the brackets. The finish of it is nice - good and solid as well.
Date published: 2019-06-11
Rated

1

out of

5
by
Éric
from
Ne convient pas
Pour les valises universelles que nous avons c'est beaucoup trop court donc les valises volent au vent puisque nous ne pouvons les fixer au braquettes :(
Date published: 2018-06-20
Questions
Will these fit an 1800 honda vtx c. ? 2004
Hi Byro, This product is universal. It is completely adjustable and comes with multiple mounting bolt sizes. It is not made for specific applications. ~Danielle, Customer Service, Canada's Motorcycle
Date published: 2014-12-30
I have a 1997 Yamaha Virago xv535. Will these fit my bike?
Yes, this item is universal and will fit metric cruisers. You would need to select the "Metric Universal" option from the drop down list
Date published: 2019-05-30
Will this fit a 2013 yamaha raider s
I have no idea, i had no issues with fitment on my 2003 vstar 650 custom, and my dad put a set on his 2003 classic without issue.
Date published: 2016-06-18
would the universal brackets fit a 2016 victory gunner
Kit comes with adapters to fit most fenders. Easy installation on my 1999 Fat Boy. Been on my bike several years and no problems...
Date published: 2018-04-20
I have the Highwayman lrg bags. will this bracket fir on a 1982 Yamaha 750 Seca?
Universal fit Will fit most motorcycles.Easy installation Fits nice on my 1999 Fat Boy custom..
Date published: 2017-11-07
Have a 2016 Ducati XDiavel S.... Will/can this fit my bike....can you recommend one that does? Thank you for your time!
This likely will not fit your Ducati, its designed to fit on the fender struts of a cruiser style bike. It does well on my Yamaha VStar, but your bike is far from a cruiser style. Check with the dealer to see what they recommend for bags, if anything.
Date published: 2016-08-23
Will this work with my 01 softail quick mount back rest ?
Easy to install.. universal fit..Will fit all softails..
Date published: 2017-07-12
Many people say these are too short, can you give some dimensions of the pieces so I can see if they will work for me?
The vertical piece is 5 1/2 " and the horizontal lower section is 6 " . They sit about halfway down my Saddlemen bags .
Date published: 2017-02-12